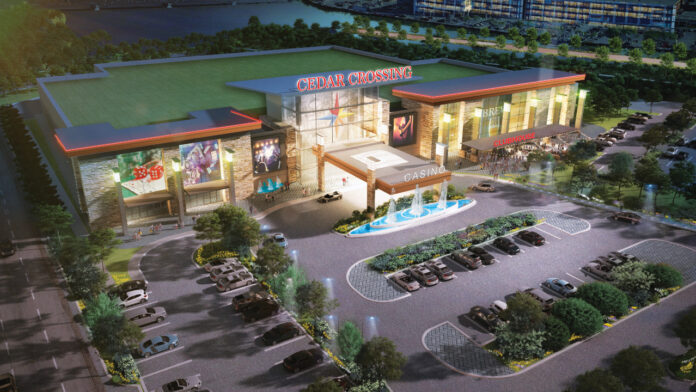 The Iowa Racing and Gaming Commission, meeting Thursday at the Wild Rose Casino in Emmetsburg, acknowledged that the Iowa Legislature has approved a two-year moratorium on consideration of new gaming licenses in the state. As a result, the legislature has "put on hold" consideration of a pending gaming license application from supporters of a Linn County casino, IRGC administrator Brian Ohorilko said Thursday.
"They indicated that they would not be accepting applications at this point," Mr. Ohorilko said.
Before the two-year moratorium was approved, Mr. Ohorilko said commissioners had originally planned at Thursday's meeting to set a due date for submission of any new applications. "Given the legislation that passed, there really would be no need to do [set a date]," Mr. Ohorilko said.
Gov. Kim Reynolds has not yet indicated if she plans to sign the two-year moratorium into law, but most expect the measure to be approved, despite Cedar Rapids Mayor Tiffany O'Donnell's request that Ms. Reynolds veto the moratorium.
"They (commissioners) did say they had been prepared to start evaluating applications [Thursday]," Mr. Ohorilko said. "No certainty or feelings one way or the other with regard to the Linn County application, but they acknowledged that the process really hadn't even started yet, so they didn't really have anything to review. They did acknowledge that their role is to administer the law, so if that moratorium does expire and nothing new transpires with regards to new legislation or changes in legislation, they would be open to receiving applications and revisiting the issue at that time."
While acknowledging the likelihood that a two-year moratorium on new casino licenses will be enacted, developers and supporters unveiled their plans May 31 for Cedar Crossing, a proposed $250 million, 160,000-square-foot casino, entertainment and cultural arts complex to be built at the former Cooper's Mill site along First Street NW, just across the Cedar River from the Quaker Oats plant.
As proposed, Cedar Crossing would incorporate Iowa's 20th state-licensed casino, as well as bars, restaurants featuring celebrity chefs, and a 1,500-seat entertainment venue. Flood control measures will now be incorporated into the design, developers said.
The Cedar Rapids Development Group (CRDG), a group of nearly 100 local investors, Peninsula Pacific Entertainment (P2E), a national gaming operator and developer, and the Linn County Gaming Association (LCGA), a local nonprofit association, would jointly apply to the Iowa Racing and Gaming Commission (IRGC) for a license for the new facility.
Local casino supporters say the Legislature's two-year moratorium is designed to target Linn County's casino efforts. Assuming Gov. Reynolds signs the moratorium it would be effective as of June 1, meaning the IRGC could not consider a Cedar Rapids license application until June 2024.
In November, voters approved a referendum that permanently authorizes gaming in Linn County, paving the way for a new Cedar Rapids casino application. The IRGC has twice rejected casino proposals for Linn County, in 2014 and 2017, after commissioners largely sided with opponents who argued the state's gaming market was saturated and a new Linn County casino would "cannibalize" revenue from existing state-licensed casinos.
However, supporters say the state's gaming landscape has changed since then, and that competition from new gaming ventures in Nebraska and Illinois provides a stronger business case to build a casino in Iowa's second-largest city.