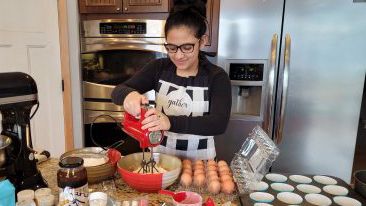 Aashika Gadkari, founder of iCakes, works on a batch of cupcakes in her home kitchen. CREDIT GADKARI FAMILY
At just 16, Iowa City West junior Aashika Gadkari has already learned many lessons about what it means to be an entrepreneur: Try, try, and try again. Push yourself. And don't be afraid of failure.
"I'm the type of person – I used to be very shy – that didn't put myself out there," said the young brains behind iCakes, a homegrown cake and cupcake startup launched out of her own family kitchen, which now takes up much of her free time outside school hours. "I've learned to just go for it and that if you don't try, nothing will come from your ideas."
iCakes, launched in September 2020 when Ms. Gadkari's friends and relatives encouraged her to translate her long-time baking hobby into a money making enterprise, started with the occasional confection for people in her own circle. Since then, though, word-of-mouth demand for her specialties like orange cream and mango mousse cakes has kept her busy filling about three orders week. Thanks to her meticulous eye for decorating, each one takes between two to six hours depending on intricacy and time availability outside school.
"It started as a fun thing I did with a friend, but I started trying from home and I really liked it," she said. "I just kept doing it. I figured, if I had something I enjoy doing a lot, why not turn it into a money making business?"
As her business slowly grows, Ms. Gadkari is focused on improving her decorating skills and experimenting with new recipes, using weekends and evenings to hone her skills. And she can see herself one day becoming the next Cake Boss, or at least expanding operations.
Getting into business was a serious undertaking for the high school student, who did market research, including looking at what area bakeries were charging for similar products, costing out ingredients and checking out the competition.
"Another big thing is making sure I'm always consistent with flavors, so [the product] is always the same," she said. "I never thought I'd go in this direction, but I think I could potentially do this as a career."
Short-term plans for iCakes include becoming a good corporate citizen by donating cakes to nonprofits like the University of Iowa Stead Family Children's Hospital "just to share a little happiness." Long-term plans – after going to college for what she envisions as a degree in business – include potentially hiring staff and running her own professional kitchen.
"It's something I really enjoy, making cakes," she said. "I love being in the kitchen and it's something I can see myself doing."
Her biggest fans are already bucking for the CBJ to create a new awards category.
"You could potentially start a Twenty under 20 someday," suggested her father, Praveen Gadkari.