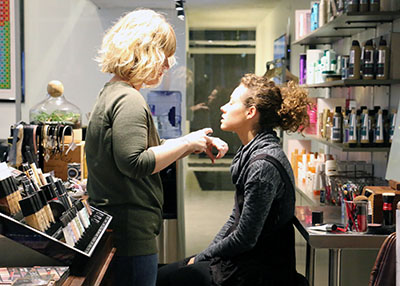 By Ashley Levitt
ashley@corridorbusiness.com
Iowa City may lack the ocean views or the big-name designers of Los Angeles, but independent filmmakers and producers are rapidly discovering that the area's affordability and Midwestern charm more than make up for the rest.
Crews for "Night of the Babysitter" recently wrapped filming in Iowa City, while about 25 cast and crew members began filming "Up on the Wooftop" this week. According to executives on both films, the Corridor's location and environment has been crucial to making the projects a reality.
"We could not make this movie with half the scenes that we have if not for the generosity and openness of the businesses and people here," said Louis Doerge, writer, co-producer and director of "Night of the Babysitter."
"Night of the Babysitter" is about a father and daughter who seek revenge for their wife/mother's death. The movie is set across Iowa and in parts of Illinois, but Mr. Doerge decided to shoot some of the key scenes in his hometown of Iowa City to showcase the area's buildings, including Iowa City High.
"I kind of forget how cool-looking it is," Mr. Doerge said of his old school, originally dedicated in 1939. "Our lighting designer is from LA, and he said it's one of the most cinematic places he has ever been to."
School officials offered to let Mr. Doerge shoot in the gym for free and leant the girls' basketball team to appear in a scene with star Dora Madison Burge, of the popular television series "Friday Night Lights" and "Dexter." In return, officials insisted that the school not receive any credit or mention.
"It's mostly about helping an alum do good things," Terry Coleman, athletic director at Iowa City High said. "As a City High graduate, he [Mr. Doerge] has a special understanding of the pride we have in our school."
Money, of course, is also a motivating factor when you're an independent filmmaker. According to Mr. Doerge, it would have been impossible to shoot "Night of the Babysitter" in LA because the cost of insurance and permits required can climb into the thousands of dollars.
Take that into account with local businesses' willingness to help out, and it ends up being a relatively inexpensive production.
"We don't get movies a lot here in the heartland, so when we saw one coming our way we pounced on it," said Erin Connolly, vice president of social media at Buzz Salon, located in the Park@201 high-rise in downtown Iowa City. Ms. Connolly offered the salon's services to do the actors' hair and makeup for free. In exchange, the salon and stylists will get a credit on IMDb.com.
"Hopefully this will lead the way for when a bigger production comes into town, they'll know we're experienced," Ms. Connolly added.
Nancy Bird, executive director of the Iowa City Downtown District, shares Ms. Connolly's sentiment, adding that while the Downtown District often talks a lot about art, she believes cinema is just as important when it comes to drawing in talent.
"We're doing whatever we can to support our cultural amenities," Ms. Bird said. "The more that we can highlight that film crews are in Iowa City and they're doing great work, I believe that's what we're tasked to do."
Northern exposure
Joe Clarke, director and writer of the upcoming holiday film "Up on the Wooftop," had a similar experience when mapping out the locations and production details for his movie.
Mr. Clarke grew up in Iowa and attended film school at the University of Iowa. While his 17-year-old self wanted to move to Los Angeles to make movies, he's glad he stuck around. Iowa has provided the backdrop for several of his movies, including the 2012 Netflix and Redbox release "The Formula."
"They say LA is the filmmaking mecca, but Iowa has done way more for the filmmakers than LA has," Mr. Clarke said. "It's a smaller pond, but that doesn't negate that it is a great place and very supportive of its creative endeavors."
The Iowa City-based Celebration Farm offered to let him shoot in the space at a "significant discount." Instead of hosting its usual meetings, retreats, holiday parties and weddings, The Celebration Farm will be transformed into the North Pole from Feb. 24-26.
"It's a beautiful facility, and that really helps the production quality of the film," Mr. Clarke said.
It also helps the production quality of a film when a professional makes the costumes. For the makeup and wardrobe, Mr. Clarke paired with Misty Blank, of the Iowa City-based "bohemian style boutique," Mayfair.
In addition to running Mayfair, Ms. Blank is a professional makeup artist. She has worked on everything from the band Lonestar's music videos to the 2014 senatorial debate between Joni Ernst and Bruce Braley. For the film "Up on the Wooftop," she will pull from Mayfair's inventory and custom-design some of the costumes.
Shops and salons are not the only businesses lending their services. Local caterer Valerie Martin, of Valerie's French Cooking in Iowa City, also made adjustments to accommodate the cast and crew.
After hearing there wasn't a lot of money in the budget for food, Ms. Martin prepared a special menu and gave the "Night of the Babysitter" cast and crew a discount while they were in the area.
"If it was a guy with more money I would charge a little more, but they are young and it is one of his first movies," Ms. Martin said.