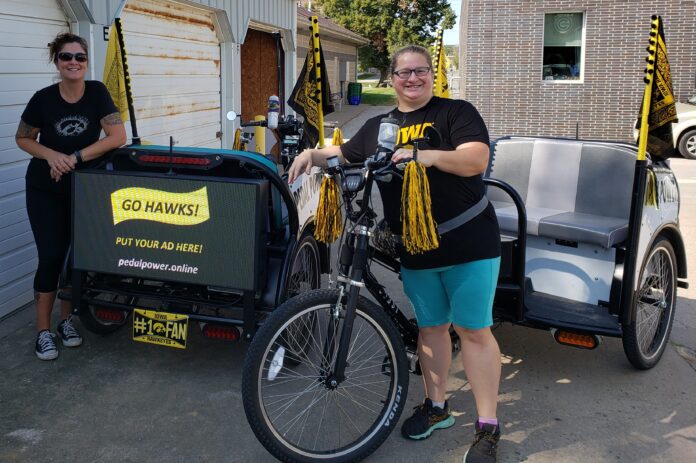 A local company is offering pedicab transportation services around Iowa City for events, date nights and more – all while providing area businesses an opportunity to obtain a huge return on investment for advertising dollars.
The business, Pedal Power, is a small operation consisting of owner Ben Snyder, several managers and marketing students from the University of Iowa. Pedal Power started in 2016 but leaned heavily into pedicabs, or bicycle rickshaws, last year. Mr. Snyder called the move a "game changer."
"Outdoor advertising has the highest rate of return, but because we're on a unique vehicle and we're mobile and able to target audiences if we need to, it's an even higher rate of return," he said. "Since we're not driving around a billboard truck, and because it's digital on the back of our pedicabs, it really allows us to keep costs down in terms of advertising for people in the community."
One of the most frequent advertisers is CHOMP Delivery but businesses big and small alike have advertised on Pedal Power vehicles, he said.
Pedal Power primarily gives rides to people around town but can customize the vehicles and experience based on the customer's preferences.
"We dress the cabs up with different types of canopies and change the colors on the sides," Mr. Snyder explained. "We can hook cameras up to do weddings or webisode production similar to Comedians in Cars Getting Coffee. It really centers around the local community. We're pretty diversified on how we can help different audiences and adapt to them."
Inside the pedicab are additional advertisements in the form of brochure materials, giving Pedal Power another valuable revenue source.
They also put on seasonal events — like Easter egg hunts around town for kids or Christmas-themed tours with Santa — as well as offer rides during University of Iowa football games and travel to regional events like Oktoberfest in the Amana Colonies.
While the economic advantages are clear for companies, Pedal Power benefits the community in other ways.
"In terms of economic friendliness, it can help reduce car congestion and traffic to reduce emissions and help with public safety," Mr. Snyder said. "It's functionally impactful."
"[The community] is kind of what drives us," he added. "We see people out on the street and we're friendly, we say hi and they wave back. People take pictures and love what we're doing."