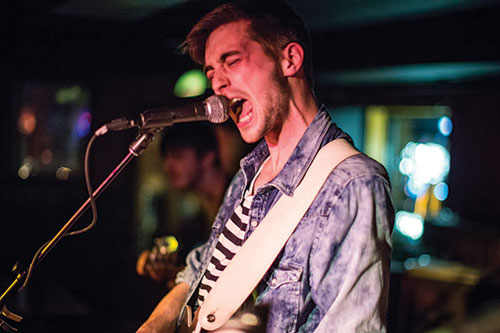 By Angela Holmes
angela@corridorbusiness.com
Over the past 10 years, Iowa City's Mission Creek Festival has evolved from a small event featuring music and literature to a weeklong celebration that now includes food, film and innovation.
This year's festival, scheduled for March 31-April 5 will fill venues throughout the city, including Blue Moose Taphouse, The Englert Theatre, Gabe's, The Mill, The Yacht Club and Trumpet Blossom Café. (Visit www.missionfreak.com for a full listing.)
It all came about in 2005 when Andre Perry moved from the San Francisco Bay area to Iowa City to enroll in the University of Iowa's non-fiction writing masters program. While in San Francisco, he was one of the producers of the original Mission Creek Festival.
"The founder suggested the possibility of starting something like that when he knew I was moving to Iowa City," he said. "From there, I collaborated with Tanner Illingworth and we were the founders of the Iowa City installment."
The festival now features hundreds of artists, including musicians, comedians and other performers. In the last couple years, attendance has averaged 10,000 people over the week, boosting the Iowa City economy.
"We get a lot of positive feedback from a lot of the businesses that are right downtown, and even some that are more in the periphery," Mr. Perry said. "We find that the restaurants and bars definitely see a large influx of folks that just want to hang out, or grab dinner before a show or grab a beer after a show."
What's more, festival organizers have found that people are coming from all across the region to catch up-and-coming performers.
"We track as much geographical data as we can," Mr. Perry said. "First and foremost, the festival is for Johnson and Linn County and surrounding areas to really have something cool for the people who live right here. But we do find that there's a lot of influx from other areas as you hit that Friday and Saturday and people get off work and come see stuff for a couple of days."
Passes for Mission Creek Festival are sold out, but tickets to individual shows are still available, Mr. Perry said, adding that many events are free.
"The whole literary lineup is totally free, as is the book and craft fair on Saturday," he said. "We want everyone to find their point of entry for the festival."
Innovation Conference
An Innovation Conference was added last year to expand upon Mission Creek's goal to introduce attendees to a wide range of ideas.
"Mission Creek shows the broader world about what Iowa City is like and also shows Iowa City what the broader world is like," said Wes Beary, producer of the Innovation Conference. "As I learned more about Mission Creek's goals and missions, I thought it was a good fit."
The 2015 Mission Creek Innovation Conference will be held April 3-4 at hotelVetro in downtown Iowa City. Mr. Beary hopes the larger venue will attract 150 or more attendees. Last year, the conference attracted 65-70 attendees, which was in the range of what organizers expected.
This year's Innovation Conference will have two tracks: entrepreneurship and technology. Both tracks will include talks focused on producing social good and on fostering the next generation. Other talks will be more specialized towards topics as diverse as high-growth startups and distributed systems.
Among the workshops will be one focusing on the programming language, Clojure, which is "pretty hip these days," Mr. Beary said. Another workshop will teach people how to become better leaders and promote the values of equality and inclusion in their organizations.
The keynotes will include Johanna Blakley, Jeff Casimir and Ravi Patel.
Ms. Blakley will discuss how new media and social media impacts our culture and society. Mr. Casimir will discuss his experiences providing tech education in Denver in a fashion similar to the UI's local Dev Boot Camps. Mr. Patel, president of Hawkeye Hotels, will address his observations of local startups.
Although the Innovation Conference is separate from the main Mission Creek Festival events, organizers hope attendees of both will experience the overall scene.
"When you typically go to a tech or entrepreneur conference, it doesn't happen when all these other cool things are happening around it," Mr. Perry said. "It was a way to reach those people, whether they were locals or regionals or from around the state – to be able to hear some great talks from folks and be able to engage with colleagues."
Literary leg
Throughout the week, Mission Creek will also host more than 30 literary events and highlight artists at the cutting edge of contemporary publishing. The events will include readings by emerging and award-winning authors, outreach events to schools and community organizations, and lectures and discussions.
Mission Creek's fifth-annual Lit Crawl on April 3 will feature nine readings and more than 50 authors in three hours. The festival will also host its sixth-annual, all-day Literary Magazine and Small Press Book Fair, hosted by The Mill on April 4, with free beer samples from New Belgium Brewery.
Among the other exciting developments, the festival's literary organizers have joined forces with the festival's foodie-track planners to offer a food-writing course.
In addition to participating in literary reading events, Mission Creek's Writer in Residence Kiese Laymon will work with the Iowa Youth Writing Program at Tate School, and connect with the Dream Center and the University of Iowa's undergraduate writing community. She will headline the festival's capstone reading at the Mill on April 4.
Andre Perry's picks
As executive director of the Englert Theatre in Iowa City, Andre Perry is no stranger to great artists and performers. He encourages people to see a variety of events at Mission Creek, but made the following three recommendations:
Jad Abumrad, 8 p.m. April 4, Englert Theatre: The host of NPR's Radiolab will mix lecture, video and audio to create a totally unique presentation. His program, "Embracing the Gut Churn," is about "how anyone can take an idea from fear of beginning stages and actually realize and make it something," Mr. Perry said.
Cameron Espidido, April 1, Englert Theatre: This rising comic originally from Chicago and now based in Los Angeles "talks deeply about feminist issues, gender and sexuality issues, centering them in a really funny, and also illuminating, way," Mr. Perry said. "She is really young in her career. We try to get these folks who are not super huge yet but about to go to that next level."
Glenn Kotche and Jeffrey Zeigler with A Winged Victory for the Sullen, March 31, Englert Theater: Wilco drummer Glenn Kotche and cellist Jeffrey Zeigler, formerly of Kronos Quartet, will collaborate, merging rock, classical and electronic elements. Also performing that night are A Winged Victory for the Sullen, a duo that "combines classical elements of a string quartet, piano and brings in a newer electronic sound," Mr. Perry said. "It is a really good mix of old classical and newer, weirder things that are happening in music."