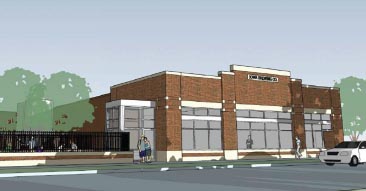 By Dave DeWitte
The craft brewing movement seems to be coming on strong in the Corridor, and that's just fine with Matt Wolf, managing partner of the new Iowa Brewing Co. coming to Cedar Rapids this year.
Iowa Brewing plans to open a production craft brewery in downtown Cedar Rapids next summer, just in time to feature its beer on the famous trans-Iowa bike ride, RAGBRAI.
Unlike area microbreweries, it won't rely much on food sales, and most of the beer will roll out the back door in barrels rather than over the bar from taps.
The startup will invest more than $2.6 million to renovate two age-worn Iowa Midland Supply buildings at 708 Third St. SE into a 30-barrel brew house that is expected to produce about 1,000 barrels its first year, but could eventually produce upwards of 50,000 barrels per year.
Like Quinton McClain, who started Lion Bridge Brewing Company in Czech Village, and Alex Zoll, who helped start Another Road brewing in Marion, Mr. Wolf is a Corridor native who moved to Colorado, got involved in the craft brewing movement and came back to the area to build a brewery.
Mr. Wolf is a minority owner in Great Divide Brewing, a successful Denver-based craft brewer. But unlike Mr. McClain and Mr. Zoll, he isn't chiefly a brewer. He is the owner of Cheyenne Capital, a private equity firm headquartered in Denver.
"I was back and we were walking through it (the Third Street building)," Mr. Wolf recalled of a July visit with friends Craig and Brian Stephan, of Iowa Midland Supply. "We thought, 'this would make a great production brewery.'"
Iowa Midland Supply operates from two buildings, and one of them – the 8,000-square-foot building facing Third Street – had not been fully restored or returned to use since the flood of 2008. That building will be the first converted for production.
"It has a lot of good bones, and we will be completely redoing the fascia," said Craig Stephan, president of Iowa Midland Supply.
And even though the competition within Iowa's brewing industry is foaming rapidly, Mr. Wolf isn't concerned. He said Iowa is still far behind Colorado and most other states in the ratio of state craft brewing capacity to population.
"We really think there's a lot of room," Mr. Wolf said. A concentration of craft brewers tends to cultivate a market of beer enthusiasts who are always looking for new tastes, he explained.
In Colorado's microbrewery-laden Front Range, "We never look at each other as competition," he noted. "We saw the big guys as our competitors."
The Iowa Economic Development Authority identified five other competing production breweries in the state when it analyzed Iowa Brewing's application for incentives. They are Backpocket, Confluence, Millstream, Peace Tree and Toppling Goliath. Two of them, Coralville-based Backpocket and Amana-based Millstream, are in the Corridor.
Brew local
Mr. Wolf, who remains on the board of Great Divide Brewing, says Iowa Brewing won't have any business ties to Great Divide, but it will borrow from some of the Denver brewery's practices.
"A lot of the things they're doing at Great Divide are the approach we would like to take in Cedar Rapids," Mr. Wolf said.
Developing a close repartee with customers is key to that approach. Mr. Wolf said Iowa Brewing's taproom will use customer feedback to modify and select the brews it produces in large batches for distribution. He compared the immediate feedback to a comedian working the room, gauging instantly what makes the audience laugh or look away.
The 'buy-local' movement is an integral part of the craft-brewing explosion, Mr. Wolf said. Local beer enthusiasts want to support local brewers, and visiting beer enthusiasts want to try out the local brewers.
Craft brewers in Colorado often cooperate on procurement of grain, hops and even kegs, Mr. Wolf said, and he'd like to see more of that here.
"We've already talked to another local brewer about swapping tap handles," Mr. Wolf said.
Troy Bervig will oversee brewing operations at Iowa Brewing. He is a microbiologist by training, who currently works as brewer at a North Carolina startup brewery, Mr. Wolf said.
Mr. Wolf and the Stephans expect the brewery to serve about 12 different varieties in its tap room, including some offerings from other brewers, and some craft non-alcoholic drinks such as root beers. They are also exploring the possibility of a beer garden.
"We may end up having a tank farm where we have some fermentation tanks outdoors," Mr. Wolf said. Craig Stephan added that a bottling line will likely be added within about one year.
Once Iowa Brewing expands into the second, 4,200-square-foot Iowa Midland building facing Seventh Avenue SE, Iowa Midland will begin operating from a different location, Mr. Stephan noted.
The Iowa Economic Development Authority approved a $78,300 tax credit for the Iowa Brewing project in December. Iowa Brewing is also expected to receive a tax abatement of $52,668 from the city of Cedar Rapids, according to the Cedar Rapids Metro Economic Alliance.
Craft city
In addition to Iowa Brewing and Lion Bridge, at least two other craft breweries are planned for Cedar Rapids.
Marion-based Another Road Brewing plans to open a three-barrel brewing system in February in an existing commercial building that is being rezoned on 16th Ave. SW. The company plans to distribute some of its product and sell some of it through its existing tap room in Marion, according to partner Alex Zoll.
Quarter Barrel, a vintage video arcade-themed microbrewery, is due to open in early 2015 at 616 Second Ave. SE, Cedar Rapids.