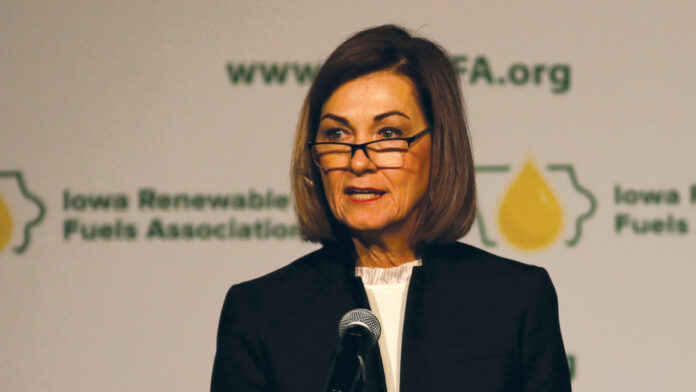 While there were certainly some social issues advanced during the last legislative session giving business leaders and us concern, there's no doubt that Iowa's business climate continues to improve under the leadership of Iowa Gov. Kim Reynolds and Iowa Economic Development Authority (IEDA) and Iowa Finance Authority (IFA) Director Debi Durham.
Pointing to a 2.7% unemployment rate, a top five labor participation rate in the country and a business tax rate approaching a 25-year low, Ms. Reynolds highlighted her pro-business record — including recent passage of a bill that loosens child labor protections — during the Iowa Association of Business and Industry (ABI) annual conference at the DoubleTree by Hilton Hotel in Cedar Rapids on June 14.
"We continue to make investments in broadband, housing, and child care to strengthen the workforce and help employers attract and retain top talent," she said.
We view the criticisms surrounding legislation signed by Ms. Reynolds which loosened child labor protections as overblown. She is simply trying to help businesses and willing employees improve the state's continued employment and workforce challenges.
Additionally, Iowa welcomed more people than it lost (+6,300) for the first time in a decade last year, while other states experienced a negative net migration. Illinois lost more than 230,000 people in the same time period, she said.
We also appreciate her efforts to make state government more efficient. She cut 21 agencies from her cabinet — reducing it from 37 to 16 — which is estimated to save the state $213 million over four years.
The administration is now looking to continue cutting administrative code that is a deterrent to business-friendly policies in the state.
In Iowa, Ms. Reynolds said 33,300 new businesses were started in 2022, and nine of 10 exports were up year-over-year.
Ms. Reynolds was proud to acknowledge that Iowa is a leader in work-based learning and registered apprenticeship programs under her watch.
"Last year, we added more registered apprenticeship programs than any other state in the country," Ms. Reynolds said. She added that she was in the Quad Cities several weeks ago for a signing ceremony of high school students declaring their intent to work for manufacturing companies directly after graduating.
Finally, Ms. Reynolds also noted a recent agreement between Across Wind Towers, MidAmerican Energy and SSAB Americas to discuss sustainability solutions in Iowa. The collaboration will help the companies manufacture wind towers using zero-carbon steel to power more renewable energy for the state.
We are hopeful that as the business climate continues to excel in the state with the aforementioned policy improvements, elected leaders will shift to eliminate divisive social policies so that Iowa will remain a welcoming state for everyone.