The Iowa Association of Business and Industry (ABI) is unveiling a new brand identity and logo design.
Elements of ABI's refreshed look include a new logo, brand colors and updated typography, according to a press release.
"With a vision of furthering ABI's mission, and after careful consideration, a new logo was developed that reflects our commitment to Iowa and reflects a more modern look," said ABI President Mike Ralston.
Mr. Ralston has been ABI President since 2005 after being appointed by Governor Tom Vilsack, formerly serving as director of revenue for Iowa. He led almost nearly 400 employees in this role.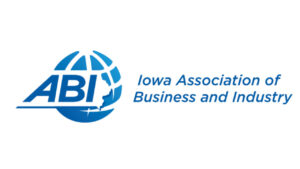 The Iowa Association of Business and Industry is the largest statewide business organization with more than 1,500 member companies representing 330,000 Iowans. ABI members come from all 99 counties and includes businesses from every sector including manufactuers, retailers, insurance companies, financial institutions, publishers, transportation services, law firms, health care organizations and educational institutions. Notable companies include Collins Aerospace and Deere & Company.
In August, ABI's political action committee (PAC) announced endorsements for the November elections. Endorsements included Governor Kim Reynolds, Secretary of State Paul Pate and incoming Attorney General Brenna Bird.
First formed in 1903, ABI's website touts its voice and organizing efforts behind "Iowa's landmark pro-business legislation."