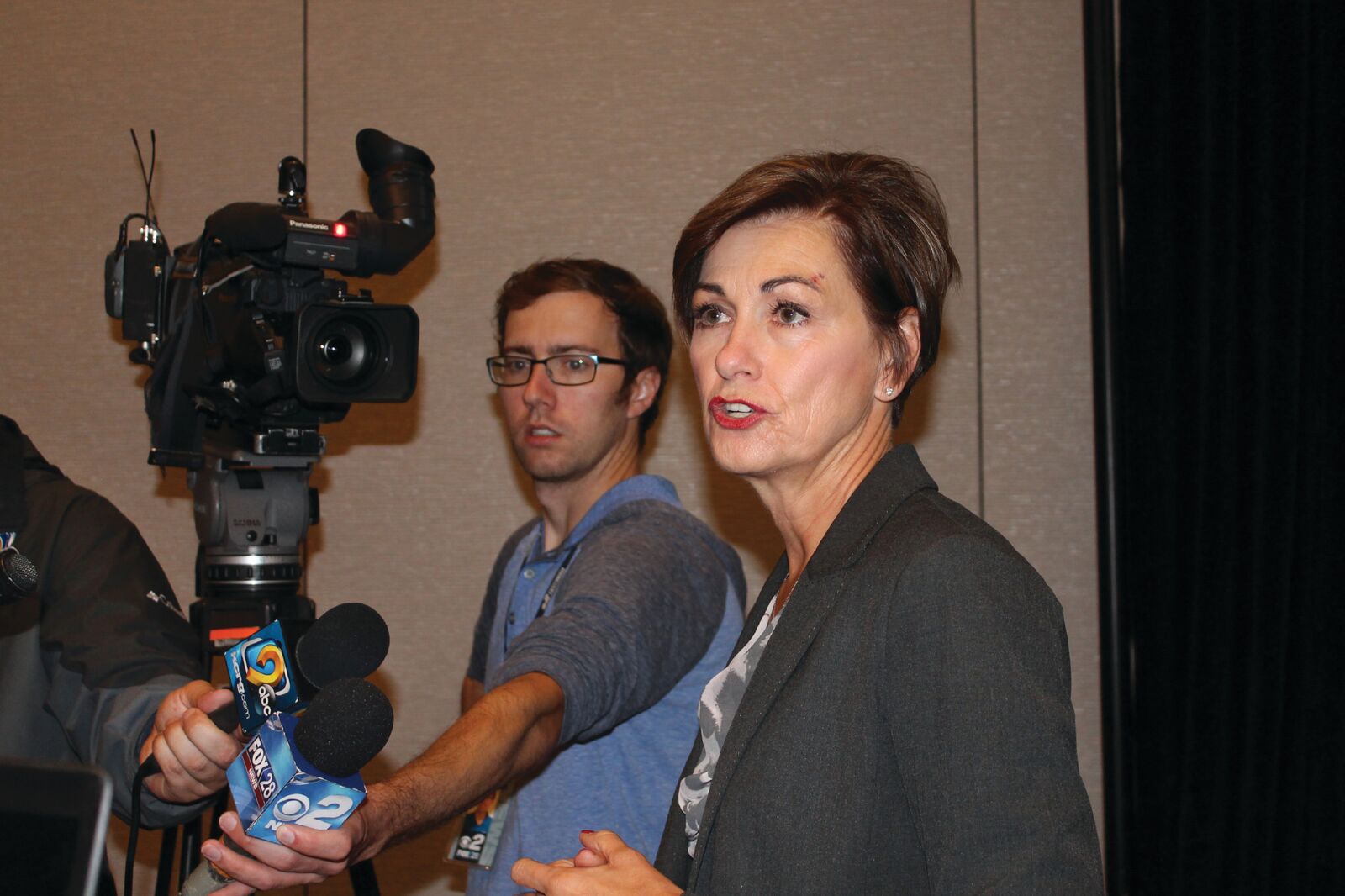 Gov. Kim Reynolds speaks to reporters after unveiling a new study she called a "road map" to making the state a global hub of educational technology. PHOTO KATHARINE CARLON
By Katharine Carlon
katharine@corridorbusiness.com
A new study on Iowa's edtech potential concludes the state could add more than 1,000 additional highly paid tech jobs over the next five years by coordinating resources to bolster what is already a booming sector of the state's economy.
According to Gov. Kim Reynolds, the Corridor is uniquely poised to help the state take its share of what is expected to grow to a $110 billion global industry by 2022.
"Iowa can be and will be the edtech hub for the United States," said Ms. Reynolds, who unveiled the study from consulting group TEConomy Partners on Oct. 10 at the Coralville Marriott. "We have a great foundation to build from, I think this study really lays out a roadmap on how we can move forward and get that done, and [the Iowa Economic Development Authority] is already on the road to making this happen."
Ms. Reynolds, flanked by IEDA Director Debi Durham and two Corridor edtech executives – Marten Roorda, CEO of Iowa City-based ACT, and Adam Keune, co-founder of Higher Learning Technologies of Coralville – laid out the state's path to edtech dominance in conjunction with ACTNext's Education Technology and Computational Psychometrics Symposium.
The study notes Iowa is already home to a several large edtech corporations, most notably ACT and McGraw Hill Education in Dubuque, as well as numerous mid-sized companies and a growing base of edtech startups like Iowa City-based Pear Deck and Coralville's College Raptor. In all, the study identified 28 Iowa edtech companies – in addition to software development companies developing edtech-related applications – employing more than 3,100 Iowans in 2018.
But local and state officials say the potential is far greater, especially given potential synergies with edtech-related research and development and talent development at the state's three major universities.
According to the report, the edtech market is poised for five-year annual growth of 14 percent a year, boosting the projected size of the worldwide market to $110.9 billion by 2022, up from $57.7 billion in 2017.
"We've already laid the groundwork for this sector to take hold and flourish with initiatives like Future Ready Iowa and work with the Governor's STEM Advisory Council," Ms. Reynolds said. "Imagine what we can accomplish with additional focus, resources and a great group of industry advisors moving it forward."
The new study punctuates recent local efforts to capitalize on the Corridor's growing edtech ecosystem.
Shortly after taking up his new role late last year, the University of Iowa's first-ever Chief Innovation Officer John Darsee told the CBJ he hoped to "leverage our deep bench in this area to become the national hub for innovative educational ideas" by developing an entrepreneurial ecosystem to bring ideas to market sooner.
Just last month, Cedar Rapids nonprofit NewBoCo announced the expansion of its Iowa Startup Accelerator to Iowa City with an edtech-specific accelerator program in collaboration with the UI, the Iowa City Area Development Group [ICAD], Higher Learning Technologies, ACT and IEDA.
IEDA's Debi Durham said the accelerator and a new ICAD-led effort to bring economic development and educational efforts together would be the state's first – but far from last – steps toward positioning Iowa as the world's edtech leader.
"With more collaboration and facilitation, we can develop a collective effort to steer change, prioritize action, address shared issues, and promote Iowa as a recognized hub for asset development and business orientation," she said. "There's much work to be done. But … we start from a place of strength."
According to the report, boosting growth in the state's edtech sector will require "a strategic focus on connecting ecosystem organizations and companies, enhancing the piloting and demonstration environment for edtech in the state, improving the edtech entrepreneurial ecosystem and a series of focused workforce development activities," the study's authors wrote (see sidebar).
Iowa's current strength in the market is concentrated on the application or "software" side as opposed to hardware, the report notes – predominantly in the areas of educational and workforce assessment, content, and content visualization and virtual reality systems, which so far represent a relatively small cluster of jobs in Iowa. The state is also positioned for success in the area of Adaptive Learning Systems (ALS), a growing educational method that uses algorithms to deliver customized resources and activities that meet each learner's individual needs.
By 2022, ALS is expected to grow into a $2.85 billion market in North America, according to the study, "and Iowa has robust assets to apply to this opportunity."
"These are really cutting-edge things in the educational space," said Mr. Keune, who also serves as co-chair of the Iowa Innovation Council Edtech Workgroup. "We want to make sure we foster that right here in the state of Iowa." CBJ
[SIDEBAR]
Strategic recommendations for edtech success
The report from TEConomy Partners highlighted four strategic recommendations for the state's business and political leaders, including:
Facilitate collaboration and cluster networking: Form an EdTech Iowa collaborative cluster within an existing economic development agency, such as the ICAD Group, to be funded by membership dues and supplemented with funds from IEDA. This organization would review opportunities for strategic collaborations with existing organizations like the Technology Association of Iowa, develop and host an annual statewide edtech conference, and help edtech companies select Application Programming Interface platforms.
Develop a piloting and adoption environment: Identify K-12 and higher education groups for testing and piloting, develop a mobile edtech demonstration lab, create a training and exposure program in edtech for teachers and superintendents, and conduct surveys of K-12 leaders and workforce leaders to identify needs edtech could address.
Foster development of an entrepreneurial ecosystem: Promote a regional incubator and coworking space within existing edtech organizations, form an edtech mentoring network, develop a "pitch panel" for the annual edtech conference, build relationships with venture capital and early-stage investors with interest in either edtech or Midwest ventures, develop an assessment integration lab in Iowa City and promote edtech entrepreneurship within Iowa research universities.
Improve workforce development and access: Develop a transdisciplinary edtech graduate degree, connect rising tech software talent with edtech companies before graduation, connect edtech firms with Iowa software and app development firms, attract and recruit management talent with edtech experience, develop an EdTech Iowa website linking employers to job candidates, and conduct occupational needs assessments and demand projections for the sector statewide.