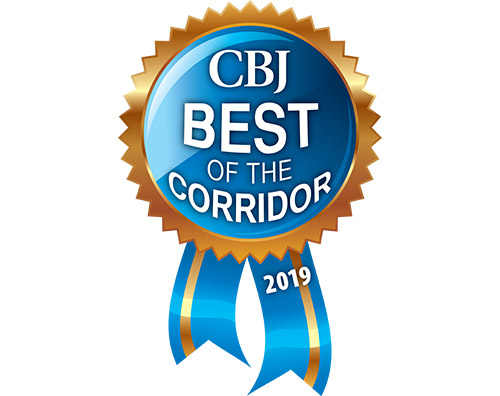 For many of our readers, it's a badge of honor to know who's the best of the best in the region – the perfect restaurant, the firm that always overdelivers, the cultural spot that never fails to impress. And why not? In the information age, being the person who knows what's good is a pow­erful place to be.
That's the logic behind the CBJ's annu­al Best of the Corridor competition, now in its 14th year. It started with an open call asking readers to vote for their favor­ites across 50 categories, ranging from the best professional firms to the best retail­ers. Nearly 3,000 people responded, and we have tallied the results to bring you this year's list of the best the region has to offer, presented in two consecutive issues (viewable below, or at our page-turning digital editions: Part 1, Part 2).
This year's list includes the usual mix of established names and newcomers, with 10 different companies racking up multi­ple awards this year. The McGrath Family of Dealerships once again swept our auto­motive categories (Best Auto Dealer, Auto Service Dealer and Auto Fleet Dealer), while Honkamp Krueger & Co., Skogman and Fusionfarm all earned three awards of their own – an impressive feat considering the heavy local competition in their respective categories.
Big congratulations are also due to Midwest Janitorial Service and RSM US LLP, both of which join the CBJ's Best of the Corridor Hall of Fame this year. That special honor was created in 2016 to recognize companies appearing on the list 10 times or more for their hard work and dedication to customer service. Hall of Fame honorees receive a special gold ribbon and yearly recognition, which you can see below.
As if this wasn't enough info to keep your local recommendation engine topped up, we've also listed the first and second runners up in each category polled this year, because everyone likes options. We encourage you to try all three compa­nies honored in each category and decide for yourself – there are certainly worse ways to spend the summer.
– Adam Moore
Hall of Fame Members
Best Accounting Firm: RSM US LLP
Best Architectural Firm: OPN Architects
Best Bank: Hills Bank 
Best Commercial Cleaning/Janitorial Co.: Midwest Janitorial Services
Best Engineering Firm: Shive-Hattery
Best Golf Course: Brown Deer Golf Club
Best Office Furniture Dealer: Tallgrass Business Resources
Best Sign Company: Nesper Sign
Best Trucking Company: CRST International
Best Website/App Developer: Informatics
Part 1
Best Accounting Firm: Honkamp Krueger & Co.
Best Auto Dealer: McGrath Family of Dealerships
Best Auto Fleet Dealer: McGrath Family of Dealerships
Best Auto Service Dealer: McGrath Family of Dealerships
Best Brewery: Big Grove Brewery
Best Business Consulting: Honkamp Krueger & Co.
Best Business Insurance: TrueNorth Companies
Best Business Leader: Duane Smith, TrueNorth Companies
Best Commercial Cleaning/Janitorial Co.: Premier Cleaning
Best Credit Union: GreenState Credit Union
Best Developer: Ahmann Companies
Best Engineering Firm: Axiom Consultants
Best Golf Course: Elmcrest Country Club
Best Hospital: Mercy Medical Center (CR)
Best Landscaping/Nursery: Culver's Lawn & Landscape
Best Law Firm: Simmons Perrine Moyer Bergman
Best MBA Program: University of Iowa Tippie College of Business
Best Office Furnishings & Design: Phelan's
Best Place to Buy Wine & Spirits: Hy-Vee Wine & Spirits
Best Residential Interior Design: Phelan's
Best Residential Real Estate Lender: GreenState Credit Union
Best Senior Living Community: Meth-Wick Community
Best Sign Company: CR Signs
Best Trucking Company: Don Hummer Trucking
Best Wealth Management: HK Financial Services
Part 2
Best Architectural Firm: Shive-Hattery
Best Bank: Cedar Rapids Bank & Trust
Best Commercial Real Estate Lender: Cedar Rapids Bank & Trust
Best Commercial Realty Company: Skogman Commercial Group
Best Cultural Attraction: Brucemore
Best Cybersecurity Company: RSM US LLP
Best Event/Banquet Venue: DoubleTree by Hilton Cedar Rapids Convention Complex
Best Eye Care: Iowa Eye Center
Best Fine Arts Venue: Hancher Auditorium
Best Home Builder: Skogman Homes
Best Home Health Agency/Equipment Provider: CarePro
Best IT Support Company: RSM US LLP
Best Jewelry Store: Siebke Hoyt
Best Local Internet Service Provider: Mediacom
Best New Restaurant: Rodina
Best Office Equipment & Supplies: Tallgrass Business Resources
Best Photography/Videography: Fusionfarm
Best PR/Marketing/Creative Agency: Fusionfarm
Best Printer: PIP Printing
Best Residential Realty Company: Skogman Realty
Best Shop for Corporate Gifts: Marketing Innovations
Best Specialty Marketing Products: Marketing Innovations
Best Staffing Temp Agency: Robert Half International
Best Walk/Run Event: Especially for You Race Against Breast Cancer
Best Website/App Developer: Fusionfarm