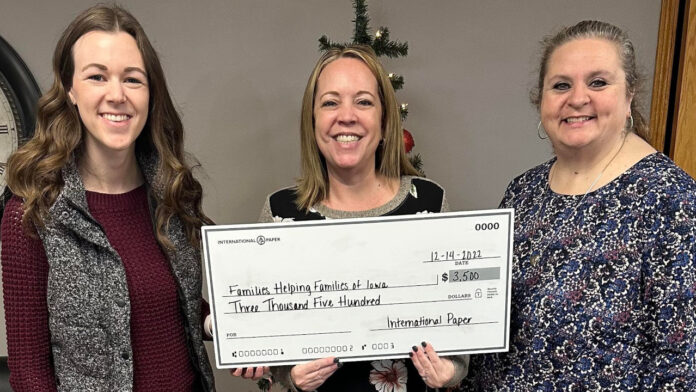 The International Paper Foundation has awarded a $3,500 grant to Families Helping Families of Iowa to support foster care youth with programs and grants to give them a normal childhood experience.
In a news release, International Paper officials said the grant is an example of the company's commitment to signature causes, including education, hunger, health and wellness, disaster relief and initiatives to improve the planet.
"Families Helping Families of Iowa is grateful for the support of the International Paper Foundation," Families Helping Families executive director Melissa Carlson said. "Grants from foundations like the International Paper Foundation are our primary source of program
funding. This funding enables us to provide services to more than 3,000 Iowa children and teens living in foster care each year."
"At International Paper, we believe our company cannot succeed if our communities do not succeed," added Megan Shook, communications specialist for International Paper's Cedar River Mill. "We are proud to support Families Helping Families of Iowa as they continue to support our community."
Families Helping Families of Iowa is a 501(c)(3) nonprofit organization designed to help and support children in foster care. The agency's vision is to create positive opportunities, relationships, and better overall health for Iowa youth who have been removed from their home. The agency relocated its operations to 6000 Seventh St. SW in June 2021.
Started in 1952, the International Paper Foundation provides grants to 501(c)(3) nonprofit organizations to address critical needs in the communities where the company's employees live and work. Together, International Paper Company and the International Paper Foundation have donated more than $188 million to charitable organizations since 2010.