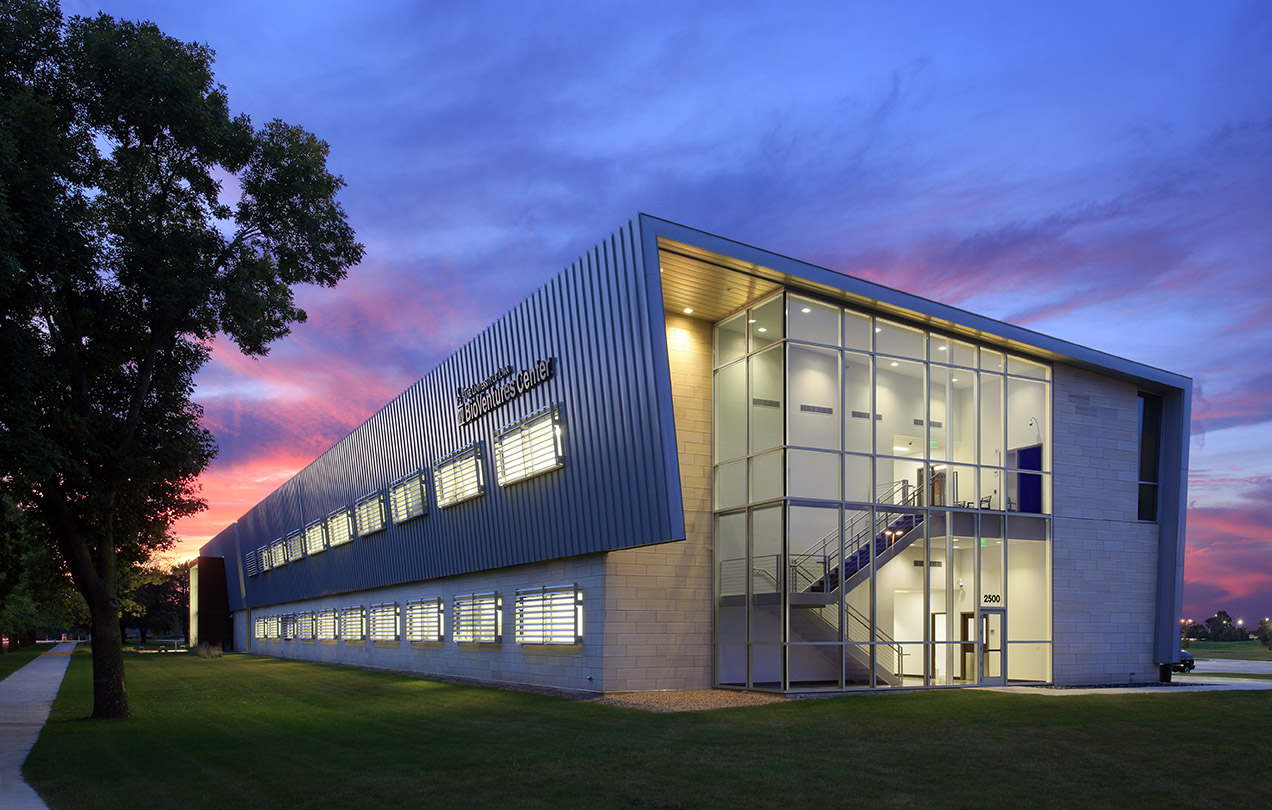 The UI BioVentures Center, which provides lab and office space for life science companies. CREDIT UNIVERSITY OF IOWA
By Katharine Carlon
katharine@corridorbusiness.com
Marie Kerbeshian jokes with her colleagues that the innovations coming out of the University of Iowa today might not see any revenue returned to the university until long after they've retired.
First, there's the three- to five-year delay between filing an initial provisional patent and final approval.
"And since our biggest blockbusters are coming out of the health care space, you then have to go through the FDA process, which can take a decade," said Ms. Kerbeshian, assistant vice president and director of the UI Research Foundation (UIRF). "Like I tell my staff, a lot of these inventions are going to benefit the university down the road when we might be gone. But it's also wonderful, because it will ultimately come back to the university and get reinvested in research."
With a mission of helping "bring your ideas to the world," the UIRF assists re­searchers in transferring technology from lab to marketplace, guiding them through the IP protection and commercialization process, working with industry to get new products licensed and collaborating with UI Ventures on new startups. Over the past six years, the office has handled 771 invention disclosures, applied for 589 patents and re­ceived final patent approval on 149, includ­ing a six-year high of 27 in fiscal 2018.
Ms. Kerbeshian said researchers who have discovered new devices, processes, chemicals, drug compounds, software and other protectable IP begin by filing an invention disclosure with her office, where it will be reviewed by staff with ex­perience in both the patent process and scientific and business development. She cautioned an invention is no longer pat­entable if it has been publicly disclosed, including through an academic journal, so it's important researchers protect their property prior to publishing.
"The second question we ask is, 'Would a company be interested in moving the in­novation toward the market?'" she said. If that's a yes, UIRF applies for a provisional patent that lasts one year.
Over the course of that year, UIRF staff begin reaching out to industry partners to see if they would be interested in licensing or developing a product. If they agree, the foundation will work with the company over the next 20 years – the life of the pat­ent – and collect the royalties.
Of the disclosures UIRF manages to li­cense, Ms. Kerbeshian said, about a third generate revenue – and the amount varies widely. The largest revenue generator in UI history was the CMV (Cytomegalovi­rus) Promoter, a tool that helps turn genes on and off in genetics research and in de­veloping therapies. The CMV Promoter generated about $170 million in royalties from the mid '90s until several years ago when the patent expired.
On the other hand, she said, "we also do a lot of licenses on research tools like antibodies and disease models that might only yield $2,000 annually. But they ben­efit the scientific community widely."
According to the UI's intellectual property policy, royalty revenue is split roughly four ways between the inven­tor, UIRF, the inventor's department and college, and an institutional "research enrichment fund" administered on a dis­cretionary basis by the Office of the Vice President for Research.
Ms. Kerbeshian said the UI has been bringing in about $1-3 million annually in recent years.
"We at the University of Iowa are work­ing to try to improve that and especially with Jon Darsee now on the economic de­velopment side, we're hoping to increase that and develop an ecosystem to move things forward more quickly," she said of the UI's new chief innovation officer, hired in October to lead research commercializa­tion and economic development activities.
"The biggest challenge we have here is our research at the university is not neces­sarily aligned with industries in the state of Iowa. A lot of the technology here [at UI] is in the very early stage and needs to be fur­ther developed before we can get the nation­al or international community interested," she added.
Ms. Kerbeshian, who took the UI job in 2017 after two decades holding simi­lar positions at the University of Virginia and Indiana University, said she believed the UI's recent push to move innovative research to market, and the collaborative spirit of the university community, would eventually get it there.
"People joke about people in the Mid­west being nice, but it is definitely something I notice at the UI – everyone is committed, excited to work with my office, giving of their time, and, more than that, helping their colleagues move forward," she said. "Researchers here are world-class and the work they're doing is excellent, innovative and really prime for commercialization."
CBJ subscribers: See examples of the 27 patents received by the University of Iowa Research Foundation in 2018 in Jan. 28's print and digital editions.