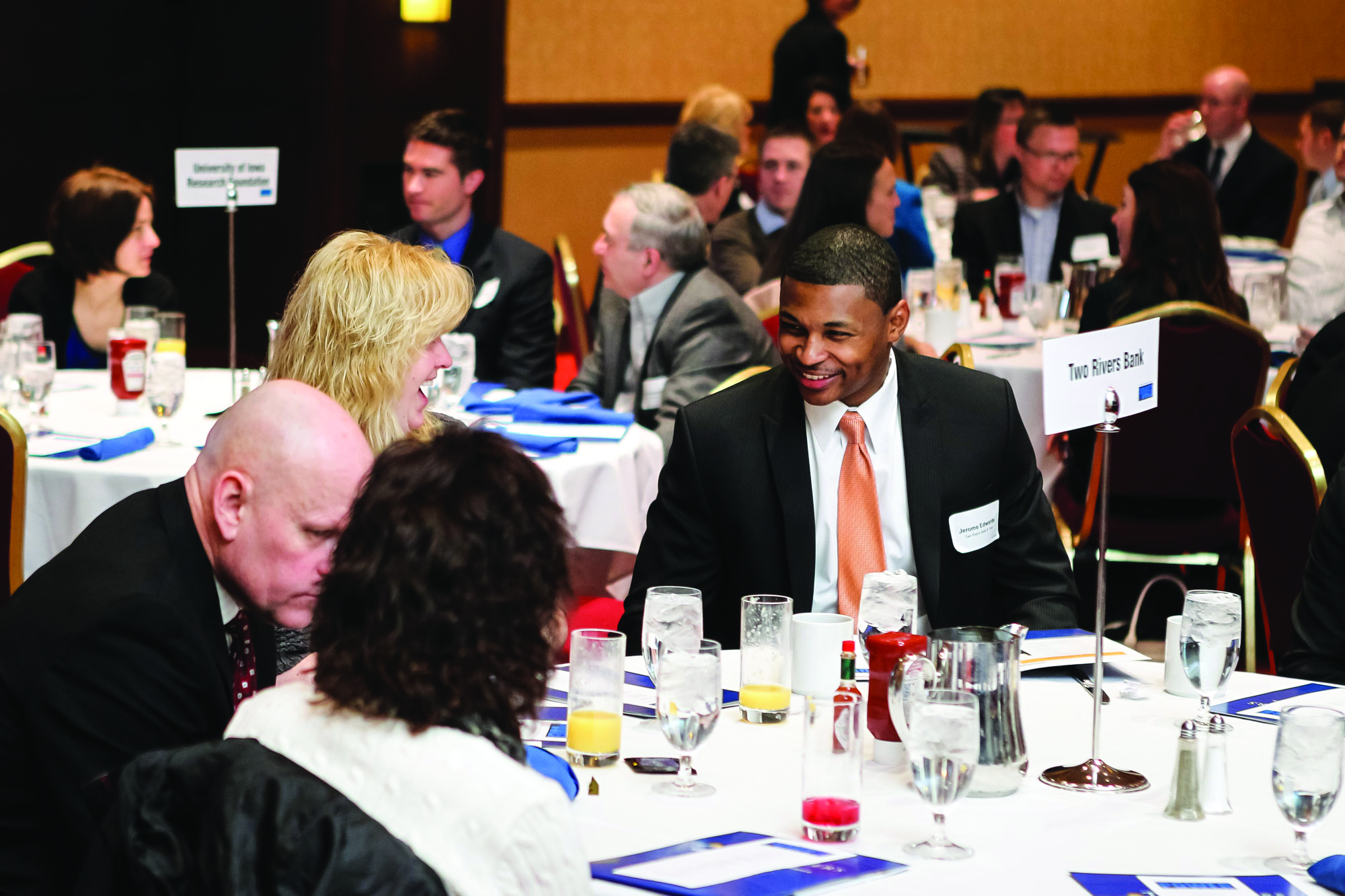 By Angela Holmes
CORALVILLE – Learn from your failures, but be sure to tout your accomplishments.
These were the overriding themes at "Unleashing Innovation in the Corridor," the Corridor Business Journal's first Power Breakfast of the year, held March 5 at the Coralville Marriott.
A panel of executives in the private and public sector shared their experiences with innovation. Not every idea will make it, all agreed, but teamwork and execution will make the great ideas thrive.
"We vet out technologies, but it's OK if some don't go to market," said Susan Wood, president and CEO of VIDA Diagnostics in Coralville. "It's OK if they don't make it. Not every idea is commercializable."
Ms. Wood has the unique perspective of living in the Silicon Valley in Palo Alto, Calif., and running a business in Iowa.
"There are clearly differences in the two areas," she said. "It's nice coming here; this is a growth area for innovation. "
"At the end of the day, people here go home to their families. Silicon Valley people don't do that," she said. "That reflects the culture of people here. Embrace the culture, embrace who you are."
Iowans tend to be more humble about their innovative creativity, preferring to be regarded as problem-solvers and hard-working, according to Mark Kittrell, president of the Iowa Innovation Corporation, which was created by Gov. Terry Branstad last year to develop strategies and plans for accelerating innovation in Iowa.
"People have passive confidence here; you have to pull out the confidence," Ms. Wood added.
Personality and the ability to handle conflict and work in a team are prime factors in the hiring practices for innovative companies, the panelists agreed.
"Innovation is about constant conflict," said Lee Eilers, president of Marion Mixers, a Marion business that makes commercial mixing equipment. "We hire people who have a competitive spirit, and we look at the character of individual and how they serve other people."
Aaron Warner, chief information officer of Integrated DNA Technologies in Coralville, agreed that organizational fit is primary in hiring.
In fact, one of IDT's core values directly reflects on an employee's personality and ability to work with others. "Be yourself unless you're a jerk," is a core value the company holds in high regard, he said.
"People need to treat each other with respect and having a jerk can destroy the process," Mr. Warner said, adding that IDT has terminated people who break that value.
Teamwork and collaboration are keys to bringing innovative ideas to fruition, the panelists said.
"If you really want to be innovative, you have to be collaborative," Mr. Kittrell said.
Mark Scott, director of innovation at Diamond V in Cedar Rapids, said his company has a strong commitment to innovation from top-down.
"We make sure the strategy is clear, the goals are clear and that we are driving that down into the departments," he said.
Mr. Eilers said leadership needs to instill an attitude of innovation throughout the company, adding that experience is a depreciating asset.
"What we know today won't be relevant tomorrow," he said.
Ms. Wood agreed that innovative employees need adaptability to change – constantly.
"You have to be comfortable being uncomfortable," she said.
As well as the right employees, innovation requires money – and lots of it.
Mr. Kittrell said it is a misnomer that there isn't enough capital available in Iowa to support innovation.
"There is a tremendous amount of capital in Iowa, we just do it in a fairly traditional way," he said. "There are a lot of great ideas in Iowa, we just have to have the ideas match up with the right money and right partners."
Mr. Kittrell spoke about angel investor groups such as Prairie Angels in Des Moines. Eastern Iowa is in the process of creating its own angel investor group. On the public side, there are also a fair amount of resources, he said, such funds awarded to the UNI Metal Casting Center last year for a 3-D printer to create sand-casting molds for manufacturing companies.
Another important component of innovation is involving customers early on in the development of a new idea.
Mr. Scott explained how his company went to one of its largest customers a few years ago asking for help in developing products for them. After testing a couple prototypes, two new products will be launched this year for that company, he said.
"We needed to get outside our walls and interface with the customer," he said.
The event, attended by about 125 people, was moderated by Kate Minnette, general manager of SVP, Scoring and PAC Portfolio at Pearson in Iowa City.