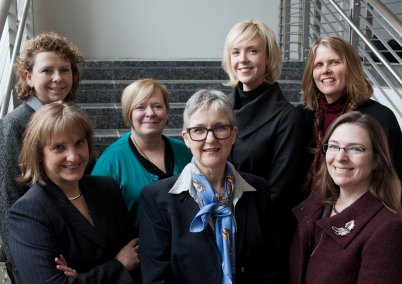 Leaders recognized for their efforts as Women of Influence
John Kenyon
Each year after the Corridor Business Journal's Women of Influence class is selected, publisher John Lohman hosts a luncheon to allow the new honorees to learn more about the process and to interact with past recipients.
This annual event provides a low-key way for several of the past honorees to welcome and congratulate the new class. For those non-honorees able to attend, it also offers a chance to be awed at how much power there is in the room.
The criteria for the awards are deceptively simple: "Women of Influence identifies women who have made a difference in the Corridor and who are representative role models as leaders in their fields and community." Based on that, the women selected each year are being honored for what they have done.
The unspoken aspect of this process, however, is that they also are being recognized for what they will do. A look around the room at the attendees at that luncheon a couple of weeks back is testament to that. Had the women in attendance chosen not to return to work after lunch that day, it's possible the Corridor would have ground to a halt as a result.
This year's honorees only add to that power and prestige. These are women who get things done, and who will continue to do so, award or not. Among them is Deb Dunkhase, who has led significant growth for the Iowa Children's Museum in Coralville, and Lorraine Williams, whose Dodici Café and other businesses in Washington are credited with revitalizing that town.
They are joined by seven other women whose accomplishments in the worlds of business, nonprofit work and civic engagement have set them apart.
Their influence to date earned them a spot on the list; their influence from here forward is what will lead to the accomplishments they will share at future luncheons.
As Carroll Reasoner, herself a past Woman of Influence, wrote in nominating Vanessa Rogers, "Vanessa has big visions for our community and is unstoppable in her drive to better the Cedar Rapids downtown area and the metro area as a whole."
They also mentor future leaders.
"Just as her research crosses barriers of discipline, her service advocacy and mentor ship transcends boundaries of culture, nationality and the 'town-gown' divide," wrote Jordan Cohen, University of Iowa vice president for research, in nominating Corrine Peek-Asa.
As in the previous seven years, the Women of Influence selection process began with reader-submitted nominations, which included supporting details, resumes and other materials to be considered. Packets for each of these women were forwarded to a selection committee made up of last year's Women of Influence honorees, who made the final decision on the nine chosen for this year's awards.
This year's class draws more from the public sector, with seven of the women working for public entities rather than businesses. The geographic split tilts to the south this year: five of the women work in Johnson County, three in Linn County and one in Washington County.
They will be honored at the annual Women of Influence awards banquet from 4:30 to 7:30 p.m. March 10 at the hotelVetro in Iowa City.
This year's honorees
Theresa Brennan, chief medical officer, University of Iowa Hospitals and Clinics
Deb Dunkhase, executive director, The Iowa Children's Museum
Alison  Ames Galstad, director, Coralville Public Library
Debra Oliver, director of MBA program, Mount Mercy University
Maureen Osako, vice president/owner, Informatics Inc.
Corinne Peek-Asa, professor, University of Iowa
Laura Reed, senior vice president of patient care service and chief nursing officer, Mercy Medical Center
Vanessa Rogers, district improvement manager, Cedar Rapids Metro Economic Alliance and president, Vanessa Rogers Consulting
Lorraine Williams, owner, Dodici Inc.