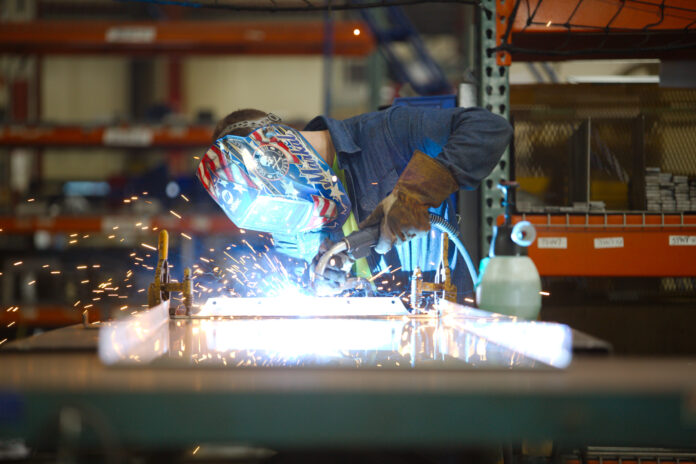 After experiencing growth due to increased demand for its agriculture products, New Leader Manufacturing in Cedar Rapids is looking to hire – a task that's not so easy with a short supply of qualified workers in high demand.
"We have been finding it difficult to find qualified employees," said New Leader Manufacturing (NLM) Director of Human Resources Andi Riem. "The manufacturing industry in particular is facing a pretty severe workforce shortage. For whatever reason, there's just not enough students getting interested in the trades and pursuing them after high school."
To generate interest early, NLM partners with nonprofits focused on STEM (Science, Technology, Engineering and Math) and trade development, as well as schools such as Kirkwood Community College and its manufacturing sector board.
"These organizations are trying to get the trades in front of students more, because there are incredibly rewarding careers out there waiting for them," Ms. Riem said. "We're trying to figure out what else we can do as a community to try to get students to see these opportunities and pursue them."
Students may have outdated views of what a manufacturing job entails, which couldn't be further from the truth, she said.
"It is not the manufacturing that was around in the 1930s and 1940s. It's an incredibly technology-driven industry now. And whenever we have high schoolers tour our facility, they're always amazed and say things like, 'Wow, I didn't know this is what manufacturing was.'"
And somewhere along the line, she said, there was a strong push for four-year degrees, pushing the trades further back.
"But as we've come to realize, that path is not right for everybody, and there are incredible careers that are available immediately after graduation, or after a two-year degree program," Ms. Riem said. "Our aim is to simply show students all the opportunities available, so they can make an informed decision about what's best for them."
Some skills are so valuable, qualified job candidates often field multiple offers.
"Welders are in such high demand that whenever we talk to the students at Kirkwood, we tell them, 'kudos on choosing this career path, because you're going to be in a position of turning down job offers,' whereas for a lot of other students it's going to be the other way around," Ms. Riem said.
Increasing product demand
As supply chain issues have challenged many industries since the onset of the COVID-19 pandemic last March, NLM has stayed on top of the increased demand, making sure its suppliers have the equipment they need.
"Everybody – ourselves and our partners – was designated (as a) critical infrastructure workforce with us playing such a crucial role in the food production process," Ms. Riem said. "We're just in a position where we cannot shut down and neither can our customers. We're all trying to look ahead to see what we can do to protect ourselves against those supply chain issues. That's something that we've been dealing with for the past year and continue to do so."
The recovering corn and soybean markets, combined with food production needs in the United States, have increased the demand for New Leader product lines, including its dry nutrient broadcast spinner spreaders which spread fertilizer onto fields.
The company has exclusive partnerships with implement producers John Deere, Case and AGCO. Internationally, NLM has a facility in Brazil which is in the process of expanding.
"That has been driving a need for additional team members internally to help support that growth as well," Ms. Riem said.
In response, New Leader recently announced the opening of 15 new production and office positions ranging from machine operator, to welding, assembly, IT and HR.
The company's Hi-Way road maintenance product line is sold to municipalities like New York City for their snow and ice removal needs.
NLM's workforce has weathered the pandemic heroically, Ms. Riem said, with a 100% on-time delivery to all its customers.
"With us being declared a critical infrastructure workforce really early in the pandemic, we had to undergo a lot of policy changes internally to mitigate COVID-19, with a predominant portion of our workforce unable to work from home," she said. "We are very proud to say we have had zero employee-to-employee COVID-19 transmission."
The NLM team had a voluntary vaccination rate of 85% during an onsite vaccine clinic in March.
"We are really looking forward to bringing on more team members here," Ms. Riem said. "We offer some very fulfilling and rewarding careers."
For more information on the positions available, visit www.newleader.com/careers.