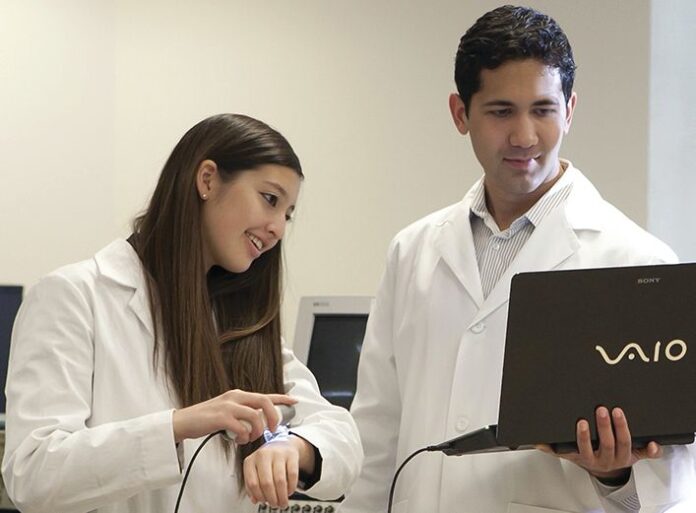 3Derm co-founders Liz Asai and Elliot Swart have joined newly-renamed Digital Diagnostics as the company's vice president of dermatology and chief architect, respectively. Digital Diagnostics acquired the Boston-based company last month, adding 3Derm's skin cancer diagnostic device to its roster of products. CREDIT 3DERM
By Katharine Carlon
katharine@corridorbusiness.com
A Corridor company pioneering autonomous artificial intelligence (AI) in health care has unveiled a new acquisition and a new brand to reflect its growing platform of technologies designed to detect illness without the need for specialists.
The Coralville company formerly known as IDx has renamed itself Digital Diagnostics after purchasing Boston-based 3Derm Systems last month for an undisclosed amount.
With the deal, Digital Diagnostics now holds the intellectual property for two milestone autonomous AI technologies – its flagship, IDx-DR, which diagnoses diabetic retinopathy and diabetic macular edema, and 3DermSpot, a skin cancer diagnostic system that received two Breakthrough Device designations from the Food and Drug Administration in January and is currently under clinical investigation.
Dr. Michael Abramoff, who founded IDx in 2010, said the purchase and rebrand furthers the company's goal of offering an expanding suite of AI diagnostic tools across a variety of medical specialties.
"We're creating integrated solutions for customers, a transparent and seamless platform," Dr. Abramoff said, adding Digital Diagnostics will continue developing plug-and-play-style AI diagnostic tools for providers. He likened the concept to downloading apps on a mobile phone: "You can just add it on, and you're done."
IDx-DR was the first autonomous AI system authorized by the FDA in any field of medicine. It has gone on to be used by some of largest health systems in the United States, and is now available in 17 global markets, including the Netherlands, Poland, Austria, Germany, the United Arab Emirates and Saudi Arabia.
The company now hopes 3DermSpot – the only other autonomous AI device to ever receive FDA Breakthough Device status – will follow the same path. 3DermSpot detects melanoma, squamous cell carcinoma and basal cell carcinoma via imaging and machine learning algorithms in much the same way IDx-DR detects diabetic eye disease.
"Expanding the specialties our products cover allows our customers to use our platform as their one-stop shop for autonomous AI diagnostics at the point-of-care," said Digital Diagnostics CEO John Bertrand in a release.
Mr. Bertrand joined the company in late 2019 as part of a leadership reshuffle aimed at scaling up operations to handle increased market adoption of IDx-DR and accelerating new product development in other medical specialties – a goal the addition of 3Derm begins to address.
Dr. Abramoff, who developed a patented biomarker-based approach to build AI algorithms to perform cognitively complex tasks, said both products can be used by primary care staff with little training. IDx-DR and 3DermSpot both use high quality images of eye and skin paired with autonomous AI to render on-the-spot diagnoses. Because a computer makes clinical decisions, the need for highly trained specialists is lessened.
The end result is cheaper, more effective, and more inclusive health care, he said.
"We have always been planning to do more AIs because we want to effect more cost savings, better quality of care and better access," he said, adding that autonomous AI diagnostics help bring better health care to underserved inner city and rural areas alike by eliminating the need to consult specialists and attendant co-pays. "This is about making health care better, more accessible and cheaper."
The company notes that the COVID-19 pandemic has worsened health care access and inequity issues as members of at-risk populations put off potentially important specialist care. Autonomous AI can close some of the gap because it is a computer, not a clinician, making the medical decisions, enabling patients to obtain instantaneous diagnoses for serious conditions from primary care physicians and other non-specialist providers.
"Let's say you're in rural Iowa and you happen to have diabetes," Dr. Abramoff explained, adding that in additional to regular checks, diabetic care includes specialist eye checks that have become harder due to travel, health care co-pay issues and fear of contracting the virus. "It's a test you know you need, but you end up not going. If you're that patient, you can get that test without an extra visit and without an extra co-pay – for your eyes, and now for your skin."
Dr. Abramoff said adding 3DermSpot is just the beginning of the company's expansion. New AI diagnostic systems are under development and the company is actively assessing new acquisitions.
"It's all of the above," he said. "What we want to do is bring autonomous AI to patients wherever we can. We're definitely working on many of our own. The potential is enormous."
Liz Asai, 3Derm's former CEO and co-founder, said Digital Diagnostic's mission of creating a new standard of care that close gaps and helps "democratize" health care meshed with 3Derm's goal of "improving access and empowering frontline care providers."
Dr. Abramoff said Digital Diagnostics has absorbed the entirety of 3Derm's team. The company now has about 70 employees in Coralville, Boston and Chicago. The Chicago office acts as both a de facto showroom for products and a convenient workspace for remote employees.
"This was really almost a merger and given the highly qualified people, we took all of them," he said. "Right now we are the leader [in this space]. We believe in AI done right … We are very aligned in what we are doing."   CBJ