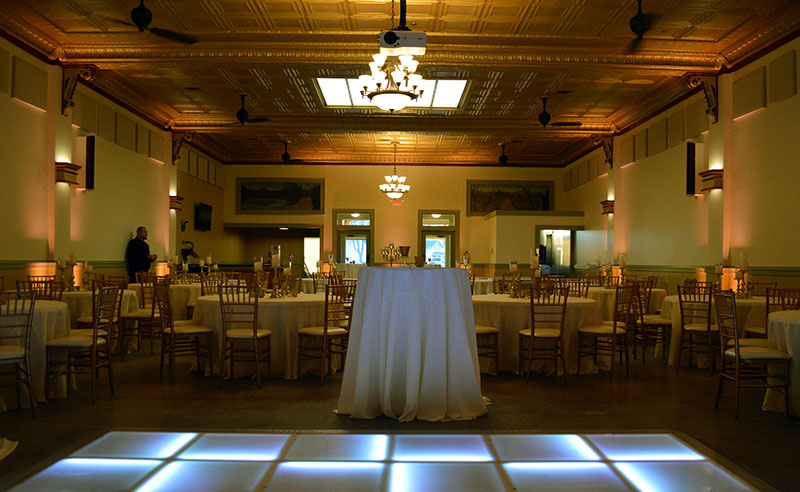 Inside the newly renovated Ideal Social Hall in Cedar Rapids' Czech Village/New Bohemia district. PHOTO CINDY HADISH.
By Cindy Hadish
news@corridorbusiness.com
CEDAR RAPIDS—A historic the­ater-turned-reception hall is the latest event venue in the burgeoning Czech Vil­lage/New Bohemia Main Street District, but while the options are multiplying, business leaders say the district has plenty of room for growth.
The Ideal Social Hall, located at 213 16th Ave. SE, started as the Ideal Theatre in 1914, one of three silent movie theaters that catered to the neighborhood's Bohe­mian immigrants. It housed a variety of businesses – most recently a paint shop – before Jon Jelinek, owner of nearby Parlor City Pub & Eatery, purchased the building and spent nearly three years with his fam­ily transforming it into a rental hall for wedding receptions, meetings and more.
With original tin ceilings and other historic features restored alongside mod­ern updates such as a projector screen, the building reopened on Nov. 9.
Matt Aswegan of Parlor City's manage­ment team said while other sites in the district also cater to weddings and busi­ness meetings, the Ideal Social Hall will have its own niche. The interior has room for about 175 people, with outdoor space available for tents and more seating.
"There are a lot of banquet options, but this provides more of a private space," Mr. Aswegan said.
Among those options are the Nation­al Czech & Slovak Museum & Library in Czech Village, and the African American Museum of Iowa, up the street from the Ideal Social Hall at 55 12th Ave. SE.
LaNisha Cassell, executive director of the African American Museum, pointed to its assets, such as ample on-site park­ing, a full kitchen, AV options and versa­tile spaces. The 2,700-square-foot Aldeen Davis Celebration Hall has room for up to 240 people, while the AEGON Learning Lab, at 500 square feet, has lecture-style or seated space for 20-40 people.
"While we do think there are quite a few local options for potential renters, each space offers something unique to individual price points, versatility of space and capacity," Ms. Cassell noted in an email.
Forrest Meyer, director of marketing and communications for the National Czech & Slovak Museum & Library, said the museum is used frequently as a meet­ing and event space for corporations and nonprofits, and a social space for weddings, receptions and anniversaries.
It offers a half-dozen spaces, ranging from meeting rooms to a banquet hall, and can accommodate groups from a few dozen to a few hundred. Some of the outdoor events have had attendance up to about 1,000 people, Mr. Meyer noted.
One added feature for guests is access to exhibitions in the museum galleries during events, he added.
NewBo-based entrepreneur Steve Shriver, owner of the former Artisan's Sanctuary at 45 16th Ave. SW, flirted with the idea of turning the 6,000-square-foot building into a low-cost rental space after the organization moved to Marion last winter, but could not justify the expense of converting to an event space and meeting code for such a large venue.
The site will become retail space next fall, Mr. Shriver said.
Meanwhile, supporters continue to raise money for a $2.5 million plan to reconstruct the Riverside Roundhouse as an enclosed space on a new site behind 17th Avenue SW. The building is envisioned as a spot for markets, recreational activities and a rental space for weddings, graduation parties and more.
Plans call for a groundbreaking in June 2018, with a grand opening tentatively scheduled for June 2019.
On the other side of the Cedar River, Raygun, at 1028 Third St. SE, recently opened about 900 square feet on its second floor as event space for art exhibits, album releases, live music and other creative functions.
Manager Thomas Somphanthabansouk noted that the space is free for artists to use, so they don't have to worry about the cost of renting a space and can focus on promoting their art.
Art exhibits also are hosted in space nearby in the Cherry Building, 329 10th Ave. SE, and in CSPS Hall, located just across the street from Raygun.
Mel Andringa, co-founder of Legion Arts, said the historic CSPS building hosts community events and nonprofit fundraisers, and partners with a limited number of arts presenters, but Legion Arts, the nonprofit that owns the building, does not actively pursue rental income.
A third-floor Lodge Room can be rented for seminars, workshops and family celebrations. The bar and lobby on the second floor can be rented for receptions, and a classroom and board room are available for community groups and corporate off-site rentals.
"We are frequently asked to provide space for events we cannot accommodate, and do not feel there is a glut of available space in NewBo," Mr. Andringa said in an email. "NewBo is a popular place to have events and the demand is hard to satisfy."
Realtor Craig Byers of Pivot Real Estate agreed, saying a venture fell through to open an event space called The National in the former Chrome Horse building at Third Street and 12th Avenue SE, but interest remains high for the 10,500-square-foot space on the second-floor of the historic ZCBJ building.
"I think the district still could accommodate more," Mr. Byers said of rental space. "You're not going to get over-saturated because it's such a destination."
Elsewhere in New Bohemia, the NewBo City Market offers space for large events.
Executive Director Scott Kruger said the site includes Rotary Hall, with more than 4,000 square feet and the Market Yard, Bankers Trust Stage and The Patio for outdoor rental space. All remain in high demand.
"There is definitely enough talent in the area to fill all these venues every night," Mr. Kruger said. "Additionally, each space offers something unique … We all bring something distinctive to the party and the district as a whole can only benefit from having all of these wonderful spaces here."