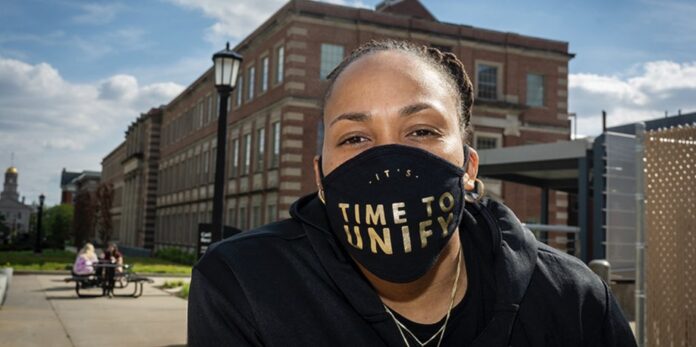 A new online resource aimed at growing and promoting Black-owned businesses in the Iowa City area launched this month. The site, called a Story Map, includes a directory and map of Black-owned businesses in Johnson County, and highlights the entrepreneurial journeys of 14 Black entrepreneurs and community leaders through personal stories, photos and audio clips.
The University of Iowa School of Planning and Public Affairs, Department of Theatre Arts, Obermann Center for Advanced Studies, Iowa Initiative for Sustainable Communities, along with the Iowa City Area Development Group partnered to create the website.
The project aims to raise awareness in the community about existing businesses and organizations, while also driving economic growth and prosperity for Black business owners. Collaborators gathered insight from the stories to identify opportunities for new resources and initiatives.
The Story Map project is a collaboration featuring faculty and students from the University of Iowa's School of Planning and Public Affairs and Department of Theatrical Arts. Twenty students in a combined class completed work on this project during the spring 2021 semester with follow up from the faculty teaching the course (Loyce Arthur, Mark Bruckner, Charles Connerly, Travis Kraus) and Aja Witt, a UI Ph.D. student.  
 "Through a unique collaboration between University of Iowa faculty and students, Black business owners and entrepreneurs, and other community members, we explored how artists, public planners, and community partners can work together on strategies to advance economic inclusion and support Black entrepreneurs in the Iowa City area," UI Theatre Arts Professor Loyce L. Arthur stated in a release.  
It is expected that in subsequent semesters, students will expand and update the interviews and directory to more fully capture the experience and richness of Black-owned businesses in the Iowa City area.  Professor Arthur adds:  "When we teach the course again in Spring 2022 we will expand the maps and our approaches to include more partners. This is a long-term project"
Kate Moreland, president of Iowa City Area Development Group added, "The cultural and ethnic diversity in Johnson County enriches our community, builds economic vitality, and uplifts our community as a whole. The Iowa City Area Development Group is proud to have been a part of such an important initiative to highlight the unique stories of our area's Black-owned businesses and nonprofits. We look forward to doing our part to help uplift and support these entrepreneurs and organizations both now and in the future."