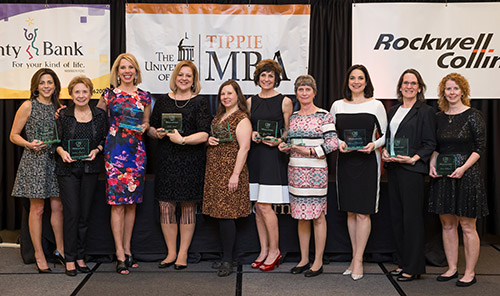 Over the past 11 years, the Corridor Business Journal's annual Women of Influence program has spotlighted the many talented and inspiring women leaders who have dedicated themselves to making our region a better place to live. As the program settles into its second decade, we're proud to report that this year's class continues to raise the bar.
Ranging in age from 40-68, these women have helped shape their generations and communities through their actions, and continue to set a shining example for future leaders.
As in previous years, the nomination packets – which included resumes, supporting details and letters of recommendation – were given to a selection committee made up of last year's Women of Influence honorees. The group then had the task of narrowing the field down to 10 women. The honorees were notified of their award with a hand-delivered note and flowers.
Once the class of 10 was chosen, our reporters and contributors had the similarly unenviable task of boiling down each of these women's extensive and impressive resumes to a short profile showcasing why they were selected as a Woman of Influence. You'll find links to those stories below, and it's our hope that you'll get a sense of just how much ground there is to cover.
PHOTOS: See shots from the 2016 Women of Influence Awards Dinner >
Each class in our Women of Influence program seems to develop its own collective identity, and this year's was no different. In working on the following profiles and listening to the honorees' speeches at our annual Women of Influence awards dinner, it became evident that the things uniting this class are a tenacity in pushing through adversity, and a deeply felt belief in giving back.
Kelly Lamb, manager of the Russell and Ann Gerdin American Cancer Society Hope Lodge in Iowa City, referenced the Ernest Hemingway quote, "The world breaks everyone and afterward many are strong in the broken places," and recalled being broken herself 14 years ago. Struggling under the weight of a divorce and single motherhood, a cancer diagnosis and two major surgeries, she found herself "adrift and searching for an anchor" before she discovered her role at the Hope Lodge, working with cancer patients and their families.
"They taught me to use that pain to help myself and help others," Ms. Lamb said during her acceptance remarks. "It's true what they say – when you reach out and give back, you get back."
Ann Oleson, the founder and president of Converge Consulting, spoke of the need for putting on one's "big girl pants" at tough moments in life, recalling a particularly tough sales trip that saw her flights delayed, her bags lost and her colleague missing – all while being 26 years old and seven months pregnant. Expecting the typical five to six representatives at the university, she was instead greeted by a boisterous group of 25 people.
"I had two options and phoning a friend wasn't one of them," Ms. Oleson said. "I could burst into tears and run into the ladies room, or put on my big girl pants and kill the presentation."
"It was the best presentation in my life, and we won the business," she added. "I recall that story often to remember that you can make it through anything."
Tracy Trittle, president of Trittle Consulting Group, recalled "climbing into bed and pulling the covers over her head" following her downsizing in the wake of the WorldCom implosion in 2002. As an Iowa farm girl, work had become an integral part of her self-worth, and a key measure of her success. She described realizing she had her own choices in that moment, and chose to rise in the face of adversity – a turning point that propelled her to where she is now.
"It has led me to the tentative first steps to entrepreneurship, to the realization of a thriving consulting business," she added. "All of the right steps, inspirations and connections presented themselves – all I had to do was act."
Indeed, that seems to be a sentiment shared by all of this year's Women of Influence honorees. We hope you'll be inspired by their generosity and passion while reading this year's profiles.
– Adam Moore
2016 Women of Influence:
Tami Gillmore, Four Oaks
Judith Joyce, Earthview Environmental Inc.
Kelly Lamb, Russell and Ann Gerdin ACS Hope Lodge
Katie Lammers, Lammers Construction Service
Lura McBride, Van Meter Inc.
Tiffany O'Donnell, IWLC
Ann Oleson, Converge Consulting
Delaine Petersen, The Arc of East Central Iowa
Karen Stenger, University of Iowa Hospitals and Clinics
Tracy Tritle, Tritle Consulting Group