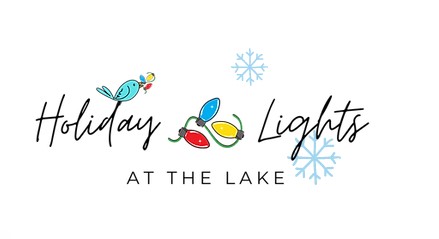 Sponsors, volunteers and friends of The Bird House and the Iowa City Area Business Partnership will gather for a private ceremony on Nov. 17 to light up the Holiday Lights at the Lake for the first time this season.
Located at the West Overlook Campground at Coralville Lake, the Holiday Lights at the Lake display will officially open to the public on Thanksgiving Day and will operate through New Year's Eve. Presented by The Bird House Hospice Home of Johnson County, viewers can take in the professional light display of animated decorations sponsored by local businesses with proceeds supporting Iowa's only independent residential hospice home.
New this year is the addition of Memory Lane. Here community members can make a donation in memory of their loved one who has passed and who will be honored throughout the event. Families are invited to attend a special Evening of Remembrance on Nov. 20.
The mile long route includes brightly lit archways, whimsical Santa's ranch characters, storybook scenes, fantasy flower arrangements, moose and reindeer involved in Olympic sporting activities and more.
Visitors can walk through on Wednesdays or drive through on all other days. The admission price for Wednesday walk through is $5. Admission other evenings for cars/vans/SUV is $10, large vans $20, mini-buses or small limo $30, or chartered/school buses or large limos $50. Hours are Sunday-Thursday from 5:30-8:30 p.m. and Friday-Saturday from 5-9 p.m. Tickets may be purchased through Eventbrite or cash will be accepted at the gate.
The Bird House Hospice Home of Johnson County is one of only 34 such Omega Home Network homes in the United States. Its staff and volunteers have been dedicated to compassionate end of life care since 2016. They have cared for more than 360 adult hospice guests, their families and friends at the house.
Proceeds from Holiday Lights will benefit the Bird House. For more information about the event is available here.