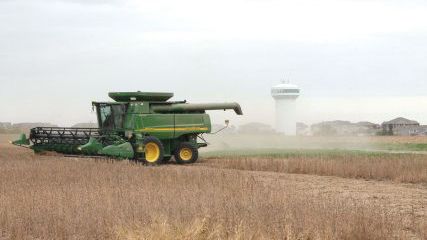 A pair of keen observers closely attuned to the Iowa ag economy — and its tendrils stretching across the nation and around the globe — see bright months ahead for the state's farmers and agribusinesses.
The sunny outlook is tempered with realism for Mike Paustian, a Walcott area farmer serving as president of the Iowa Pork Producers, and Iowa State University ag economist Chad Hart. With pork futures for June and July hitting the $85 per hundredweight range, a level that allows producers to lock in profits, Mr. Paustian describes himself as "cautiously optimistic."
Mr. Hart's forecast is buoyed by strong export demand, support by speculators for commodity markets and signals from the incoming Biden administration that changes to ag policy are unlikely to be abrupt and unsettling. Both Iowans temper their optimism with the observation that higher grain prices also mean higher feed costs for livestock producers.
For many in the ag business, 2020 was a strange year that ended well, Mr. Hart said.
On the plus side, signing of the U.S. Canada Mexico agreement and first phase of the new China trade deal provided welcome certainty. On the negative side of the ledger, the coronavirus, the summer derecho and drought upended the industry.
"We hit bottom in the middle of the year but bounced back up and ended up better than we started," he said. "The bounceback is continuing as we look into 2021."
The year-end rally in grain prices had pushed per-bushel prices for corn and soybeans to $5 and $13 respectively as of the CBJ's publication deadline.  Mr. Hart attributed some of the price gains to shrinking output due to drought in the United States, South America and Black Sea region of Europe.
"Global supplies aren't quite as big as we thought they would be," he said. "Exports have been incredibly strong."
As it rebuilds a hog herd decimated by African Swine Fever, China has been a major buyer of U.S. grain, but other countries, including Japan, Mexico and the Philippines, have stepped up purchases as well, he said.
Commodities speculators "have been getting long" in several ag markets, including grains, pork and beef. Their buying of futures contracts on bets that prices will continue rising creates a self-fulfilling prophecy by pushing up prices, Mr. Hart said.
Farmers have received major help from the U.S. government this past year with regular programs, plus trade aid and coronavirus relief payments that have totaled nearly 40% of net farm income. Mr. Hart said it's widely expected that government assistance will be less of a factor in 2021.
Mr. Paustian agrees that Chinese demand has been a major driver of pork, corn and bean prices.  Farmers who did a good job of hedging their feed costs are in the best position to take advantage of strong pork markets going forward, he said. The $5 per bushel corn could have been purchased for $3.60 per bushel in the fall. Likewise, soybean meal to feed hogs sold for $300 per ton in the fall, compared to $480 per ton today.
He is hopeful that coronavirus vaccines, now being rolled out, will bring the pandemic under control in 2021. Making it through the winter so far without major outbreaks at packing plants has been a positive sign, he said. All food workers, not just those in packing plants, should be considered for priority in vaccinations once high-risk categories such as health care workers and the elderly have been vaccinated, he added.
Both Mr. Paustian and Mr. Hart are comfortable with President-elect Joe Biden's choice of Iowan Tom Vilsack to serve as secretary of the U.S. Department of Agriculture.
"We know he understands ag in Iowa; there won't be a lot of education needed," Mr. Paustian said of Mr. Vilsack, who served two terms as the state's governor and eight years as USDA chief in the Obama administration.
Farmers see a few potential negatives on the horizon in terms of stricter environmental regulations under the Biden administration, but by turning to Mr. Vilsack, Mr. Biden is saying to farmers, "I'm going to work with you on that," Mr. Hart said. He predicts there will be more promotion of biofuels, less talk of small refinery waivers from ethanol blending requirements and more discussion of carbon credits to farmers as ways to address climate change under the new administration.