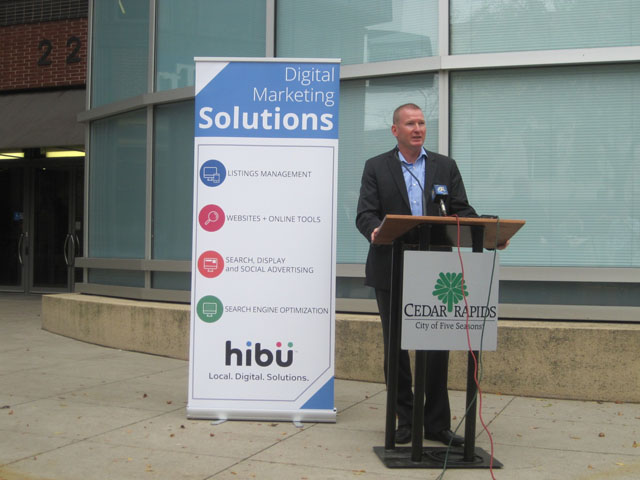 Hibu CEO Kevin Jasper discusses the company's plans to relocate to the Town Centre building at 221 Third Ave. SE, Cedar Rapids during an Oct. 18 press conference.  PHOTO/DAVE DEWITTE
By Dave DeWitte
dave@corridorbusiness.com
Downtown Cedar Rapids landlords and retailers had something to celebrate last week after hibu announced plans to move its 650-person operation to the Town Centre building at 221 Third Ave. SE.
The relocation is one of the largest one-time transfers of employees into the downtown area, and will more than offset the loss last month of 300 Rockwell Collins IT employees who were moved back to the company's central campus from the very same building.
It was great news to retailers like Melane Primasing, whose Simply Divine Premiere Chocolatier shop at 129 Third Ave. SE offers handmade truffles and other candies.
"I can't wait for them to get here," said Ms. Primasing, who is still trying to recover from the costs and lost revenues of a nearly two-week flood evacuation in September. "I'm thrilled."
Hibu signed a five-year lease for 85,000 square feet of space in a deal handled by David Drown and Adam Gibbs of GLD Commercial. The digital marketing and directory company considered a variety of locations in Cedar Rapids and other communities before settling on the Town Centre building, CEO Kevin Jasper said, adding that they liked the central location, convenience and amenities, and the excitement and energy of being downtown.
Hibu is leaving its longtime home at the Transamerica Financial Park on C Avenue SW to make room for Transamerica, which in August announced plans to sell its northwest Cedar Rapids campus at 4333 Edgewood Road NW and consolidate most of its Cedar Rapids operations at the newer financial park facility. That move is expected to take place in the first half of 2018.
Although best known for its Yellowbook directories, hibu increasingly helps businesses advertise and engage customers digitally through social media. The company announced Oct. 17 that it has been named a Facebook Marketing Partner in the Small Business Solutions specialty. The designation recognizes marketing companies that are dedicated to helping businesses become more effective marketers on the social platform.
"The big challenge we see with small business is that they want to utilize social media, but they lack the time, knowledge and expertise to effectively manage social media," Mr. Jasper said, adding that hibu has the skills and knowledge to help them take advantage of new tools and strategies.
City leaders framed the announcement as an endorsement of the city's recent show of resilience during the 2016 flood. Only a handful of businesses that were left outside the city's temporary flood protection system were seriously damaged in late September following the Cedar River's second-highest flood crest on record.
"For hibu to make this decision in the wake of the 2016 flood shows they have confidence in the community of Cedar Rapids," Mayor Ron Corbett said as the decision was announced by hibu and city leaders on Oct. 17. He said hibu's arrival will be a "home run" for the downtown area, bringing hundreds of employees who will frequent the district's entertainment venues, restaurant and pubs.
Mr. Jasper said hibu considered other downtown buildings, but the Town Centre space provided the best fit, in part because of the large amount of space the company needs. He expects the move to begin in the second week of April and be completed May 1.
City Manager Jeff Pomeranz said it would have been easy for hibu to look elsewhere after the flood, which required a week-long evacuation of most of the downtown area, but that the company wanted to make a commitment to the community by becoming part of downtown.
Mr. Jasper said hibu was already far along in its site decision-making at the time of the flood, and that it was not a significant factor in hibu's decision.
Park Cedar Rapids General Manager Jon Rouse said employee parking for hibu will be spread across three different parking ramps: those on Third and Fourth avenues, and one across from the Cedar Rapids Convention Complex. Two of them can be accessed from the Town Centre building by the skywalk system, while the other is less than a quarter-block away.
Because it is a large new employer, Mr. Rouse said hibu qualifies for special parking rate programs. He expects the company to use a New Jobs incentive program that provides 50 percent off for half of the term of the company's initial lease. The company is receiving no tax increment financing or other financial incentives from Cedar Rapids, according to Jasmine Almoayed, the city's economic development coordinator.
The lease with hibu is also a big win for Town Centre and its owner, Second Succession LLC, which was formed in 2013. Multiple building tenants left this year along with Rockwell Collins. Two of them, Bankers Trust and RSM US LLP, went to the new CRST Center.
Hibu will become the largest tenant in the 190,000-square-foot Town Centre building. Rockwell Collins initially utilized 82,000 square feet to house about 400 employees, but scaled its operations back when it renewed its lease in 2014.
Cedar Rapids is one of two major operations centers for hibu, the other being in the Philadelphia metropolitan area. The company employs about 2,000 people in total, Mr. Jasper said.