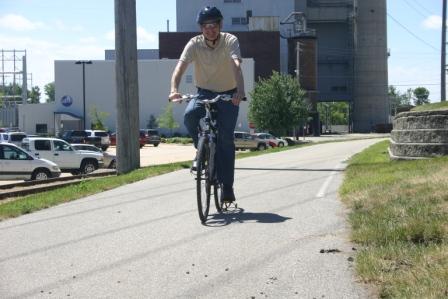 By Angela Holmes
CEDAR FALLS – Although Paul Krukow, a network engineer at Cedar Falls Utilities, recently bought a new car, most of the time it sits in his garage. Instead of driving the nearly 2 miles to his job, he usually rides his bicycle to and from work, including an additional round trip during the lunch hour. 
"I can bike faster than drive," he said.
Mr. Krukow joins an increasing number of Iowans who commute to work on a bicycle. According to a University of Northern Iowa study, "The Economic and Health Benefits of Bicycling in Iowa," an estimated 24,921 Iowans ride their bikes to work one to six times a week.
As well as saving money on gas, Mr. Krukow has benefited from the physical and emotional health aspects of cycling.
"It allows me to exercise outside," he said, adding that he is also able to see his new baby at home during lunch.
He also logs his biking activity in his wellness journal at work, which results in awards. Cedar Falls Utilities has been ahead of the curve in promoting its employees' wellness, according to Lori Hoffman, employee training and communications specialist, who also serves as CFU's wellness coordinator.
The company's wellness program has been in place since 1996. It really took off in 2006, Ms. Hoffman said, providing significant savings to the health plan and increased productivity.
Health plans savings have been so significant that CFU offers "premium holidays" once a year in which the company's plan's reserves covers the health-insurance premiums for all 180 employees.
According to the UNI study, the bicycle commuter population is estimated to save Iowa $13.3 million in health-care costs statewide. These savings include an estimated cost savings in diabetes, breast cancer, colorectal cancer, heart disease and stroke-related treatment. In Linn County, cyclists are estimated to save $213,849 in health-care costs; and Johnson County cyclists are estimated to save $1 million in health-care costs.
CFU's bike-friendly atmosphere was a factor in the company's Blue Zones Worksite designation, Ms. Hoffman said. The company meets the Blue Zones requirement of ratio of bike racks per number of employees. CFU also supports Bike to Work Week in May by inviting employees from Europa Cycle & Ski in Cedar Falls to perform onsite bicycle checks.
Cedar Falls' trail system, which offers more than 80 miles of recreational trails throughout the community, makes it easier and safer for employees to ride their bikes to work.
"The trail system is literally at our building's back door," Ms. Hoffman said. "Employees ride their bikes anywhere from 10 blocks to 9 miles."
The trails also wind through the Cedar Falls Industrial and Technology Park. Mudd Advertising is one of the businesses that faces Prairie Lakes Park, where trails and wildflowers surround a small scenic lake.
Like CFU, Mudd Advertising promotes wellness through incentives and facilities. Employees are awarded $25 per quarter for completing three workouts a week in the gym, which sits adjacent to the main building.
The workout facility is complete with cardio machines, weight sets and separate rooms for exercise classes, such as "Insanity Workout." Showers, locker rooms and towel service are available for employees and their families.
Keeping the employees healthy just makes good business sense, according to human resources manager Wendy Jermier.
"If people are physically active, they are able to focus better and feel better about themselves, which transfers to the clients," she said. "We have less sick days and workers are more productive."
Brand manager Tim Brenden takes full advantage of the workout facility and tries to ride his bike to work a couple times a week.
"It helps release stress and tension," he said. "The job is a lot of phone work; you need to 'work it out.'"
Although he doesn't completely avoid vehicle traffic, the trail system guides him most of the way to his home 2 miles from the office.
Artist Adam King has a much longer commute. His home in North Cedar is about 10 miles from the Mudd office on Technology Parkway. He tries to bike to work at least three times a week, weather permitting. It takes about 30 minutes each way, even while "booking it."
The availability of showers was a deciding factor in biking to work.
"I'm drenched as soon as I get here," he said. "They (coworkers) probably wouldn't like it if I didn't take a shower."
In 2007, Mr. King was involved in a serious motorcycle accident in which he broke both arms. He is trying to get himself back into shape by exercising more.
"I let myself go and started to work out again. Biking to work is part of the process," he said. "I feel great when I get here and when I get home. It clears my mind at work."