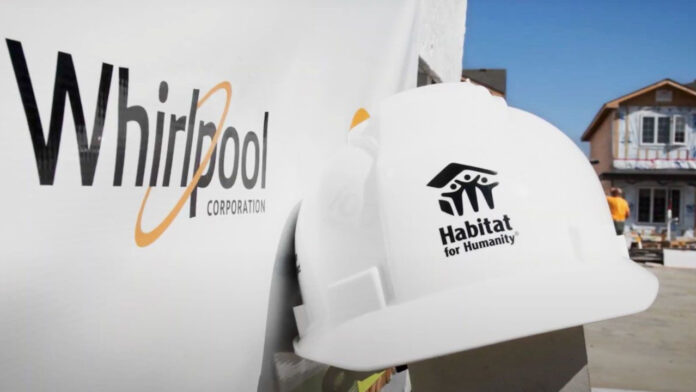 Cedar Valley Habitat for Humanity and Whirlpool Corporation have come together to build an energy-efficient, climate resilient home in Cedar Rapids as part of Habitat for Humanity's BuildBetter with Whirlpool initiative.
Whirlpool employees from Amana Operations volunteered with Cedar Valley Habitat for Humanity Jan. 18 to build the home, which will be purchased on an affordable mortgage by a family of eight who are currently living in a crowded three-bedroom mobile home in Hiawatha.
"With Whirlpool's support, we will be able to construct energy-efficient, weather-resilient houses that will help reduce home operating costs for families," said Leslie Neugebauer, development director for Cedar Valley Habitat for Humanity.
The BuildBetter with Whirlpool program, launched by Habitat for Humanity and Whirlpool in June 2021, is a three-year initiative that expands upon Habitat's current efforts to help homeowners mitigate the impact of climate change with more energy-efficient and resilient homes. This year, Habitat affiliates across the country will build 85 energy-efficient, climate-resilient homes in communities. In the first year of the program, Habitat affiliates built 55 homes above local code standards with energy and hazard resilience options.
Since 1999, Whirlpool Corporation and Habitat for Humanity have been working together to build affordable homes and communities with families in need of a decent place to live. Over the course of its 22-year partnership, the company has donated more than $130 million to Habitat and has supported programs in 45 countries. Along with monetary support, Whirlpool has donated more than 200,000 energy-efficient appliances. The company also engages its employees to volunteer with Habitat to build homes alongside future homeowners.
Cedar Valley Habitat for Humanity is a 501(c)(3) nonprofit, ecumenical Christian housing ministry dedicated to building and rehabilitating simple, decent, and affordable homes in partnership with families in need in Linn and Benton counties. Under the program, partner families make a down payment, invest hundreds of hours of sweat equity into the construction of their homes and other Habitat homes, and make monthly mortgage payments on an affordable loan.
Cedar Valley Habitat for Humanity has built, rehabilitated, and repaired local homes since 1988, serving 292 families to date. Cedar Valley Habitat aims to serve up to 30 families in 2023, through a combination of new construction, home rehabilitation, and affordable repair projects. Learn more at cvhabitat.org or at www.facebook.com/cvhfh