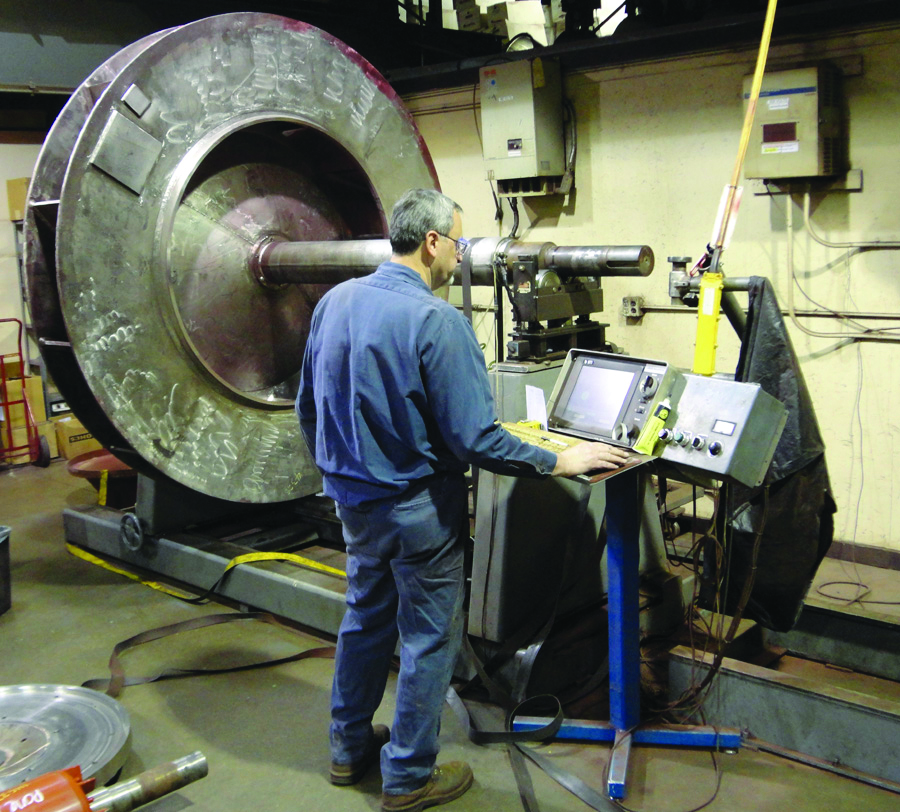 By Dave DeWitte
MARION – Hupp Electric, the electric motor rebuilding company that began 102 years ago in Cedar Rapids, will relocate to the former Kwik-Way Complex in Marion next year to add capacity and increase efficiency.
Hupp Electric recently completed its acquisition of the 110,000-square-foot facility, located at 500 57th St., for $2.6 million, president Kevin Hupp said.
The company rebuilds large electric motors used to power factories. Some of the engines are so enormous that the new location will need a 50-ton overhead crane in order to load and unload motors weighing more than 20 tons. A 15,000-square-foot addition will be constructed on the building to house the crane and other equipment.
The Marion facility will be staffed by about 120 Hupp Electric employees who currently work at 275 33rd Ave. SW, Cedar Rapids. Hupp Electric has been at the location since a fire destroyed the original location in downtown Cedar Rapids in 1968, and now shares a full half-block with a sister company, Hupp Toyota Lift.
Mr. Hupp said the company added onto an existing building three times, acquired an adjacent building and added a third building, but still needs more space in order to meet its growth goals.
"We need to do this to grow," Mr. Hupp said. "We were getting tight."
The move will also allow Hupp Electric improve its work flow by separating some of the motor rebuilding processes. Hupp Electric will also gain a larger vacuum pressure impregnation tank. The tanks are used to apply varnish to the windings of electric motors, with vacuum pressure used to remove any bubbles that could lead to bare spots.
Industries from within roughly a 12-hour drive of Cedar Rapids send electric engines as large as 9,600 horsepower to Hupp Electric to be rebuilt. The business plans to take its time with the move to Marion so that customers are not disrupted or inconvenienced, Mr. Hupp said.
The business was founded by Mr. Hupp's great grandfather, William F. Hupp, in 1912 at 215 First St. SW, Cedar Rapids. At the time, the company was known as the Electric Motors Co., and installed wiring and motors in creameries, grain elevators and grain mills.
Hupp Toyota Lift, which has been growing, may take over some of the Hupp Electric space on 33rd Avenue SW in Cedar Rapids when it is vacated, Mr. Hupp said. The company's current preference is to continue to own and lease out two of the buildings.
The city of Marion and Marion Economic Development Corp. (MEDCO) have discussed Hupp Electric's plans and offered assistance, Mr. Hupp said, although an incentive package has not been finalized.
Constructed in 1976, the Marion building was formerly home to Kwik-Way Products, which produces machines used in engine rebuilds and other automotive overhauls and repairs. Kwik-Way put the building up for sale as part of a reorganization plan to become a smaller, stronger, leaner company, according to MEDCO President George Lake. He said the business has moved to the same general area of Cedar Rapids in which Hupp Electric is now located.
Hupp Electric's acquisition of the property is "the ideal outcome for it," Mr. Lake said, noting that Hupp plans to utilize "every inch of it."
The large cluster of grain milling industries in the Cedar Rapids area has made it a great place for Hupp Electric, Mr. Hupp said.
The motors are vital to the efficient operation of some of the area's largest factories, and having a local source for rebuilding them provides an economic asset. Hupp Electric's ability to rebuild electric motors locally helped speed the recovery of local industries affected by the 2008 Cedar River flood.
"We're just thrilled that an expanding local company has chosen to remain in the area," Mr. Lake said.