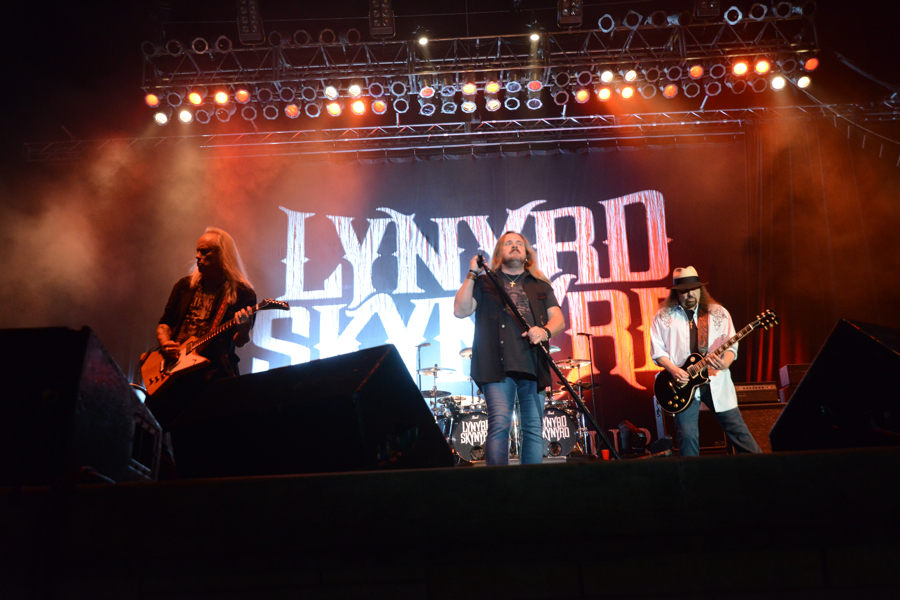 By Angela Holmes
MONTICELLO – Music fans in Eastern Iowa don't have to travel far to see the likes of Lynyrd Skynyrd, Lady Antebellum and Blake Shelton. They have all appeared at the Great Jones County Fair in recent years.
For 2013, the July 17-21 fair showcases Sheryl Crow, Motley Crue and Keith Urban.
Read the Motley Crue review at www.corridorbusiness.com/news/review-motley-crue-still-rockin-hard-after-30-years/.
Read the Sheryl Crow review at www.corridorbusiness.com/news/sheryl-crow-delivers-plays-favorites-new-songs/.
Those big acts don't come cheap.  These days, fewer and fewer acts will perform for under $100,000, or even $250,000, said John Harms, the fair's general manager. This year, the Great Jones County Fair is spending $1.1 million on entertainment, which wasn't necessarily budgeted, he said.
"The money is in operations," he said. "Very seldom do we earn enough in ticket sales that pays for the act."
Ticket sales, combined with other areas, such as concessions and gate admissions, pay for the performers.
"We depend on revenue stream in more profitable areas," Mr. Harms said. "Not many people come and don't spend money. We need that other discretionary spending."
The lean years are when the weather is bad throughout the week of the fair, keeping away fairgoers, and their money. The fair sets the ticket prices, which average between $25-$45. The standing-room-only Keith Urban concert has sold out with 10,500 tickets sold, but people are still invited to sit on the lawn.
"The product of the offering sets the scaling of ticket pricing," Mr. Harms said. "You need to know your market; Eastern Iowa has a strong country and classic-rock market."
So how does a county fair in a rural town of less than 4,000 residents attract such high-caliber talent year after year?
First off, the 161-year-old fair has a reputation of building solid relationships, Mr. Harms said.
"It has stood the test of time," he said. "You have to have an establishment to start with."
The fair has developed strong relationships with top booking agents across the country and has gained a reputation of a great place to perform.
"Acts and agents are coming to us more and more," Mr. Harms said. "We are definitely on the radar."
Another key factor is the stage and grandstand. Four years ago, the fair invested in a permanent stage 100-feet wide and 75-feet deep to accommodate large production rigs and shows.
"People like bells and whistles," Mr. Harms said.
And performers like a facility large enough to comfortably load and set-up equipment.
For his concert July 20, country star Keith Urban plans to bring 14 semi-loads of gear and 11 buses. The Great Jones County Fair will hire a crew of about 50 to unload, set up and reload Mr. Urban's equipment.
Typically at the fair, the performer's equipment and entourage arrive the morning of the concert. The performer's staff and the fair crew work together to set up the show. Often, the opening act uses the fair's rented lights and equipment.
To control costs of operations, performers schedule shows close enough to each to keep travel costs down, but not so close that it dilutes the media market and ticket buyers.
Routing partners try to schedule events during the same time period. Around the time of the Great Jones County Fair each year, the third week in July, there are also festivals north of Chicago; in Brainerd, Minn., and Eau Claire, Wis., Mr. Harms said.
Often, artists are selected to perform at the fair based on their route that week. For example, Sheryl Crow plays Ravinia in Highland Park, Ill., on July 19, the day after she plays in Monticello. Motley Crue plays Moondance Jam in Walker, Minn., July 18, the day before they play in Jones County. Keith Urban plays Country Thunder in Twin Lakes, Wis., on July 19, the day before he plays in Monticello.
"It's a timing thing in routing," Mr. Harms said. "You would have to wave a pretty big carrot out there to entice somebody to fly out from a coast."
Depending on whether the track has reserved seating or not, the grandstand can hold about 8,000-11,000 people. With the grassy hill seating along the sides of the grandstand, which is free, capacity can increase to 25,000, which is attractive to performers.
The setting is also a draw for performers.
"They like the hometown atmosphere," Mr. Harms said. "They are polite and cordial. They love it here."
This year, the fair is hosting a contemporary Christian concert for the first time.  TobyMac will perform July 21 with Jamie Grace and special guests Capital Kings.
"Part of the fair experience is offering something for different interests," Mr. Harms said.  "There definitely will be people there that have never been to the Great Jones County Fair."
The fair's staff is already looking at securing next year's lineup, which will be announced on the day after Thanksgiving, Black Friday.
"You don't just say, 'I'm going to have a concert.' It takes a lot of planning," Mr. Harms said. "There's no end to the process. We do this all year long."
Great Jones County Fair & Food Fest
July 17-21
Jones County Fairgrounds, 700 N. Maple St., Monticello
Headliners
Sheryl Crow and special guest, Gary Allan
July 18, 8 p.m.
$25-$35
Motley Crue and special guests, Tesla
July 19, 8 p.m.
$35-$45
Keith Urban with Little Big Town and special guest, Dustin Lynch
July 20, 7:30 p.m.
Sold Out
TobyMac with Jamie Grace and special guests, Capital Kings
July 21, 7 p.m.
$20-$25