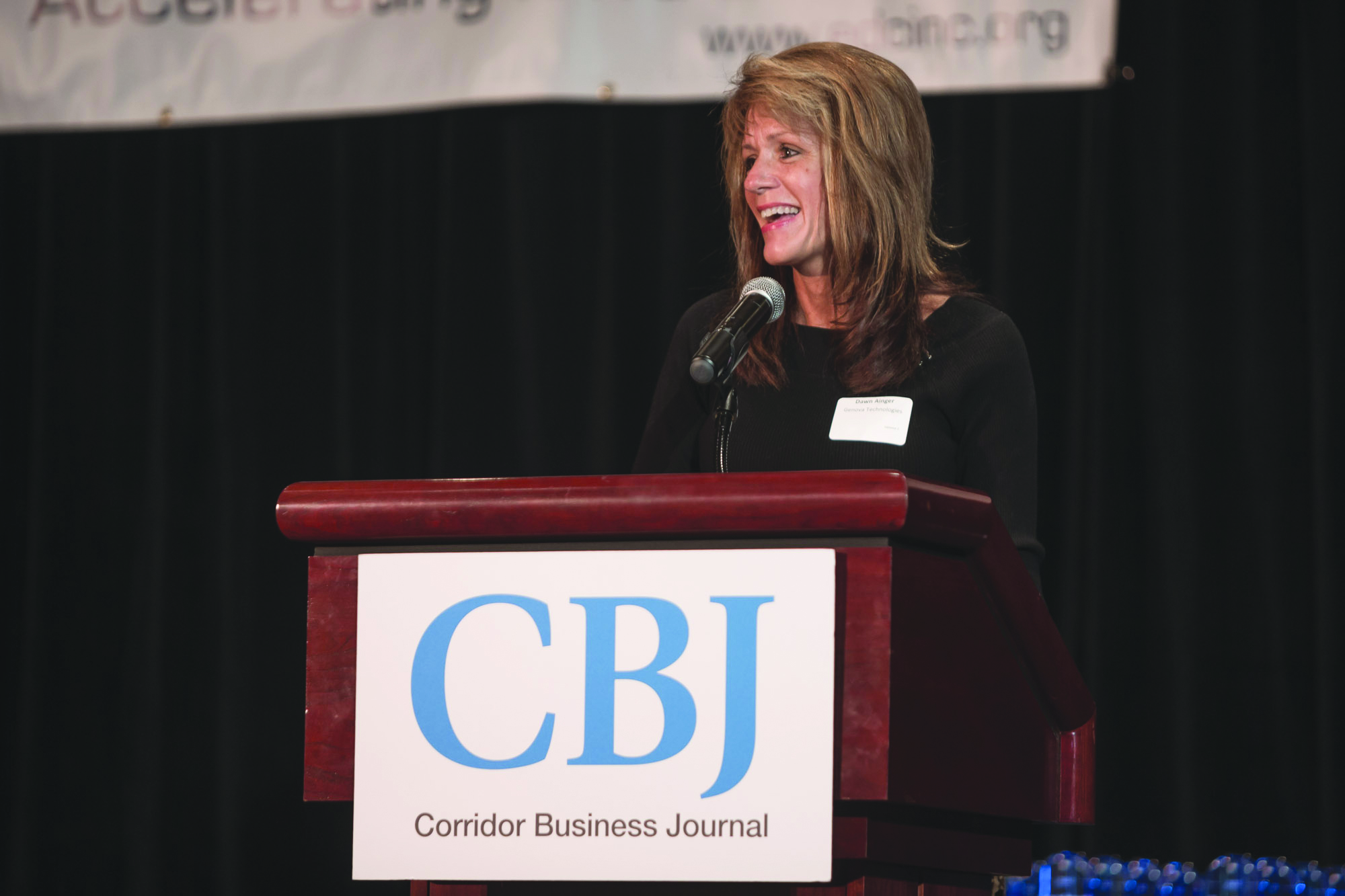 By Pat Shaver
CORRIDOR–Attending graduate school and raising three young boys on her own was almost too much for Dawn Ainger.
When she became a single mother after her then-husband left, she contacted her chairman at the University of Iowa to resign from graduate school.
"I called my chairman, Dr. Joe Kearney, to resign from graduate school. He said, 'I do not accept your resignation. This is one part of your life that you have control of,'" she said. "And I finished graduate school."
Ms. Ainger joined Genova Technologies in 1996 as a senior software engineer. In 2001, she assumed ownership of Cedar Rapids-based Genova.
"It's amazing the words of advice and encouragement we take that can change our lives," she said.
She was honored with the Entrepreneur of the Year award at the Corridor Business Journal's Fastest Growing Companies event May 21 at the Coralville Marriott.
"I'm honored and humbled and it truly is about having good people around you and working with you, and taking the advice of those smart people around you that help your company grow," Ms. Ainger said.
Genova Technologies has been on the Fastest Growing Companies list for four years.  In 2012, the company experienced 146 percent growth. This year, Genova is fifth on the list with 171 percent growth.
The Entrepreneur of the Year is selected by the Entrepreneurial Development Center and the Corridor Business Journal. Last year's Entrepreneur of the Year was Bruce Lehrman, CEO of Involta.
Under Ms. Ainger's guidance, Genova Technologies has become a leading provider of custom software development and staff augmentation for federal government agencies, healthcare entities and Fortune 500 companies.
"It's important to pick an area that you're going to be the best at and strive to be the best in that area," she said.
Integrity, aptitude and attitude are the keys to the growth of Genova Technologies. Hiring people with those three characteristics, along with having a patient persistence, have allowed the company to grow.
Ms. Ainger took over ownership of Genova after she showed up to work one day and the doors were locked. The previous owner had gone broke.
"The previous owner tried to be all things to all people. You can't do that. People want a company to specialize in one industry and customers will keep coming back," she said.
As a single mother, Ms. Ainger saw the opportunity to have a more flexible schedule to raise her children, and decided to buy the company.
"Those of us that remained banded together and told the investor that we could put Genova in the black. We did," she said.
Ms. Ainger now oversees about 150 employees at the company.
"You have to decide what you're better at, stress or frustration," she said. "When you're stressed, you're in control. Frustration is when you know what the right answer is but somebody else gets to make the decision. I knew I would rather make the decision and go down with the ship rather than stand on board and watch it go down."
Ms. Ainger earned bachelor's and master's degrees in computer science at the University of Iowa.
She serves on the board of directors of the National Defense Industry Association, IowAccess Advisory Council, Iowa Information Technology Council, Technology Association of Iowa Board, eHealth Advisory Council, Cedar Rapids, Iowa Chamber of Commerce and is a member of Women in Defense and the Armed Forces Communications and Electronics Association.
Originally founded in 1993 as Computing Solutions, Genova Technologies has established itself as a provider of IT services, creating advanced applications to increase operational efficiencies within the avionics, health care, defense, transportation and communication industries.
Ms. Ainger was recognized as Rockwell Collins' Women-Owned Small Business of the Year award in 2004. She was selected from a pool of more than 800 woman-owned small businesses partnered with Rockwell Collins. She was awarded the 2007 Woman in Technology of the Year by the Technology Association of Iowa. In 2008, Ms. Ainger was chosen as a finalist in the Small Business Innovation & Leadership category for the 2008 Women of Innovation Award.
Through her career, Ms. Ainger said she's been fortunate to have the support of her husband, Mike Ainger, and her sons Tyler, Austin and Ryan.
"It is not easy to be married to a strong, aggressive woman. Weak men don't hold our attention, and many men are not strong enough to encourage us and be proud of our accomplishments," Ms. Ainger said.