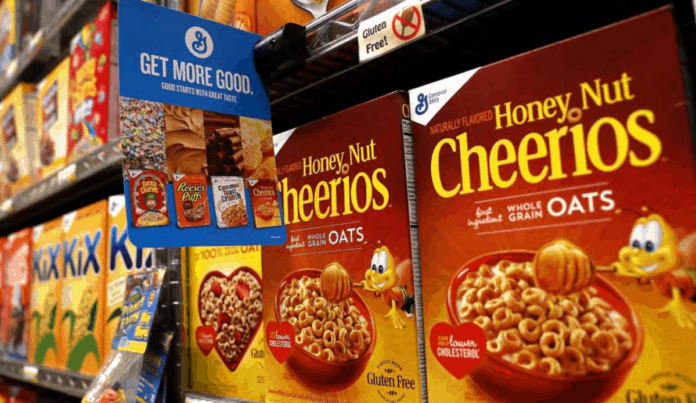 General Mills, which operates a cereal plant in southwest Cedar Rapids, reported a drop in net earnings and earnings per share in its latest fiscal quarter ended June 30, reflecting a lower consumer demand for food purchased for the home compared to the early days of the COVID-19 pandemic.
The company reported net income of $416.8 million for the quarter, a drop of 33% as compared to $625.7 million from the same period a year earlier. Adjusted earnings per share (EPS) were $0.91, down 19% from the $1.10 in earnings per share from the year prior but beating analysts' EPS of $0.85 per share.
Fourth-quarter net sales were reported at $4.5 billion, down 10% from the $5 billion reported last year, but again beating analysts' estimates of $4.4 billion.
General Mills also reported full-year net sales of $18.1 billion, an increase of 3% over the prior fiscal year. Operating net profit was $3.1 billion, up 6 percent compared to the prior year. Net earnings for the year were up 7% to $2.3 billion, and adjusted EPS were $3.79, up 4%.
The company also issued its targets for the 2022 fiscal year, indicating the company expects a decline of 1 to 3% in net sales over the next year, "reflecting the outlook for lower consumer demand."
"General Mills expects the largest factors impacting its performance in fiscal 2022 will be relative balance of at-home versus away-from-home consumer food demand and the inflationary cost environment, both of which remain uncertain," company officials said in their news release. "The company expects at-home food demand will decline year over year in fiscal 2022 across most of its core markets, though will remain above pre-pandemic levels. Conversely, away-from-home food demand is expected to continue to recover in fiscal 2022, though not fully to pre-pandemic levels."
General Mills stock shares have dropped 2.8% over the past three months as compared to an 8.4% rise in the S&P 500, according to MarketWatch.