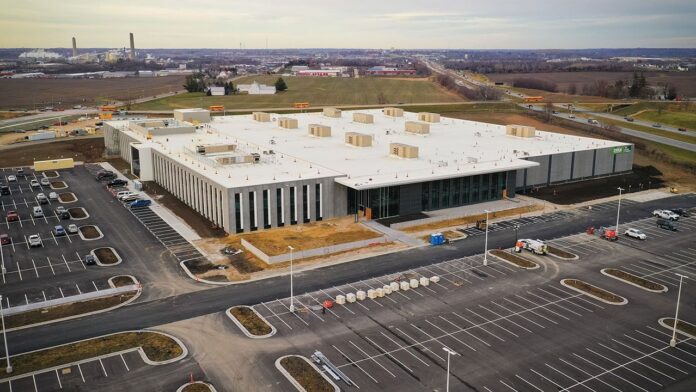 BAE Systems' new facility under construction in southwest Cedar Rapids will be more than just a shiny new building on the west side of Interstate 380, company officials said in a recent interview with the Corridor Business Journal.
Once completed later this year, it will serve as an innovation hub for BAE's military global positioning system (GPS) business, a key driver for the local economy and a long-term Corridor employment anchor with the potential for continued growth.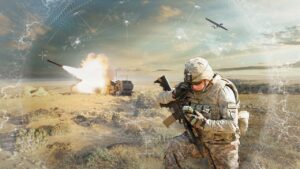 BAE Systems, headquartered in the United Kingdom, completed the acquisition of Collins Aerospace's former military GPS business in July 2020 in a deal valued at just over $1.9 billion. The military GPS sector was previously owned by United Technologies, which had to sell the GPS business in order to clear antitrust regulatory requirements of its April 2020 merger with Raytheon that formed Raytheon Technologies, now the parent company of Collins Aerospace.
Since then, former Collins Aerospace employees, now employees of BAE Systems, have been working in facilities leased from Collins in Cedar Rapids and Coralville, awaiting completion of BAE's 278,000-square-foot, $139 million facility.
"BAE has welcomed us with open arms," said Frank Zane, Navigation and Sensor Systems business development director at BAE Systems, who had held a similar role with Collins Aerospace. "The fact that we're going to get a new building and pull all of our business segments together under one roof is incredibly exciting. The way BAE has embraced the business here speaks to their long-term commitment to stability for the workforce and for the local economy. Just as our technology is vitally important to the warfighter, I think that ties back to the community of Cedar Rapids are just as important."
BAE broke ground on the facility at 7825 Sixth St. SW in November 2020. The campus, set on a 32-acre site, includes a large factory, several hundred offices, workstations, and flexible workspaces, as well as classified and unclassified labs. The building is designed for growth, BAE officials said, with the ability to add 50,000 square feet of additional space. The project includes 900 parking spots. It's expected to be finished this fall.
In brief, Mr. Zane said that BAE Systems' Cedar Rapids operation focuses on designing, developing and manufacturing military GPS devices. Utilizing different sizes, weight and power (SWAP) specifications, some of the devices are as small as a postage stamp for use in a handheld radio. In contrast, others are the size of a laptop computer, which may be deployed on aircraft, boats or other military vehicles.
Not only are the devices extraordinarily high-tech, but they also serve a critical role in national defense by enabling secure and precise guidance of weapons and equipment, said Mr. Zane, himself a 25-year Air Force veteran who spent the majority of his career working with GPS deployments.
"Our products enable precision warfare in today's modern battlefield," he said. "And that's what gives our military the advantage when we're out conducting missions that support our national security objectives. The advanced technologies that we put in our receivers – things like anti-jamming capability, anti-spoofing technologies, higher security measures – ensure that the integrity of the receivers we provide is maintained and that they function in a hostile environment. Our whole business is driven by the threat, and the threat sets the bar."
Military GPS receivers operate in much the same way as GPS devices in cell phones, vehicles and other non-military devices. Still, there are some critical differences, Mr. Zane said.
"To give you a quick analogy, think of a 40-watt light bulb on the moon and trying to see that from Earth," he said. "That is the signal strength of the GPS signal. It's a very low power, very weak signal. That's good in some regards, but in other regards, it makes it susceptible. So, what our technologies do is strengthen receivers' ability to find that signal in a contested environment when other folks are trying to deny us access. It allows our warfighters to be able to continue to conduct their mission securely in the most harsh environments."
The technology driving military GPS deployments is also in the midst of dramatic changes, Mr. Zane said. The current GPS infrastructure operates on what is known as a Selective Availability Anti-Spoofing Module, or SAASM. The next incarnation of military GPS technology, now being incorporated in BAE Systems' latest devices, is Modernized-Code, or M-Code. Unlike current GPS technology, it's exclusively for military use and can only be accessed by certified military GPS receivers.
"This new signal is being driven completely by the Department of Defense," Mr. Zane said. "They're putting new satellites in space that send out this new signal, and that, again, provides an increased level of anti-jam, anti-spoof, to ensure that that signal is available and that the warfighter has what they need to conduct their operations."
BAE already has a firm foothold in the military GPS segment. In August 2021, BAE Systems unveiled its ultra-small MicroGRAM-M global positioning system (GPS) receiver compatible with next-generation M-code signals. MicroGRAM-M is the world's smallest, lightest and most power-efficient M-Code embedded GPS receiver, delivering assured positioning, navigation and timing (PNT) for size-constrained and other micro-applications.
And in December 2021, the Defense Logistics Agency (DLA) executed a $316 million contract option for BAE Systems' advanced M-Code GPS modules, building on a $325 million contract awarded for M-Code GPS modules in May 2021.
Mr. Zane said BAE has fielded over 1.5 million GPS devices on approximately 280 platform types worldwide. "That could be a handheld radio, it could be an airplane, it could be a ship, it could be any number of GPS-aided weapons," he said. "We have a very robust history in this segment."
The new Cedar Rapids facility will incorporate all facets of military GPS development.
"There's a cradle-to-grave approach," he said. "In business development, we're the front end of the business, meeting with customers, finding new opportunities, helping the customer set their requirements. We then hand it to program management and engineering, which will do all the design considerations and hand it over to operations for the manufacturing. And woven in there are a number of other support organizations – finance, contracts, marketing, all those other business functions. We're going to have an end-to-end, complete business in that facility."
BAE Systems is also part of a long GPS legacy in Cedar Rapids, one the company eagerly embraces for the future, Mr. Zane said.
"The first GPS signal was received right here in Cedar Rapids, and the legacy has been built from there," he said. "It's quite impressive how far BAE has leaned into the military GPS business in Cedar Rapids. They're seeing the value we bring, not just to the company, but the criticality of what we provide to the warfighter."