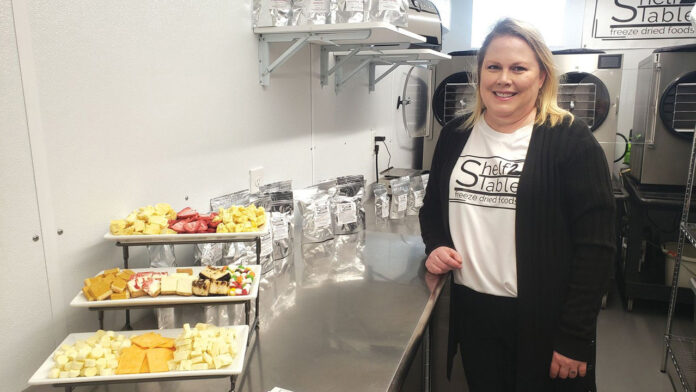 Cathy Lockwood stands in the Shelf 2 Table commercial kitchen in the basement of her Marion home. The freeze-drying equipment used in the business is seen in the background. CREDIT CATHY LOCKWOOD
When you hear the term "freeze-dried foods," what impressions come to mind?
If you picture shriveled, tasteless or oddly textured products, Cathy Lockwood and her company, Shelf 2 Table, are here to change your perspective.
Ms. Lockwood rolled out her new company online in December, and now offers a host of freeze-dried food products. And we're not just talking fruits and veggies, either – her offerings include freeze-dried beef stew, chili, macaroni and cheese, egg frittatas, smoked pulled pork, taco meat and various cheese products, among others – all of which can be easily reconstituted or, in many cases, eaten directly in their freeze-dried forms as snacks or mix-ins.
For Ms. Lockwood, it took years of food and hospitality experience to arrive at the latest turning point in her career. She's opened and managed three hotels in the Cedar Rapids area – the AmericInn, Homewood Suites and the Hampton Inn and Suites – and previously managed a successful "Melting Pot" restaurant in Miami, focused on fondue-style dining.
But Ms. Lockwood's most recent position, as a regional sales manager for a hotel company, ended when her entire department was furloughed, then laid off, as the hospitality industry struggled through the early phases of the coronavirus pandemic.
That's when she realized it was time for a career reboot.
"I just had a feeling that it might take a little bit longer for hotels to recover due to the COVID situation," she said. "That kind of forced me to brainstorm: What is going to be my next step in life? And what type of business would be smart? What is something that is, recession-proof?"
She said she started thinking of food options that weren't restaurant-dependent, "and I was very familiar with freeze-dried foods. That's what really made me start thinking along the lines of starting an online home business producing and selling freeze-dried foods."
It wasn't just a hunch that led Ms. Lockwood to this venture. She knew there was a market, because she found plenty of online offerings. But in her view, there was still something missing.
"There just isn't a lot of variety out there, even when you go to the grocery stores," she said. "Right after the pandemic (started), too, there were a lot of online sellers of freeze-dried foods that were sold out, and that's kind of what told me there was a need. I also wanted to focus on the meals, snacks and the ingredients, so people could customize their own emergency food storage."
The extended shelf life is one of the primary benefits of freeze-dried foods, Ms. Lockwood said. Some freeze-dried foods can last up to 25 years, and even after being opened, many can remain viable for up to a year in standard glass jars or other airtight containers.
"Everything is shelf stable," said Ms. Lockwood, noting her products are all packaged in 7-mil Mylar bags with oxygen absorbers before being shipped to customers." There's no need for a fridge or freezer. That comes in handy when a derecho comes through your community and knocks your electricity out for 13 days. And the freeze-drying process locks in 97% of the food's nutrition as well. So that's better than dehydrated and it stores a lot longer than frozen, canned or dehydrated foods."
That leads to another point – how freeze-dried foods differ from dehydrated foods. Dehydration uses heat to extract moisture from foods, removing nutrients and often resulting in a chewy or fibrous product. Conversely, freeze-dried products retain nearly all their original taste and texture qualities when reconstituted.
"Freeze drying is a completely different process," Ms. Lockwood said. "It freezes the foods down to -40 degrees, sometimes even colder. And then there's a vacuum pump that creates what they call sublimation, which turns the water in your frozen product to a gas, so it doesn't go back to liquid. The outcome is your food is basically the same size, but much lighter because there's no water content, and the nutritional value is much higher too. That means you can store it a lot longer."
Ms. Lockwood says she prefers to purchase foods when they're in season or with limited pre-processing, to maintain as much freshness as possible.
She says her products have appeal to a broad cross-section of customers – those with limited cold storage space, for example, or those who want the convenience of easy-to-use ingredients without frequent trips to a store. Potential markets include hotels, care facilities, outdoor enthusiasts and long-haul truckers, among others.
Ms. Lockwood prepares and packages all her own products in a commercial-style kitchen in the basement of her Marion home. She said her ramp-up was more complicated than she originally envisioned – after getting approval from Marion officials for a home-based food preparation business, she had to line up a contractor for renovations, and order specialized freeze-drying equipment, which ended up being costlier than anticipated.
The project was also delayed post-derecho, she said.
"There were so many people in my neighborhood that had holes in their roof, so I couldn't really complain," she said. "It took a little longer than I had hoped to start, but everything is great now."
Ms. Lockwood says her business is doing well with those already familiar with the freeze-dried foods concept, and she hopes to expose others to the benefits, particularly in terms of emergency preparation. It's part of the reason, she says, that the logo of her business incorporates a black swan.
"The black swan is just a metaphor that describes an unpredictable event with widespread consequences, which I think we had a lot of the past year," she said. "After the recent economic, health and natural disasters, I'm hoping to inspire more people to be more prepared for emergencies. We have insurance for everything else – our houses or businesses or cars – but you know, when an emergency happens, the basics like food, water, and shelter needs to be at the top of the list."
Shelf 2 Table ships nationwide and offers free delivery within a 20-mile radius of Marion with a $49 minimum order. For more information about product availability or ordering, contact Ms. Lockwood at Cathy@Shelf2Table.com or go to Shelf2Table.com.