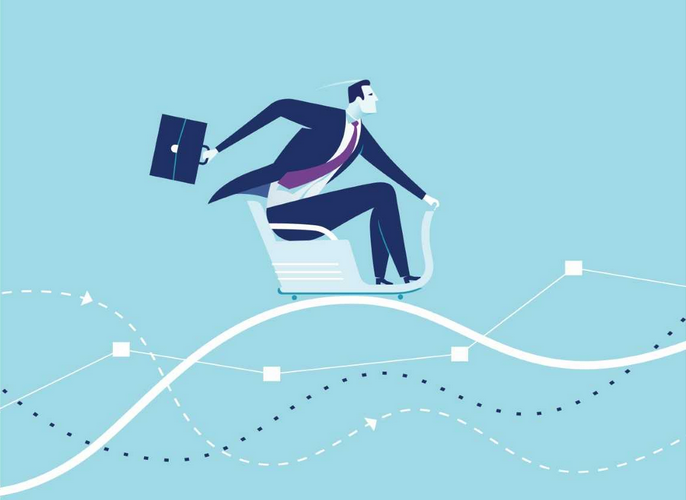 Compiled by Adam Moore & Katharine Carlon
news@corridorbusiness.com
In early December, we asked a handful of Corridor business leaders from various sectors for the trends and developments they would be watching in 2018, in hopes of getting a fuller picture of the business year to come. Their answers seem to point to a year of growth for most in the Corridor, but also heavy uncertainty for a few.
Businesses relying on consumer and client spending are feeling good heading into 2018, with retailers, construction firms and manufacturers all offering upbeat appraisals on the year ahead. On the flip side, nonprofits and real estate professionals, facing significant impacts from tax reform and a growing supply of housing, are more cautious. Everyone is worried about workforce and trying to figure out how emerging technologies like bitcoin will impact their business.
Indeed, 2018 has the chance to be either exciting or exhausting, depending on your outlook. What business trends will you be watching in the new year? Share with us on Facebook or Twitter, @CBJournal, #CBJ2018.
RETAIL: Growing economy and consumer confidence suggest a strong year
Lisa Rowe
Vice President of Retail, Frew Development Group
General Manager, Westdale
I am optimistic that 2018 will be a strong year for retail thanks to a growing economy and strong consumer confidence. The challenges facing retailers, particularly due to online shopping, will continue into 2018. However, the industry is finding its balance, with brick-and-mortar stores embracing digital platforms and combining both digital and physical store experiences to better connect with customers.
Significantly, the industry avoided a proposed border adjustment tax in 2017. This tax provision would have made it more expensive to import many retail products and materials, resulting in additional, and in many cases unbearable, financial burdens to retailers. The industry is likely to experience further retail reorganization in 2018, but some of the companies that struggled in 2017 will emerge as healthy, viable retailers for the future.
CONSTRUCTION: A busy building year ahead for Johnson County
Gary Watts
CEO, Watts Group
Watts Group is optimistic about the year ahead in both the real estate and construction sectors. The real estate market is extremely active and projections look positive for residential construction. Though the resale market has always been strong, we are seeing more people looking to build their dream home, growing our custom home business significantly over the past few years. There has also been solid growth in the commercial construction market and we look for that to continue through 2018. In Johnson County, there are a lot of commercial projects in the works, including a trend in the mixed-use buildings for both commercial and residential, such as the Iowa River Landing project. If the stock market stays up and the interest rates remain steady, we anticipate another good year for real estate and construction in our community.
NONPROFITS: Taxes, generational change cloud nonprofit outlook
Tim Stiles
President & CEO, United Way of East Central Iowa
As in all industries, nonprofits face challenges. What are we confronting in 2018?
Congress recently passed tax legislation eliminating the charitable deduction for many donors. Specifically, how much it affects nonprofits is still undetermined, but it will affect us all.
Gen-Xers and millennials are beginning to outnumber baby boomers as donors. Why and how these groups give are very different.
Company ownership and structures are changing. As a result, how they support communities is changing, too.
To meet these challenges, nonprofits including United Way of East Central Iowa need to continue to evolve. Understanding where opportunities lie allows us to engage more people, generate better results and impact more people in our community. Specifically for United Way, continuing to move from fundraising-only toward a social-change organization is essential. Our business-to-business model is changing to focus even more on business-to-consumer.
WORKFORCE: Local growth depends on working together

Kim Becicka
Vice President of Continuing Education and Training Services, Kirkwood Community College
The new year ushers in the promise of opportunity by working together. Through partnership, our community is making strides in overcoming worker shortages. Collaborative efforts within industries are helping define the skill sets and career pathways required to meet demand. On-the-job training is gaining momentum and employers recognize the value of stackable credentials. Additionally, career exploration for area fields is growing among middle and high school students. Despite our gains, we must do more to retain and attract workers to our region. Our population is aging. Skill sets are not keeping pace with technology. And multi-generational teams challenge how businesses function.
Advanced technology, augmented reality, the internet of things and automation necessitate lifelong learning. Unfortunately, student access to higher education will tighten as tuition rates rise from increased educational delivery costs and decreased government funding. Micro-credentialing for field-specific skills will be more prevalent. Although college degrees remain beneficial, applicants who pad their resumes with these credentials will have the job-seeking advantage.
ENERGY: Wind continues to lead way in carbon-free power
Bill Cherrier
Executive Vice President & CEO, CIPCO
The electric utility industry is changing at a rapid pace and 2018 is poised to be no different. Central Iowa Power Cooperative (CIPCO) has witnessed tremendous success with our more than 60 percent carbon-free portfolio consisting of wind, solar, landfill gas, hydro, nuclear energy, natural gas and coal. For the Cooperative, wind has led the way and we'll continue to seek out new opportunities in this arena. As the new year unfolds, CIPCO continues to reassess capacity needs, ensuring all options are on the table to best serve our members.
CIPCO is committed to strengthening our relationships with regional partners while renewing the focus on co-op members and their unique issues. As the new CEO, I'm dedicated to developing on-going relationships with our co-ops, their members and the communities they serve, ultimately, defining new and innovative ways to meet their ever-changing needs.
REAL ESTATE: Watch for rents to decline after 20 years of increases
Casey Cook
Founder, Cook Appraisal
Cook Appraisal recently completed a survey of more than 6,400 units in Iowa City, North Liberty and Coralville. Here's the upshot: In the past two years, the University of Iowa stepped in to add 1,549 beds. This is in addition to the 1,567 privately-developed beds added in 2017. We expect 2,288 more beds for 2018. To no one's surprise, vacancies are up and will grow considerably by the end of 2018 from the current market-wide level of 4.7 percent. Older units within a mile of the Pentacrest will be disproportionately impacted. Concessions tend to blur the picture, but we expect rents to decline in 2018 after 20 years of increases.
It is time to be strategic and thoughtful. Spruce up those old units and ease up on the rents. Offer concessions to keep your current tenants. Start marketing now. Tenants can afford to be selective.
MARKETING: Brand purpose will continue to drive marketing strategy
Betsy McCloskey
Partner, Plaid Swan Inc.
Thriving marketers will place brand purpose at the core of their business strategy to influence revenue growth, with emotional content and messaging proving to be the most important components to achieving sales results.
Brand loyalty is now created less by what the product does and more by what the company stands for. Beautifully designed collateral is wonderful if you have the budget, however, public relations and storytelling will continue to lead the charge. In 2018, content and videos in which companies talk about who they are, what they do and why they are the best in their industry will surpass all other efforts. I don't see that trend changing any time soon.
INVESTMENTS: Technology revolutionizing commerce, estate planning
Casey Mushrush
Investment Advisor Representative/Registered Principal
Premier Investments of Iowa
Digital currencies will revolutionize how commerce is conducted by further lowering the barriers to exchange and increasing individual data security. While I don't know which one will ultimately dominate, the true story is the Blockchain, which is the underlying technology. The application goes beyond exchange to digital contracts and data management.
There are many new considerations from a planning standpoint that individuals need to be aware of. Digital estate planning is one area that needs particular focus in today's day and age. It used to be that creating a will was as simple as deciding where the property goes and who has access to the bank box. Now with cloud sharing services and social media platforms, there needs to be a mechanism in place to ensure that memories and photos aren't simply scrubbed from the database. Every individual should include provisions for their digital footprint in their estate plan.
HOSPITALITY: Big jump in hotel supply creates challenges and opportunity
Josh Schamberger
President, Iowa City/Coralville
Area Convention & Visitors Bureau
The biggest hospitality and tourism challenge (hopefully opportunity) facing the Iowa City/Coralville area in 2018 is what impact an almost 37 percent increase in hotel supply will have on market occupancy and average daily rate. In addition to our destination marketing efforts, municipalities, festivals, attractions and area parks/recreation are all beneficiaries of roughly $4.1 million in annual lodging tax collections. But hotels don't create demand.
While the new arena in Coralville is slated to generate additional room nights beyond the historical 2.5-3 percent annual growth rate, area occupancy is expected to fall from around 68 to below 50 percent. This new supply will be a welcome addition on high-traffic graduation, football and wrestling weekends, but will spur a hotel rate war, which will have a direct impact on tax collections. There is some solace in the fact a majority of the new hotels are being developed by local owners who are obviously forecasting – with significant investment – for this market to continue to lead.
MANUFACTURING: Good times return after several years of decline
Brian Oleson
President & CEO, Centro Inc.
At Centro, a manufacturing company with nine locations in the U.S. and Brazil, our core markets of agriculture and construction peaked around 2014, and since then have had year-over-year declines totaling 50 percent or greater. We had to align our cost structure and capacity to these very difficult market conditions. Then, unexpectedly, 2017 came in robustly, resulting in a much better year.
2018 is expected to continue with the construction equipment industry at full speed ahead. We are anticipating significant increases in demand with the construction equipment market, including mining, seeing another double-digit year of increases across the board. In the agriculture equipment industry, we have not seen a real change in fundamentals, largely fueled by crop prices. However we are seeing strong demand due to equipment sales. Smaller horsepower tractors are selling at nearly twice the rate of just two years ago. Larger horsepower tractors are up, too, but not as significantly as other equipment lines.
Good times are rolling for this industry and we will be challenged to keep pace with the significant uptick in our markets in 2018. Our greatest challenge will be for suppliers to keep up with production numbers.
NONPROFITS: Uncertain revenue, policy environment poses challenge
Les Garner
President & CEO
Greater Cedar Rapids Community Foundation
Nonprofits serve our community well. Their programs often transform our lives. There is constant innovation and progress in the way programs are delivered in education, health and human services, arts and culture, and the environment. However, I believe 2018 could be a challenging year for nonprofits. They face uncertain revenue streams and an uncertain policy environment at the state and federal levels. Many are experiencing an increase in client loads at the same time they are confronting a decrease or constraints on state, federal and local support. There is also uncertainty regarding the potential impact of tax reform on private donor giving. My hope is for Corridor residents to be aware of these issues, get involved and continue to support nonprofits that matter to them.
TRANSPORTATION: Passenger numbers are up, but pilot shortage looms
Marty Lenss
Director, The Eastern Iowa Airport
We are closing out 2017 with a record number of passengers – 1.14 million total passengers flying CID – and more passengers enable more regional growth opportunities. But passenger increases are only part of the CID story as we continue to see strong growth in air cargo. Air cargo is a vital component of CID's regional impact. We will continue working with our cargo airlines to identify ways to enhance this opportunity.
The national pilot shortage will continue to put pressure on small community air service and regional airlines. In the year ahead, estimates show the national impact of the pilot shortage will result in the elimination of 136 regional aircraft, or an 8 percent reduction in regional flying. Regional airlines provide 79 percent of Iowa's total air service.
To strengthen our regional impact, we have launched our Fly Local program. The program seeks to engage business leaders, align corporate travel spending and bolster our ability to retain and attract air service. Details can be found at flycid.com/local.
RETAIL: Retail gaining strength thanks to critical mass
Deanna Trumbull
President, Trumbull Consulting
Director of Leasing, Iowa River Landing
Retail in the Corridor remains strong and we continue to see new retail, restaurant and entertainment concepts opening in the area. Site access, visibility and co-tenancy continue to be important to most retailers. Creating a massing of retailers who share similar target markets is a critical component to retail success. Although the internet has become a strong shopping option for some, most retailers still see the importance of a multi-channel approach to maximizing their sales potential, which includes brick-and-mortar retail along with a strong online presence. Experiential retail — creating an entertaining or "only in the store" experience — continues to be important to brick-and-mortar retail success. As new commercial retail space is developed, the Corridor continues to be an even stronger retail destination in the region, with pockets of retail adding opportunities for local, regional and national tenants.
BANKING/FINANCE: Taxes, commodity prices on 2018 economic watchlist
Michael Dunn
Chairman, F&M Bank
Nationally, the pending tax overhaul could have a substantial impact on our economy. Our current GDP growth at 3-3 1/2 percent may spike to levels not seen since the '80s. The prime interest rate has just been raised another 25 basis points to 4.5 percent from a low of 3.25 percent in December 2008. This does not seem to have impacted our borrowers and our savers are beginning to find better options for returns on their investable funds.
Locally, there are a lot of questions on the impact of United Technologies' acquisition of Rockwell Collins. Nevertheless the economy of Eastern Iowa remains strong. Both our commercial and residential contractors are busy and 2018 looks to be an active year.
On the ag side, with harvest completed, we saw many with record corn yields. While low commodity prices are still prevalent, the extra yields have greatly assisted with our ag producers' cash flow. Until demand can make further gains on supply, lower grain prices are likely to remain. The fate of NAFTA also clouds the future. 2018 will be another challenging year for farmers and those businesses related to agriculture.
REAL ESTATE: State and local tax changes could impact homeownership
Mark Kamps
President, Iowa Association of Realtors
I tend to err on the side of optimism when I look ahead in the real estate business, but there are some uncertainties as we enter 2018. These stem from the new tax code passed by Congress and how it will affect homeownership. The bill may increase many homeowners' monthly housing costs by scaling back deductions that allow them to reduce mortgage interest and property taxes. On the positive side, the state of Iowa passed legislation last year allowing first-time homeowners the opportunity to put away tax-free dollars — up to $2,000 individually and $4,000 for a married couple each year, for a maximum of 10 years — toward the purchase of their first home. This went into effect Jan. 1. I'm hopeful this will help encourage first-time homeowners and help stem some of the "brain drain" from the state.
CONSTRUCTION: Region poised for business, residential explosion
Lydia Brown
Director of Real Estate Development
Ryan Companies US
As we enter into 2018, the manufacturing and distribution sectors are both strong in terms of expansion and new business attraction. The region is poised to be very competitive for new business attraction as a result of our super and mega site-ready parks. The multifamily market continues to be strong and I believe this trend will continue at least for the near future. Throughout the country, there is also a growing need for senior housing and the market is responding to the changing desires of our aging population. Locally, several amenity and service-rich developments are under construction including Grand Living at Bridgewater in Coralville and Grand Living at Indian Creek in Cedar Rapids, which will provide independent living, assisted living and memory care services with a hospitality focus.
ENERGY: Sky's the limit on growth of solar in 2018 and beyond
Tyler Olson
CEO, Paulson Electric
President, SiteGen Solar
Commercial solar growth will continue through 2018 and beyond. Demand will be driven by project cash flow payback in the four to five-and-a-half year range, and internal rates of return in the high teens. Potential tariffs on foreign-made solar panels may put upward pressure on material pricing, but not until installers purchase solar panels for the first time in the new year. Despite this pressure, rates of return will remain steady to higher. Additional electricity price increases on the horizon will drive more businesses to solar to lock in electricity prices for the next 25 years.
ENTREPRENEURSHIP: Another record year for entrepreneurs expected
Curt Nelson
President & CEO, EDC Inc.
As the Iowa Entrepreneurial and Small Business Center (EDC) heads into 2018, we will complete our 15th year of providing hands-on support to Iowa's entrepreneurs — nearly 1,000 in that time. Some came with ideas that are now viable businesses and some with smaller businesses that are now much larger — all contributing to a growing, diversified economy. The growth of entrepreneurial activity has steadily increased to a record 119 entrepreneurs assisted in 2017. This vigorous entrepreneurial activity requires hands-on assistance at critical times over the entrepreneur's journey to improve their odds of success. With the experience gained to date, EDC is increasingly able to provide timely support in an efficient manner. Based on this upward demand for our services, we anticipate that 2018 will be another record year of engagement for EDC.
EDUCATION: Collaboration is key to future of innovation
By Marie Kerbeshian
Executive Director
University of Iowa Research Foundation
In 2018, higher education institutions will embrace creative ways to foster collaboration among students, faculty researchers and the local business community. Students focused on positioning themselves to attract future employers have traditionally sought practical, career-specific skills, but there is a growing recognition that critical thinking and communication skills are essential for the changing business climate. Students across disciplines are embracing entrepreneurial training and, as future graduates, will enter the business community as founders of startups or as change-focused employees helping businesses innovate. Businesses interested in hiring these students will need to offer them an environment in which they can put these entrepreneurial skills to use.
Faculty researchers, too, are embracing entrepreneurship in the broadest sense of that word, and researchers recognize the value that collaborating with the local business community brings. Institutions have recognized that sometimes unintended cultural barriers can scuttle promising collaborations. In 2018, businesses will find their academic partners more open to trying new partnership models.
BANKING & FINANCE: Credit unions fend off taxes, competition from banks
Stefanie Rupert
President & CEO, Collins Community Credit Union
The biggest challenge we will encounter in 2018 is the constant opposition from our banking competitors. Although banks control more than 95 percent of the business loans in Iowa and over 86 percent of total deposits, they are fighting hard to increase the tax burden on credit unions, which ultimately affects our members. Our goal as a credit union is to provide another financial choice for Iowans, a choice that provides guidance and expert advice in achieving their financial goals.
When it comes to communicating with and educating members, blogging and videos will be used with greater intensity. Cars, not car loans, and homes, not home loans, will be the messaging trend for the industry as it moves into a new year.