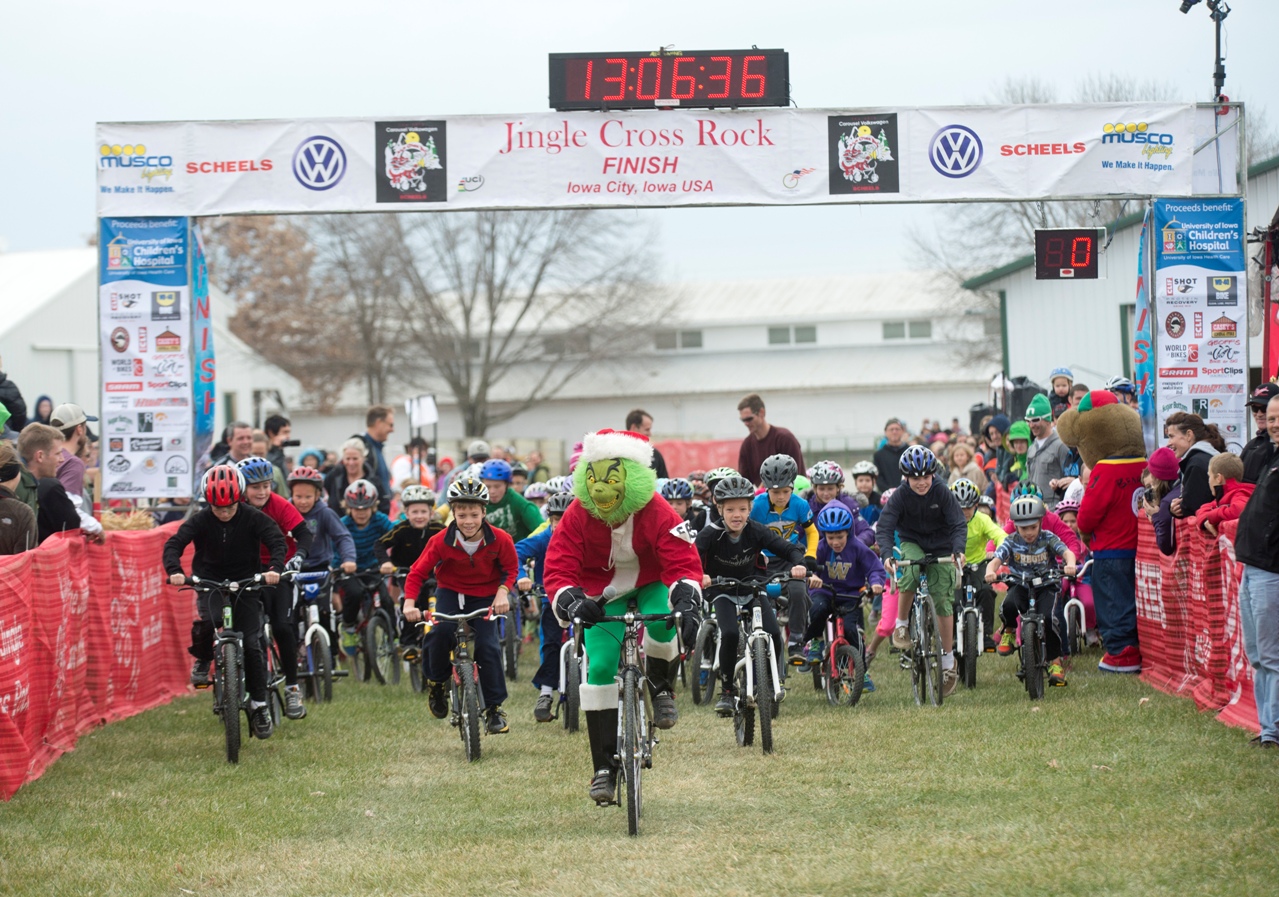 By Angela Holmes
As autumn progresses and winter looms ahead, outdoor fitness event organizers in Eastern Iowa have become adept at coming up with novel ways to attract participants to their races, including centering events around the holidays.
With a Halloween theme, the second Indee Zombie Run will be held Oct. 18 at the Buchanan County Fairgrounds in Independence.
Last year's inaugural race – complete with zombies chasing participants through an obstacle course – attracted 400 runners from places as far away as Des Moines and Chicago.
"It's a new trend to make 5K events not just about running and competition; it's about getting out and having fun while exercising," said Michelle McBride, director of the Independence Area Chamber of Commerce, which hosts the event with the Buchanan County Fair Association.
Event organizers realize that October in Iowa can bring everything from warm, sunny days to freezing rain and snow, but that doesn't scare them – or participants – away.
"Any event we do outside is a risk," Ms. McBride said. "Last year it was drizzly and cold, but that actually enhanced the atmosphere and made the obstacles even more challenging."
In its 22nd year, the Return of the Turkey Trot race in Marion gives people of all ages a chance to blow off some steam before the holiday season officially starts. This year's 8K run and 4K walk will begin at 9 a.m. Nov. 15 at Marion High School.
"It's a huge family event," said race director Pat Flynn, a member of the Marion First United Methodist Church in Marion, which presents the race with Horizons, A Family Service Alliance.
Mr. Flynn said families will still come out if the conditions are less than desirable due to the events' unique amenities.
Along with a long-sleeved turkey t-shirt and entrance into the walk or run, registration includes a pancake breakfast held from 7-11 a.m. in the high school. Winners not only receive a medal, but also a pumpkin pie made by the church group, Mr. Flynn noted.
Two-wheel options
Meanwhile in Iowa City that weekend, thousands of professional and amateur bicyclists will participate in Jingle Cross, a pro cyclocross event.
John Meehan started Jingle Cross in 2004 as a small, grassroots race. It has since grown to be the largest payout weekend in North America in the International Cycling Union (also known as the Union Cycliste Internationale, or UCI), offering 50-60 races over three days.
Dr. Meehan, a pediatric surgeon at Seattle Children's Hospital, is a graduate of the University of Iowa Medical School. He started the race as a fundraiser for his alma mater. This year, the event will raise money for the UI Children's Hospital.
Dressed as the Grinch during the event, Dr. Meehan likes to "put a fun Christmas spin on it."
He admits the November weather can be treacherous with rain and snow, but that doesn't stop cyclists from riding.
"Even if it's a downpour, we just ride," he said.
Tire selection is critical for cyclists riding in rainy or snowy conditions, he said, adding that some racers will bring 20-30 different tires to adjust to the weather.
For the average cyclist who doesn't have an arsenal of tires, he suggests lowering tire pressure to get better traction.
Late-season action
Another holiday-themed fitness event in Eastern Iowa will celebrate its 10th year this December.
The Tour de Lights 5K run in Vinton started in 2005 as a fundraiser for the Vinton-Shellsburg cross country teams.
"Vinton used to line Scenic Drive with all the lighted Christmas trees," said Susan Meyer, the event's initial organizer. "The run is a 5K, so I decided the route needed to go up that street through the Christmas lights. It was a really neat sight at night, so the name developed – Tour de Lights."
Held at night in early December, the race has seen temperatures in the single digits – something a runner needs to be prepared for.
"You have to train your body to run in the cold," said current organizer Heather Kalous, who is also the head coach of the Vinton-Shellsburg girls' track team. "I wouldn't suggest somebody who runs on a treadmill inside most of the time to go out and do this."
Colin Flynn, president of Corridor Running, suggests dressing in layers to keep warm while running in cold weather. But, he warns, don't overdress.
"If you don't dress too heavily when you start out, you will be more comfortable," he said. "If you have too many layers, you get sweaty, you get wet and can't dry off, and are miserable."
By not overdressing, runners will be colder in the beginning of the race but will warm up as the race progresses.
"If you get overheated, it's harder to regulate your body temperature," Mr. Flynn noted.
Proper footwear is the most important component of running in the winter, he said, so runners don't slip and fall on ice or snow.
For those runners who are not that experienced with running in winter conditions, Mr. Flynn advises to start slower and expect less.
"Use common sense and watch your footing," he said. "Just make sure you're getting movement; don't worry about time and distance."
He also advises runners to be flexible with their schedule in the winter.
"Take advantage of nice weather as it occurs," he said. "Plan what you're doing around the weather."