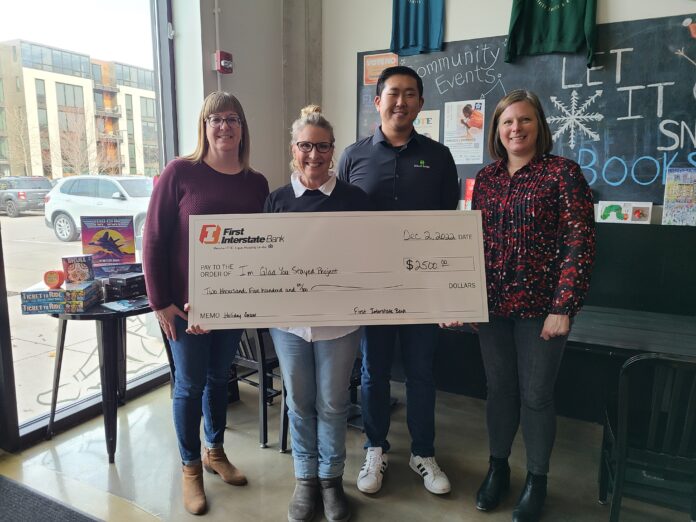 The I'm Glad You Stayed Project received a $2,500 gift from First Interstate Bank and the First Interstate BancSystem Foundation's inaugural Believe in Local grant campaign on Dec. 8.
Building on the success of the $1 million in grants given through the campaign earlier this year, First Interstate has launched a Holiday Edition of Believe in Local. The I'm Glad You Stayed Project is one of 10 nonprofits nominated by employees to receive a Believe in Local Holiday Edition grant.
I'm Glad You Stayed is an Iowa City nonprofit working to educate the public on real-time suicide prevention actions and resources. The funding will be used to address mental health education.
"Giving back to the places we call home is central to who we are as a community bank," said Eric Stephens, a commercial banking representative with First Interstate Bank. "Our Believe in Local grant campaign captures our core values in action and is the ideal way to celebrate the holiday season and the nonprofit organizations that deliver the greatest positive impact. We're thrilled to have the opportunity to further support the I'm Glad You Stayed Project in its work to better educate the public on suicide prevention and to hopefully save the lives of those struggling with mental health."
In addition to the campaigns, First Interstate makes annual donations and grants worth 2% of its pre-tax earnings to local communities. The funds improve workforce development, boost early childhood education, mitigate poverty and support nonprofit organizations like the I'm Glad You Stayed Project.