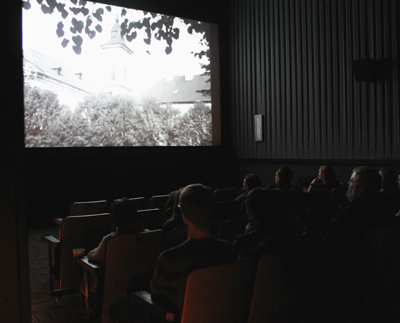 By Gigi Wood
IOWA CITY – It's black and white.
After its official first few months, FilmScene, Iowa City's new downtown non-profit movie theater, has released its initial numbers. The theater is filling more seats than expected at its pedestrian mall location. The goal was to fill an average of 18 seats each night at the 67-seat theater. Instead, the average has been 40 a night, selling more than 5,500 tickets.
"We've been quite pleased with the results since opening," said Andy Brodie, FilmScene's co-founder. "(The average number of tickets sold) is really remarkable. It's actually more than 50 percent of our capacity."
He made his comments during a presentation Feb. 10 to the city of Iowa City's economic development committee. FilmScene is asking the city to provide the theater with $75,000 to help the nonprofit partially cover a funding gap during its first three years. The committee, which includes Iowa City councilors Susan Mims, Michelle Payne and Mayor Matt Hayek, unanimously approved the recommendation for the funding. The city council will determine whether to formally approve and allocate the money. If the council does approve the proposal, the city would provide $35,000 in fiscal year 2015, then $25,000 in fiscal year 2016 and $15,000 in fiscal year 2017.
The Englert Theatre (730 seats) sells about 40,000 tickets annually, while Riverside Theatre (118 seats) sells about 10,800 tickets annually. Both organizations receive financing from the city, Mr. Brodie said.
"We're on track to do 25,000 admissions in our first year, which is pretty remarkable; we anticipated about 18,000," Mr. Brodie said. "These are people who are coming to the heart of the pedestrian mall in downtown who were not coming down before. Rather than having another music venue or performing arts venue, this is a new activity that wasn't being represented downtown."
About 800 of those tickets were sold to University of Iowa students, he said, adding that the audience is a mix of people from various backgrounds.
The city also provided economic development funding to Marc Moen, developer of the 113-year-old Packing & Provisions Building, which for years housed the bar Vito's, where FilmScene is located. The city gave Moen Group $250,000 to help pay for elevator upgrades to access the second floor. Moen Group spent more than $2 million on renovations of the building, which is expected to generate $31,000 more annually in property taxes. During the renovations, Mr. Moen said the second floor had not been touched for decades. The roof was leaking, the sewer line in the basement was broken and the line between the gas meter and the main was about ready to explode. The building was originally a casket company and the neighboring billiards bar was a mortuary. Some of the workers during the renovation reported ghost sightings.
The Moen Group is developing a new high-rise building at College and Gilbert streets, known as the Chauncey. FilmScene's goal is to eventually move into that building and open a two-screen theater, in addition to its existing theater. Negotiations about design of the Chauncey are ongoing between the city and the Moen Group.
Downtown Iowa City has been without a movie theater since 2007, when Campus 3 Theatres in the Old Capitol Town Center closed. That same year, the city commissioned a downtown market study. The results called for improved residential space and parking, as well as a facelift for the pedestrian mall. When it came to amenities, the study pointed to a need for a movie theater. The desire for a movie theater downtown has been repeated again and again in other studies and by residents at public hearings.
During the past several years, the city has invested considerable time and money in improving the economic stability of downtown with the hope of increasing property tax revenue. That is why it invests in performing arts and other venues that are unique to downtown Iowa City.
FilmScene is certainly unique for the area. On Dec. 31, FilmScene hosted a Parisian New Year themed event and showed Woody Allen's "Midnight in Paris." It is regularly the only theater in Eastern Iowa to screen many independent films, including some of the more obscure Oscar contenders, as well as black-and-white classics such as Charlie Chaplin's "City Lights."
Before it opened, FilmScene hosted an Indiegogo crowdfunding campaign to raise money to get the theater up and running. The goal was to raise $75,000 in 30 days and instead raised $91,000.
"You're just coming on the heels of massive fundraising with the crowdfunding and the founder's circle and all of that and you raised a ton of money and I don't know if that helps or hurts fundraising efforts going forward," Mr. Hayek pointed out.
Mr. Brodie said FilmScene is aware of potential donor fatigue.
"It's a challenge. We didn't do a year-end ask of any kind, which is usually pretty big for nonprofits, just because we had opened our doors at the end of the year," Mr. Brodie said.
FilmScene will focus on adding members to its membership club and will likely add staff to increase its fundraising efforts.
The theater employs two full-time employees, six part-time box office staff and four part-time projectionists. For more information, visit www.icfilmscene.org.