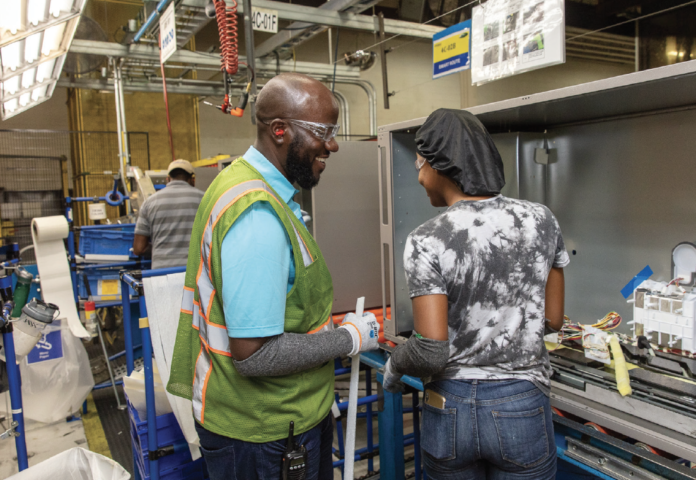 Whirlpool has sold its Amana plant to a third party in a move it said will "optimize its real estate portfolio." CREDIT WHIRLPOOL
Industrial sale leaseback transactions are on the rise around the country and in the Corridor as the COVID-19 pandemic and recession prompt businesses to offload real estate assets as a way of increasing liquidity, fueling growth and strengthening their capital reserves.
Last month, the private equity firm that owns Advanced Material Processing (AMP), a newly formed umbrella company consisting of Marion Process Solutions and Kason Corp. of New Jersey, announced a $3.83 million sale leaseback involving its Marion facility that it said "unlocks significant value for AMP to deploy toward its growth initiatives.
Now, in a newly recorded sale, appliance giant Whirlpool Corp. has sold its Amana plant for close to $93 million in a deal it says was part of a "global real estate review."
According to the Iowa County assessor's website, Whirlpool's 88,000-square-foot facility at 2800 220th Trail in Middle Amana sold for $92.7 million on Oct. 26. The buyer was WHRAMIA001 LLC, identified on the Iowa Secretary of State's business entity website as a foreign limited liability company using a fictitious name. Its listed home office address on Chicago's Wacker Drive, however, is the office of Oak Street Real Estate Capital, a private equity real estate firm that scooped up a slew of industrial and retail properties on a sale leaseback basis earlier this year.
An internal Whirlpool memo obtained by the CBJ refers to the Amana sale as a "minor real estate change," and stressed it is business as usual at the plant. Under the agreement, the only change is that Whirlpool will now enter a long-term lease with a third party instead of owning the facility outright.
"There will be no short- or long-term changes to the company's current business in the area," the memo stated. "No jobs are being lost, no buildings are being closed – our footprint in Amana will remain the same."
In a statement to the CBJ, Whirlpool reiterated the sale leaseback would have no impact on operations, describing it as "a common business practice that allows companies to optimize their real estate portfolios."
The company did not elaborate further on the reason behind the facility sale, although it is not the first time this year Whirlpool has entered into a sale leaseback agreement. In February, the Michigan-based company sold a 3.1 million-square-foot portfolio of five U.S. industrial assets – four distribution centers and one manufacturing facility – and two office sites in Italy for $178.9 million to an undisclosed buyer in a similar transaction.
Real estate experts say sale leasebacks have become more attractive to retailers, manufacturers and other companies looking for an influx of cash as the limitations of the COVID-19 economy, including a tighter lending environment, set in. Leasebacks allow them to keep possession of their facilities under a traditional triple-net lease, while extracting capital they can put to better use, whether to pay down debt, make acquisitions or reinvest in the company.
In a recent webinar on the triple-net market, Gino Sabatini, head of investments for W.P. Carey, one of the nation's largest net lease real estate investment trusts (REITs), said its brokers were hearing from companies that had never considered doing a sale leaseback before. In October alone, W.P. Carey acquired $85 million or 1.2 million square feet in industrial assets, including three manufacturing facilities and a Midwest refrigerated food processing and distribution facility.
"They've had all this real estate on their books for years and maybe, in the back of their minds, they thought, 'Jeez, maybe I should do something about it,' but never really brought it to the forefront," Mr. Sabatini said. "Now, with things a bit tighter, they are looking at their alternatives, looking at that real estate, and thinking we should really pull the trigger on this and enter into a long-term lease or figure out how to maximize the value … because it's certainly not doing much for us sitting on the books."
Mr. Sabatini predicted a spate of sale leaseback activity by the end of the year, which has already been a busy one in the manufacturing, retail and hospitality sectors. Among the most notable deals so far are the $178.9 million Whirlpool sale in February, handled by Chicago-based CBRE, and a $725 million deal to buy four Big Lots chain store distribution centers from Oak Street Real Estate Capital, the presumed buyer of the Amana property.
Oak Street, which could not be reached by the CBJ for this story, told Crain's Chicago Business earlier this year it planned to spend as much as $3 billion this year on sale leaseback opportunities.
So far, it has closed the Big Lots sale, allowing the retailer to pay down debt, and inked a $250 million, 2.1 million-square-foot arrangement with Bed Bath & Beyond as part of that company's "asset-light" strategy. More recently, Oak Street picked up 126 Cracker Barrel restaurants for $358 million and Sensormatic's Boca Raton, Florida headquarters facility, owned by Johnson Controls, for $51 million.
In an October GlobeSt.com column, Mr. Sabatini said that limited working capital, a less friendly lending environment and volatile capital markets were making it appealing for companies to put their assets to work as a source of liquidity. Record low interest rates allow for higher sales prices and favorable long-term lease rates.
Marion's move
On the investor side, sale leasebacks with high quality tenants – such as Whirlpool and Marion Process Solutions, whose parent company, May River Capital, executed a sale leaseback with Texas-based MAG Capital Partners in October – provide a certain income stream with minimal landlord responsibility thanks to the triple-net lease structure. Investors can also leverage their investment by borrowing much of the purchase price of the property on the back of the seller-tenant's creditworthiness.
"The economic impacts of the pandemic are recalibrating entire industries as companies are reimagining, in many cases, their entire business and delivering products that keep the world running," explained MAG Capital Partners Principal Andrew Gi in a release announcing the Marion Process deal. "Everything is on the table now in terms of go-forward solutions. We are clearly seeing the impacts of this year's pandemic; most often we see the resilience and creativity at the heart of American business."
May River Capital's deal with MAG Capital Partners allows the company to lease back Marion Process Solutions' headquarters and manufacturing facility, freeing up capital for additional investment in the new AMP platform. May River Capital Partner Steve Griesemer said private equity firms like his generally eschew holding on to real estate as part of their investment portfolio "because it doesn't achieve the return we're seeking to achieve."
What's more, hot demand for sale leaseback transactions allows the firm to take advantage of low rental rates while redeploying capital into growth opportunities, including the acquisition of new equipment and new manufacturing companies for the AMP platform.
"The environment today with low interest rates has pushed up the value of properties and pushed down rents for companies like us," Mr. Griesemer explained, adding May River was actively considering more sale leasebacks for companies in its portfolio to fuel growth, and is in "active dialogue" with four or five other businesses to join the platform.
While some companies are turning to sale leasebacks as a way of "monetizing assets to stay alive," May River Capital has a $300 million fund behind it.
"Often entrepreneurs, family businesses, small and medium sized business will own their [real estate], but we want to expand very rapidly," he said. "We're constantly looking at where to allocate capital and the environment today makes this part of the market [sale leasebacks] look pretty attractive."