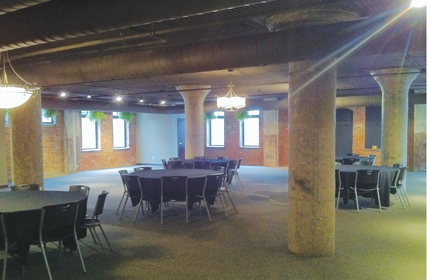 By Pat Shaver
CEDAR RAPIDS – If it wasn't for her frequent bike rides, Mindy Seiffert wouldn't have found her business.
Ms. Seiffert is opening the Shores Event Center, 700 16th St. NE, Cedar Rapids, in the Irish District. The event center will host company parties, office meetings, weddings and other events, she said.
"Right now, there's actually somewhat of a shortage of event space available for a lot of different reasons. The flood had some impact," Ms. Seiffert said. "The Czech Museum was available for weddings; at least for now, that is not available. The convention complex is not built yet. Just in general, meeting space has been limited."
Ms. Seiffert, who works as a client consultant for Skywalk Group in Cedar Rapids and is an adjunct lecturer for the University of Iowa business school, said she never planned to open an events center.
"It really was about the space itself. I'm passionate about old buildings and finding ways to repurpose them. I had ridden my bike by the building," she said.
One spring bike ride in March or April this year, she passed the building and noticed a sign that there was space available for lease. She wandered inside to check the space out.
"I was totally inspired by the space alone. Starting an events center hadn't ever crossed my mind," Ms. Seiffert said.
After meeting with the building owner, she worked on a concept for the space, which he approved, and began renovating the space. The concept fit, she said, because the building owner had already been asked by people if they could rent space in the building for events. The space she is leasing was the last available space in the building.
"I'm a firm believer that either you can be part of the solution or you can just ignore things. If you can continue to put in businesses and draw positive things to the neighborhood it is going to be better off," she said.
The event center will hold a grand opening event on Oct. 1, though there have already been a few events already held, and many booked, she said.
Shores has established several partnerships with local vendors, including Cedar Ridge Vineyards & Winery and Catering by LJ's, though it does not require customers to use those vendors for their events. This is one area that Ms. Seiffert said sets the center apart from others.
"For example, if you use space at a hotel for a business meeting or reception, you're required to use the hotel caterers," she said. "There are a few caterers we work with regularly, but people can also bring in their own food."
Another thing that makes the venue different its location. For some people, considering a 100-year old building against brand new space, they prefer the older look, she said.
"We are a very different and unique facility. There are definitely a certain group of people who are attracted to that because of the character of the building," Ms. Seiffert said.
Once other venues open, like the Cedar Rapids Convention Complex, expected to open in the spring of 2013, Ms. Seiffert believes business will still be good for the Shores Event Center because of the unique venue and flexibility.
"Interest has been overwhelming. I have not done a ton of advertising to date. People have been finding us one way or another," she said.
Other features of the facility include: Handicap accessibility, free parking, accommodations for up to 300 guests, flexible and affordable set up and catering options, event planning services, on-site showers, on-site complimentary event services, and free wireless Internet.
The Shores building, built in 1911, was originally home to the Shores-Mueller Co. The company sold products directly to consumers through catalogs.  Shores-Mueller Co. offered a range of products that were produced, packaged, and sold right from the Shores building. Today, the building is home to multiple businesses.
In 2005, Tom Erger, Devonna Wood and Mike Pitzen purchased the old Shores-Mueller Co. building and began renovation of what is now known as Shores Central Park.  The entire building has been meticulously restored over the last several years and green building restoration efforts were used when possible, according to the Shores Event Center web site.