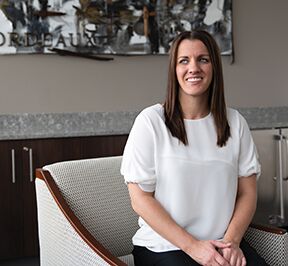 Senior Marketing Associate  |  RSM US LLP
Age: 34
Best advice you ever received?
If it's not a "heck, yeah," then it's a "no." This has really helped me prioritize my personal life and relationships.
What do you consider your biggest break so far?
Getting laid off from my first job out of college left me feeling vulnerable and insecure. But, as is many times the case, it was a "beautiful no" in my life. I am forever grateful for the four years of experience with that employer because without it, I would not be where I am today.
What would most people be surprised to learn about you?
After college I interned with the Chicago Cubs AA team in Tennessee, the same season Ryne Sandberg was the manager.
If you had $1 million to give, what causes would you support?
I would give to organizations in our community focused on helping people get out of multi-generational poverty, whether that is helping them gain skills to earn a livable wage or getting them out of crisis by creating independence and sustainability through proactive prevention and teaching them skills to thrive on their own.
What are your passions outside of the workplace?
I enjoy living an active lifestyle and being outside in nature whether that is hiking, camping and fishing, or being a part of a great community at Craft Fitness/Cedar Rapids Crossfit over the last six years where I have pushed myself to new limits, competed and met great friends.