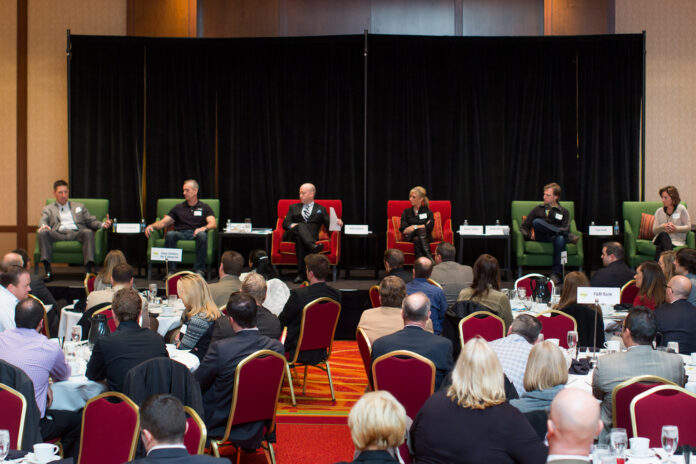 By Pat Shaver
CORALVILLE–Stacie Sefton and husband, Jon, realized they were entrepreneurs after working their way up in corporate jobs.
"We had a vision and a dream but we weren't able to apply those because we didn't own the company," said Ms. Sefton, CEO of BHFO, a Cedar Rapids-based online seller of brand name clothing, shoes and accessories. The e-commerce company started in 2003 and is eBay's largest seller of clothing, shoes and accessories.
The two were executives at companies in the area but had a desire to be entrepreneurs, she said.
"We still have a long list of things we haven't been able to accomplish because the business boomed so much," Ms. Sefton said.
Ms. Sefton was among five panelists at the Corridor Business Journal's Entrepreneurial Forum Dec. 5 at the Coralville Marriott. The other speakers included: Chris Honkomp, partner in charge at Bergan Paulsen, Cedar Rapids and founder of Life Success 4 Athletes; Steve Shriver, president and founder of Eco Lips Inc.; Faye Swift, founder and partner of Blackstone of Iowa City and Reds Alehouse of North Liberty; and Phillip Rezin, president of Midwest Microwave Solutions, Inc.
Panelists shared their advice, successes and failures at the event, which is designed to help entrepreneurs start and grow companies throughout the Corridor.
Midwest Microwave Solutions in May was named the No. 1 Fastest Growing Company in the Corridor, with 516.1 percent growth from 2009-2011. The company started in 2005 and produces highly sophisticated radios for the government and large corporations.
"We have grown significantly in the last year," Mr. Rezin said. "We doubled staff and tripled our space just over the past year."
Ms. Swift has managed to open two successful restaurants in the Corridor despite losing a 20-year old restaurant, Slugger's on the Coralville strip, in the 2008 flood.
"It's very strange to lose your business," she said. "It's a sad feeling to walk into your business and it's completely destroyed."
Advice
"My advice to you is to seek help from others and focus on what your passion is," Mr. Rezin said. "I'm a technologist by trade. You make a widget but you're doing it for the man and you think you can do it on your own."
At Bergan Paulsen, Mr. Honkomp works with entrepreneurs to help them meet their personal and business goals.
"There are so many things that contribute to success," Mr. Honkomp said. "People who have been most successful understand their strengths."
As founder of Life Success 4 Athletes, Mr. Honkomp is able to relate to his clients at Bergan Paulsen in the beginning stages of a business. Life Success 4 Athletes is a set of professional and personal services for athletes as they transition from college to professional, from professional to retirement, beginning a second career, starting or buying a business and starting a family. Mr. Honkomp played baseball while he was a student at the University of Northern Iowa.
"Make sure it's what you want to do. There's great days and there's horrible days," he said. "The passion, you've got to have it because it's going to be tough."
Failing is part of the life of an entrepreneur, said Mr. Shriver, who started Eco Lips, an organic and natural lip balm company based in Cedar Rapids.
"I fail every week at something. I try to have my successes exceed my failures," Mr. Shriver said.
"You have to learn to say 'no' to things," Mr. Rezin said. "Yeah, you can do it (take on additional business) but (if you do) you have other customers that are going to suffer."
Ms. Swift surrounded herself with good people and had mentors along the way, which helped lead to her success, she said.
"If you want to be an entrepreneur, people like us…we'll talk to anybody. I think you can benefit from anybody in the field you want to be in," Ms. Swift said.
Business plans
"I thrive on being hungry. I like to put myself in situations where I'm barely making it. The best way to figure out how it's going to work is experiencing it itself," Mr. Shriver said. "I say, 'just do it,' rather than getting wrapped up in a business plan."
Mr. Honkomp had different advice: "Make sure you believe (your idea) is financially viable. I'm a big believer in planning."
In the beginning of BHFO, Ms. Sefton said they had a simple business plan. As they began looking for capital, their plan became more formal.
"It kept us on track, however, things change so quickly especially in the e-commerce world," Ms. Sefton said.
Ms. Swift said just because you have a detailed plan doesn't mean the first bank you approach will give you a loan.
"I had to have a business plan if I was trying to get money from the bank, which proved to be very difficult. I got turned down by three banks in Iowa City," Ms. Swift said.
Motivation
All the panelists agreed money is not their main motivator.
"If you're passionate about it, you'll squeeze it (the effort and time it takes to run a small business) into your lifestyle," Mr. Shriver said.
Mr. Rezin said he is driven by the company's team and the fun they have as a group, as they work on projects and during off-hours.
"Money is not a motivator, if it is your motivation maybe you need to step back and think about what you want out of life," Mr. Rezin said.
Ms. Sefton is also inspired by the business she's built and the BHFO team.
"I'm motivated by our 125 employees and what we've developed," she said.
Ms. Swift said she's motivated by the challenges of new projects and feedback from customers.
"I think it's a lot of fun and its rewarding," Ms. Swift said. "The pursuit of an idea, it always motivates me."