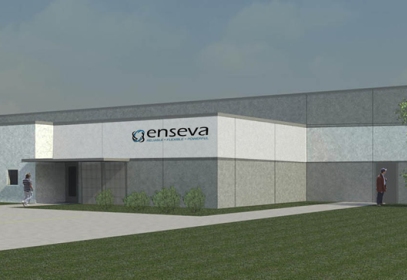 HIAWATHA – Enseva, a data colocation firm, and Iowa Health System, today announced the construction and opening of a new data center in Hiawatha.
The 17,000-square-foot multi-tenant data center facility, will be built at 755 Metzger Dr.
It will house a portion of Iowa Health System's data, and is a collaborative project with Enseva, Iowa Health System, Professional Office Services, the city of Hiawatha, Alliant Energy and Priority One with financing provided by GNB Bank.
The facility, with an expected construction cost of $12 million, will have the capacity to accommodate three more modules at 12,000 square feet each.
"Having partners in economic development is what made this new data center a reality," says Doug Sevey, president and CEO of Enseva. "We are able to move quickly because we have the right people at the table, with all the same priorities."
The center will be built to function utilizing proprietary electrical and cooling technologies designed to offer a greater fault tolerance at an unprecedented level of efficiency
Iowa Health System was the impetus behind the project.
"Data availability is incredibly important when you are dealing with the health of those who make up more than 2.6 million patient visits per year," said Kevin Vermeer, executive vice president/chief financial officer for Iowa Health System. "We serve more than 76 communities and have 199 physician clinics in Iowa and Illinois. This data center is part of our comprehensive plan to store and secure all the critical data generated in caring for our patients."
Enseva partnered with Hiawatha on incentives to locate the data center there and to facilitate the requirements needed to build the facility.