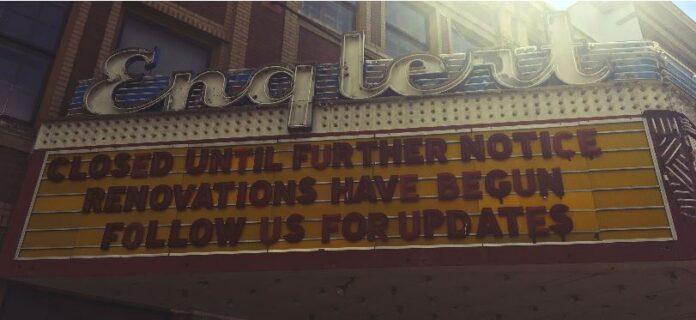 The marquee at Iowa City's downtown Englert Theatre announces that renovations are underway. CREDIT ENGLERT
By CBJ News Staff
news@corridorbusiness.com
Renovations at the historic Englert Theatre in Iowa City officially got underway May 28, theater officials announced in a letter last week.
Part of the Strengthen Grow Evolve campaign launched last year to raise $6.5 million from the community to boost the arts, the project includes a complete restoration of the theater's marquee and preservation work on its front facade.
"It's been a difficult year for everyone and the arts have not been spared," Englert staff said in an open letter. "In the midst of current challenges, we are excited to share this good news."
The Strengthen Grow Evolve campaign rolled out pre-pandemic to fund capital projects, programming initiatives and strategic planning to realign regional arts nonprofits in a more collaborative fashion.
In the short term, the campaign aims to fund the revitalization of FilmScene's Scene 1 cinema on the Ped Mall, and preservation and enhancements at the 106-year-old Englert, which also include roof replacement, HVAC system improvements, renovation of the second floor and structural work on the theater's back wall. Phase 1 also included help paying for the new FilmScene facility, as well as education and outreach, the hiring of a new community engagement coordinator and three arts festivals: the existing Mission Creek and Witching Hour festivals and the new (re)Focus Film Festival set to launch in 2020.
"We are excited to announce that with the funds raised for the preservation aspect of the campaign, we officially began the renovation of our historic theater," the letter said, adding the Englert had worked with OPN Architects for a year to finalize renovation plans. "We can't wait to celebrate the beloved space with the community once it's safe to do so." CBJ