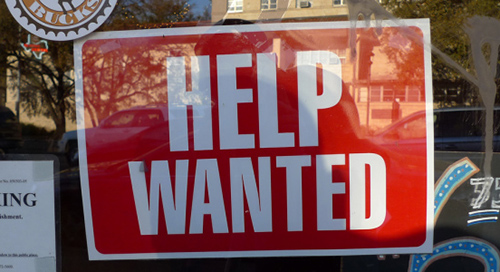 By Angela Holmes
angela@corridorbusiness.com
CEDAR RAPIDS—As the economy continues to recover from the Great Recession, workers – including unemployed job seekers – are becoming more selective about the jobs they will accept and keep.
That was just one finding offered up by Ryan Murphy, bureau chief of Iowa WorkForce Development's regional research and analysis bureau, as he presented the results of the Creative Corridor's 2016 Regional Laborshed Analysis on Jan. 27 to a group of employers and economic development representatives at Kirkwood Community College.
According to the study, the lowest median wage unemployed people in the Corridor are likely to accept is $10 an hour. For those who made $11.75 at their previous employment, they are most likely to want $13-$15 an hour.
That finding is indicative of an improving job market and telling of employees' expectations, said Kim Becicka, vice president of continuing education and training services at Kirkwood Community College, "especially since there has been a lot of discussion about the minimum wage in the area."
Last year, Johnson County approved an incremental minimum wage increase from the state's current rate of $7.25 an hour to $10.10 an hour by 2017. Linn County is now also looking at an increase.
Even with the minimum wage increase, there has been an escalation of wages in the retail and service areas, Ms. Becicka said.
"I believe employers are making changes," she said. "This study will give them more data."
The improving economy and low unemployment in the state and region are also making current workers take a closer look at their own situations. Of the currently employed, 21.9 percent indicated they are likely to change jobs, citing reasons such as employer layoff/relocation, better wages, temporary/seasonal employment and better hours.
"Individuals are willing to take a risk and be more mobile," Ms. Becicka said, adding a couple years ago, employees were more likely to stay in their job due to the fear of being downsized at another company.
During the recession, people were "happy with stability and less concerned with wages," Mr. Murphy said. "It changes as the economic climate changes."
Women in the Corridor are more likely to change jobs than men, especially those in professional jobs. Those most likely to change jobs are making $14.45 an hour, or a salary $57,000 per year.
The Corridor's median hourly wage of $15.10 an hour is a little low compared to the rest of the state, Mr. Murphy said, while the median salary of $60,000 per year is on par with the rest of the state.
Benefits also play a part in a job's desirability. The top five desired benefits are health/medical, pension/retirement, dental, paid vacation and vision. Paid time off, or PTO, which doesn't differentiate between sick leave and vacation, has increased significantly in the past decade, Mr. Murphy said.
"There are more options for people now than there was three or four years ago," he said.