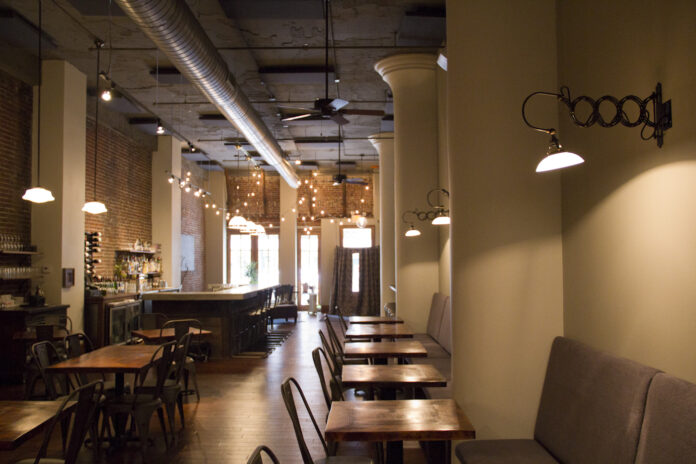 Local food spotlighted at Cobble Hill
By Sarah Binder
CEDAR RAPIDS—It's one part European sophistication, one part Brooklyn cool, and a lot of Iowa local.
Cobble Hill, a new restaurant at 219 Second St. SE in Cedar Rapids, is the inspiration of Carrie and Andy Schumacher. It is named for the neighborhood in Brooklyn, N.Y., that inspired their vision.
"It kind of signified the kind of vibe we wanted to portray, with the neighborhood restaurants we liked to visit," Mr. Schumacher said.
The pair met in college before moving to New York for Mr. Schumacher to attend culinary school. They lived in Brooklyn for four years before moving back to Iowa to start their family. Since then, both have had prominent roles in the local restaurant scene: Mr. Schumacher was chef at the Lincoln Café in Mt. Vernon for five years, and Ms. Schumacher was the manager of catering at hotelVetro in Iowa City for four.
With 60 seats, 20 reds and 20 whites on the wine list and five entrées on the menu, the theme at Cobble Hill is quality over quantity.
"That's something we tried to stay true to: offering products where you can tell customers, 'this is where this came from,'" Ms. Schumacher said.
That means their bar features estate wines and small-batch spirits, and the kitchen uses meat from Midwestern farms, produce from Morgan Creek Fresh Produce in Cedar Rapids and dairy from Kalona.
As he has matured as a chef, Mr. Schumacher said he has learned to see the elegance in simplicity, and that will be reflected at Cobble Hill.
"We'll have maybe one or two fewer components on the plate, but let what is there shine through," he said.
The menu features ingredients such as handmade pasta, cured meats or sheep's milk cheese, prepared in a "straightforward," European-inspired way.
The other half of the equation is seasonality. The menu will change as different produce are available; Mr. Schumacher noted that opening in February was a bit of a challenge. Right now, root vegetables play a prominent role. For example, a grass-fed flat iron steak is served with parsnip, cabbage and torpedo onions.
The cocktail menu is seasonally-inspired and hand-crafted, as well. The crimson negroni features beets from Morgan Creek, and all of their juices, syrups, and maraschino cherries are made in-house.
Prices range from $7-13 for appetizers, $18-28 for entrees and $7-12 for wines by the glass. While this is on the high end for dining in Cedar Rapids, the couple said they don't want to be purely a special occasion restaurant: they want people to feel comfortable coming in wearing jeans.
Cobble Hill is open for dinner Tuesday-Saturday, and the pair is considering opening for lunch this spring. They said it was important to balance the demands of opening a restaurant with the reason they came back to Iowa in the first place: time with their kids.
"They get to see their parents take a risk and try something out," Ms. Schumacher said. "I think it will be good for them."
A sense of place
Just as different ingredients come together to create a meal, the couple pieced together different elements to create their restaurant's décor.
The front of the restaurant features large French doors that can be opened during the summer to create an al fresco experience, with slouchy vintage couches for customers to sit and enjoy a cocktail.
All of the tables were handcrafted from wood salvaged from a historic home. An antique department store dresser now functions as the waitress' station.
They also put in new wood flooring, installed a wall behind a set of massive columns to divide the space, and tore down drywall to expose brick walls. It was a nearly five-month construction process to turn the flood-damaged shell of a building into a fine-dining experience.
"It was in pretty rough shape," Mr. Schumacher said. "[The landlord] had faith in us to just design it the way we wanted to."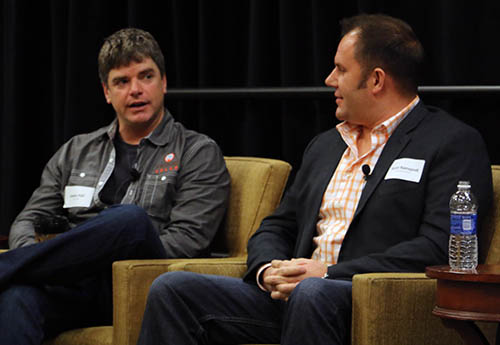 Throughout the process, they shared photos of the transformation on Facebook, which they said helped to build up excitement for the restaurant before it opened in February.
The couple almost didn't bring Cobble Hill to Cedar Rapids. They nearly signed a lease in Marion before a deal fell through. With more businesses and entertainment venues coming back downtown, they decided to give the recovering city another chance.
"I think downtown Cedar Rapids has always oozed potential," Ms. Schumacher said.
COBBLE HILL
219 Second St. SE, Cedar Rapids
Tuesday-Saturday, 5-10 p.m.
(319) 366-3177
www.cobblehillrestaurant.com
Insider tip: For a special dining experience, ask to reserve the "kitchen table." You'll sit at barstools overlooking the kitchen, be served directly by the chefs and have the chance to chat with them about the food.