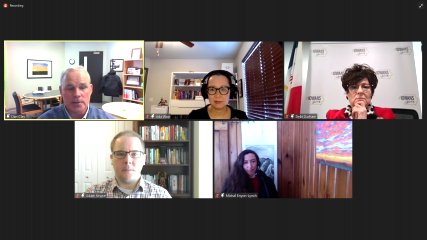 Edtech was already a fast-growing industry pre-pandemic, with a market set to rise from $160 billion in 2019 to $1 trillion by 2027. Now, with classrooms and companies going remote almost overnight and the need for innovative and accessible learning solutions soaring, its possibilities and promise have been put to the test.
For edtech leaders in the Corridor – one of the nation's hotspots in the field – the dramatic shift has opened up new opportunities to marry technology and learning in the classroom, at home and in the office. At the same time, it has raised questions about inequities related to access, the importance of teachers and physical classrooms, and the limitations of technology.
"This last 11 months has been really quite something in many ways," said University of Iowa College Education Dean Dan Clay, moderator of a recent Iowa City Area Development Group-sponsored panel discussion on the state of edtech. "It's the greatest experiment in education that our world has ever seen. And it happened, of course, at the drop of a hat. What's interesting is that it has revealed some weaknesses in our system, but also, I think some opportunities for technology to play an even greater role in facilitating learning."
Learning from the pandemic
Michal Eynon-Lynch, co-founder of Iowa City-based Pear Deck, which specializes in K-12 educational technology, said the pandemic has "laid bare systemic inequalities in our education systems." The autonomy prized by school districts worked against them when each one had to independently figure out how to transition into online learning and operate safely in a drastically changed environment.
"And I think this year, we saw teachers learning new technology, transitioning all of their lesson plans to a whole new delivery method and literally risking their lives to continue to do that work," she added. "I hope that coming out of this year, we really start to recognize the dedication and what a linchpin our teachers are to the success of our whole community."
Iowa Economic Development Authority Director Debi Durham agreed that the past year highlighted inequalities, especially when it comes to access. Though Gov. Kim Reynolds has recently called for a $450 million investment to ensure Iowans across the state can receive high-speed broadband, she admitted the state's infrastructure was "woefully unprepared" for the mass migration to the online world.
"But [last year] also showed us that there is a tremendous opportunity," she said. "We awoke parents because all of a sudden, they were put up front and center in their child's education. They saw what was happening in the classroom, what wasn't happening in the classroom … And I think by empowering parents, parents are going to be demanding more technology in our school systems … and shame on us if we don't take what we learned on this, and make systemic changes moving forward."
In many ways, the past year has accelerated a trend that predates COVID to "rethink learning," according to Ada Woo, chief of staff and senior director of the Assessment Sciences Unit at Ascend Learning, which develops learning tools for nursing, clinical health and other high-growth careers.
"Maybe learning is no longer everybody reading the same textbook or reading the whole textbook," said Ms. Woo, adding that artificial intelligence catering to different learning styles is also part of the emerging picture. "Maybe you think about learning as bite-sized pieces that are more targeted."
Adam Keune, co-Founder of Coralville-based Higher Learning Technologies, said developers in the space are seeing demand for mobile apps – something of a calling card for HLT, which offers learning solutions in the health sciences field as well as for MBAs and other professional degrees. Though early investors told HLT phone-based apps were "for games," its users consider phones their preferred study device, in part because everyone owns one. That's a consideration the pandemic has only underscored.
"I think that overall, our smartphones are going to be a great equalizer because not all students have access to broadband, and that can cause big problems," he said. "But what we found time and time again, traveling all across the world, to some of the poorest parts of Africa, everyone has a smartphone … I think, if the pandemic has shown us anything, it's that we need to be able to meet the students where the demand is. I think by using technology and finding innovative and less expensive ways to provide educational content to these students, regardless of their economic status or if they're in a place for broadband, is going to be critical."
Humans and technology working together
One thing more technology in learning won't mean is devaluing the role of teachers and in-person instruction.
According to Ms. Durham, the motto of the past year might well have been "we all need that human connection." In the work world, productivity initially shot through the roof when many were sent home to work remotely, leading to thoughts that the shift was transformational and could lead to the death of the traditional office. Since then, however, Ms. Durham said there's been a realization that "yes, we can do more remotely and we need to be more flexible as employers, but we need human connectivity."
In education, "I don't think we will ever get to a place that it can serve us well without that teacher," she said. "So the sooner we can start opening up our economy and getting people back – it's taken too hard a toll on people emotionally and mentally, and that's [in education] and across sectors."
Mr. Keune said that rather than replace traditional in-person instruction, using the data technology generates might be the biggest boon for teachers and professors, many struggling with large class sizes and new and stressful responsibilities.
"When you've got a class of 70, say, at a major university, I'm sure you can imagine [the usefulness] of having little notifications about students who are slipping behind, or maybe it's your entire class getting this one core aspect," he said, adding such data allows instructors to analyze why and how material is not "clicking."
Ms. Woo and others said teachers are at the very center of product development, "and our role is to enable them to do more and take some of the more mundane work – work the machine can do – off their hands and give them actionable data." Ms. Woo added one big lesson of the pandemic for the edtech industry was having teachers at the table at the very beginning of designing a product or building a curriculum.
"Technology is at its best when it's based on learning science and is directly serving our teachers or our students," Ms. Eynon-Lynch agreed. "As technologists, you see so many things that technology could do, that sometimes we oversimplify the problem. And then we can make products that serve the technology and not the people."
The past year has emphasized the social and emotional components of learning and what losing those elements has meant for students, she added.
"I think we love this idea that we could provide a personalized learning experience for students, that we could deliver to them something that is interesting to them directly and is leveled to the level of learning that they're at in this moment," she said. "But I think if we go too far down the path of students learning in their own bubble, we get away from the importance of students learning with others who might be at a different level than they are. We get away from students learning that there are different opinions and different approaches to solving a problem."
The future of edtech
While agreeing with Ms. Eynon-Lynch that "we don't want to follow technology too far down the rabbit hole," those working in the edtech space still see a wide-open road ahead. Mr. Keune said he sees opportunity in lifelong learning, including retraining for advanced manufacturing, and in "micro credentialing," also known as nanodegrees, to keep employees up to date.
"I think the world is going to go towards more of a micro credentialing –  you know, you learn what you need … and then we find a way to let you demonstrate that you know this thing that you just learned, and it's in smaller chunks instead of like this whole big thing," Ms. Woo concurred, adding she also expected to see future assessment testing being administered via remote proctoring technology instead of large lecture halls.
Edtech was first identified as a potential growth cluster in Iowa in 2017 after a conversation between former ICAD President Mark Nolte and Ms. Durham. Since then, the state has launched the Iowa Tech initiative, which has been busy over the past year conducting an educator survey, hosting workgroup meetings, holding an edtech accelerator with four new edtech companies, and building the state's brand as an edtech hub.
Ms. Durham said she immediately saw crossover possibilities with other Iowa industries, including manufacturing, biotech and insurance and finance.
"Edtech is actually fundamental for the performance of all of these other verticals in Iowa," she said. "We think of edtech being focused on education … but learning is about lifelong learning and micro credentialing, and the world of training and education is going to look so different. Iowa is at the tip of that spear and we can own this space if we're willing to make the right investments."