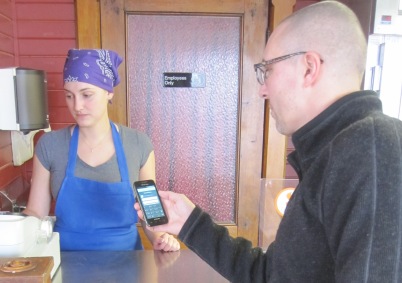 Naomi's Kitchen promotes use of new technology
By Gigi Wood
A new technology out of Des Moines has the potential to save businesses money on credit card transaction fees.
Dwolla's name comes from the words "dollar" and "web." It is an e-commerce company that offers an alternative to using credit and debit cards for purchases. The company was created in 2008 by Ben Milne and Shane Neuerberg, who were fed up with credit card companies charging retailers and other merchants fees because customers used credit and debit cards when making purchases.
The everyday customer may not be aware, but businesses small and large pay a fee every time a credit or debit card is used to make a purchase. Business owners pay a share of the transaction, depending on a number of factors, usually 3 to 5 percent. Visa and MasterCard collect more than $30 billion annually from interchange fees alone, according to those companies' reimbursement fee records.
As an alternative, customers now can use Dwolla to make purchases at businesses. The transaction can be made using a customer's smart phone or by using a computer with Internet access. For the process to work, the merchant needs to sign up for a Dwolla account, which is free. Customers typically also need a Dwolla account to use the service, although an account is not necessary in all cases.
Dwolla transactions under $10 are free, while purchases above that amount are charged a flat fee of 25 cents. There are no setup fees, no maintenance costs, no annual fees and no hidden charges associated with Dwolla. There are also a number of Dwolla-related applications to help users with the various aspects of using the system.
Jordan Lampe, spokesman for Dwolla, said the company developed an entirely new network system to create the technology that makes Dwolla work. The company recently reported more than $1 million in daily transactions are made using the system.
"Visa and MasterCard were made in the 1960s and they still use a lot of the same processes, technologies and that sort of thing," Mr. Lampe said. "We took a step back and said, 'there's a lot of 21st-century technology out there that we can use to bypass a lot of their shortcomings."
Dwolla doesn't need to charge a lot in fees because there is no risk of credit card fraud with Dwolla transactions, he said. When someone uses Dwolla, the Dwolla system does not share the account holder's personal information during the transaction, as is done with credit card purchases, he said.
"Instead of saying, 'in exchange for this bagel, I'll give you all my personal information,' we've removed that from the equation," Mr. Lampe said. "So our transactions have no personal information that could jeopardize your financial well-being. We're able to do that because we use a token-based system."
The token-based system adds to the security of the transaction by sharing a special code to the applications and software involved, instead of unique usernames, passwords and account information.
To sign up, businesses and individuals register for free. They then give Dwolla their bank or credit union account information. Businesses submit their Employer Identification Number (EIN) to verify their identity. Users then upload funds to their Dwolla account. Their Dwolla account number is all that is shared during a transaction process.
To use Dwolla on a smartphone, users download the Dwolla app and login. They then locate the participating business on the Dwolla map, select it and transfer money from their account to that business. The same can be done on a computer over the Internet. A confirmation e-mail is sent to the user. Businesses don't need any card terminals or other hardware to use Dwolla; it's software based.
Dwolla also offers a credit line for users for a $3 per month fee.
Dwolla is different from PayPal and Google Wallet, which are aggregator of payments, allowing merchants to use the services to take Visa and MasterCard payments, he said.
"For us, we view ourselves as the (modern) Visa, MasterCard or Discover (of the PayPal process), so at the end of the day, if PayPal wanted to, could easily integrate us and offer our services," Mr. Lampe said.
Social media sites can also be used to make transactions via Dwolla.
There are Dwolla-affiliated merchants throughout the country, as well as many throughout the Corridor. Most of the Corridor merchants that accept Dwolla are home-based companies that have encountered Dwolla at startup entrepreneurial events.
There are a few Dwolla users in the Corridor, however, with active cash registers and customer traffic. The Depot Express convenience stores, with locations in Coralville, Oxford, Tiffin and Gilman, signed up for Dwolla nearly a year ago. David Scheetz, son of Depot owner Tom Scheetz, said the convenience stores have not yet been able to use Dwolla, however.
"Our point-of-sale systems that we have to use to control the fuel pumps and things like that, it's kind of an older technology, versus what coffee shops and things like that can use for their point-of-sale systems," he said. "If we were able to upgrade to a more technologically advanced point-of-sale system, we would absolutely be accepting Dwolla today. It just makes absolute perfect sense."
Depot Express is working to create a new online ordering web site that will accept Dwolla, which will launch in the coming weeks. And if enough customers demand Dwolla, the family-owned business will consider updating its point-of-sale system to use it.
Naomi's Kitchen, a meal preparation service at 25 E. Cherry St. in North Liberty, signed up for Dwolla at the start of February. The business had a contest for customers this month, asking them to guess how much in merchant fees Naomi's Kitchen has paid since it opened in 2004. The correct answer to the contest, which ended Feb. 17, was $42,768. The closest guess won 72 servings of prepared meals from Naomi's. Customers who use Dwolla to pay for meal orders this month receive a $10 discount, as well.
Naomi's Kitchen's credit card fees have remained relatively steady during the past eight years of operation. Troy Miller, co-owner of Naomi's Kitchen, said he started learning about Dwolla several months ago
"When Dwolla came out these last few years, it really was the first new payment network in the United States since the Discover Card 25 years ago," Mr. Miller said. "And most people don't realize how much merchants pay in credit card fees."
Dwolla recently raised $5 million from venture capital firm Union Square Ventures, which has also invested in Twitter and Foursquare. Dwolla plans to remain headquartered inDes Moines. The company experienced a 2,500 percent increase in growth last year.