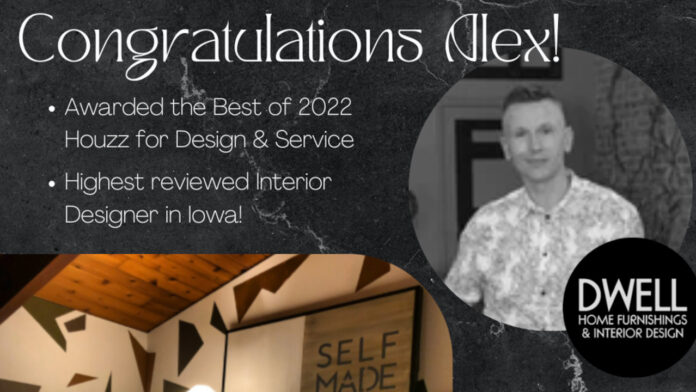 Alex Von Ahsen, an interior designer with Dwell Home Furnishings and Interior Design in Coralville, has been named the highest reviewed Houzz designer in Iowa, as well as ranked Best of 2022 for Design and Service.
This is the 10-year anniversary of the Best of Houzz awards program. Badges are awarded annually, in three categories: Design, Customer Service and Photography.
Design awards honor professionals whose work was the most popular among the Houzz community. Customer Service honors are based on several factors, including a pro's overall rating on Houzz and client reviews submitted in 2021.
Mr. Von Ahsen has been an interior designer for over ten years. He earned his Degree in Interior Design in 2009. Prior to working at Dwell, Alex was the store manager and in-home designer at Phelan's Interiors and Interior Elements in Cedar Rapids. He has earned many prestigious honors, including being a finalist in the Norwalk Furniture Design Star contest, a Best of Houzz winner from 2012 to the present, and has had his designs featured in publications such as Elements, Home and Garden and Gallery of Homes.
"The key is the relationships and getting to know the client," he said. "My technical expertise complements an approachable, hands-on style and meticulous attention to detail."
"Best of Houzz 2022" badges appear on winners' profiles as a sign of their commitment to excellence. These badges help the more than 65 million homeowners and home design enthusiasts on Houzz to identify popular and top-rated home professionals for their projects.
"We launched the Best of Houzz awards program over a decade ago to highlight the work of the most talented and customer-focused professionals in our industry," said Liza Hausman, vice president of Industry Marketing at Houzz. "When homeowners come to Houzz to find professionals to complete their projects, the Best of Houzz badges offer a marker of credibility,
supporting their decision to move forward. We are extremely proud of this year's winners, many of whom have won multiple times, and we're pleased to give them this recognition and a platform on which to showcase their expertise."