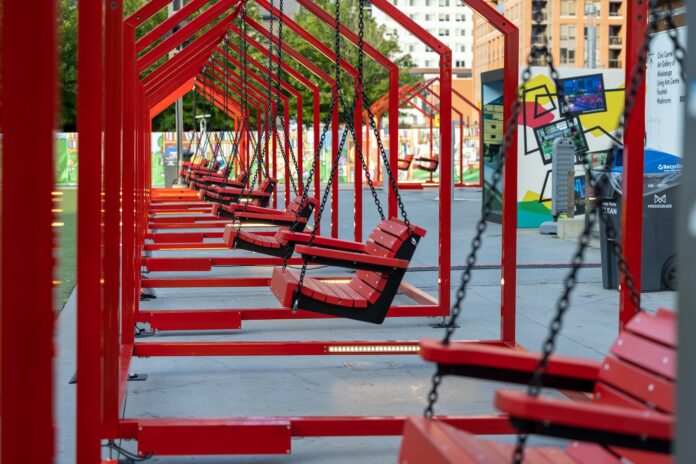 The Iowa City Downtown District, in partnership with the city of Iowa City, Think Iowa City and the Community Foundation of Johnson County, will bring the international participatory public art installation, Mi Casa Your Casa 2.0 to downtown Iowa City's Pedestrian Mall this June. 
Opening on June 10 and ending July 10, the summer art installation will encourage visitors to relax, swing and play in the heart of downtown for an entire month at any time of day. The collection is made up of 16 framed houses, each featuring a two-person porch swing. 
The Mi Casa, Your Casa 2.0 red frames, each in the shape of a small home set alongside one another, will be placed in three main areas of the pedestrian mall. Inside each "casa", there is a swing and a ring of lights lining the bottom. When the house is empty, the lights glow dimly to welcome the next visitor. Once someone steps inside, the lights release a more powerful glow, indicating that someone is home. The swing inside invites the passer-by to settle in the small homes.
"The investment in different areas of public art has been part of the Iowa City Downtown District's work for many years. Last summer, we first worked with Creos to bring the Loop art installation to downtown during the month of July", Director of Creative Services Betsy Potter stated in a release. "The Loop in 2021 brought great excitement to the Pedestrian Mall. There is no doubt that Mi Casa will be yet another great invitation to the community and visitors to come downtown for some fun". 
The art was was created by Hector Esrawe and Ignacio Cadena, two Latin American artists and designers who were inspired by the mercados of Latin America, lively street markets where human connections are made every day. 
"'Mi Casa, Your Casa' is a strong and subtle symbol in a geometric shape that will allow us to build a unique iconic piece, one that creates a continuous dialogue with audiences and capable of continuous changes and mutations," say Esrawe and Cadena.
The Iowa City Downtown District hopes that some of the dialogue among those that engage with the exhibit will be centered around housing in Johnson County.  Through a partnership with the Community Foundation of Johnson County, Mi Casa Your Casa 2.0 will share an awareness and direct commitment to Johnson County's local housing initiatives. For any and every photo of the Mi Casa Your Casa 2.0 installation that is posted and tagged @downtowniowacity, #downtowniowacity, #micasayourcasaic, $1 will be donated to the JoCo Affordable Housing Coalition. Additionally, all community donations made will be matched by the Community Foundation of Johnson County.