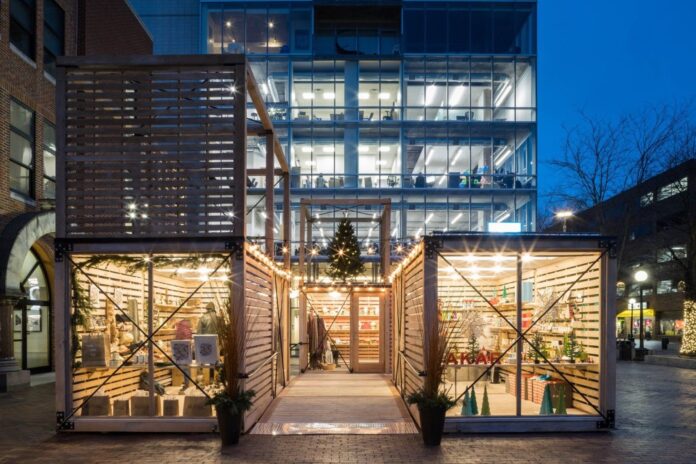 The Holiday Kid's Market in downtown Iowa City gives youth a chance to shop for everyone on their holiday lists. Located in Black Hawk Mini Park on the Pedestrian Mall, the market is open from 10 a.m.-7 p.m. until Wednesday, Nov. 24. 
"When I was a child, the local chamber hosted a kid's secret Santa event, which remains one of my most fondest memories. The event allowed me as a kid to take money and go shopping for my parents and sister without them knowing what they were getting," said  Iowa City Downtown District Director of Creative Services Betsy Potter. "For many years, I have wanted to recreate that event here in Iowa City. The Downtown Kid's Market is a chance for kids to gain independence shopping on their own, learn about budgeting while shopping, and widens the options kids have for gifts to give. " 
Children will be able to shop from a collection of items from various downtown shops with gifts priced between $5-$50. Parents and guardians will help submit a list of all gifts that need to be purchased, the budgets for each person, and then wait while the kids have the opportunity to shop in secret. Once their shopping is complete, children will have the opportunity to have the gifts wrapped and bundled before returning to their parents.
Each child will have around 30-45 minutes to shop for everyone on their list. Santa's helper will help kids stick to their budget, make sure they get something for everyone on the list, and shop efficiently. 
Groups will come to the Holiday Pop-Up Market in Black Hawk Mini Park to check in for their shopping appointment. Parents and guardians will fill out a sheet indicating who the child should shop for and the budget for each person. Children will then walk next door to the shopping shop with Santa's helper to budget, shop, and decide what each person on their list will receive. Once all gifts are finalized, the gifts will be brought to the last shop and wrapped. The child will then return to their parents or guardians with gifts purchased and wrapped. 
Customers are able to reserve their shopping time ahead of time online at the Downtown Holiday Market. Drop-in appointments will only be open when they are available. See more details and the full calendar of holiday happenings downtown at downtowniowacity.com.