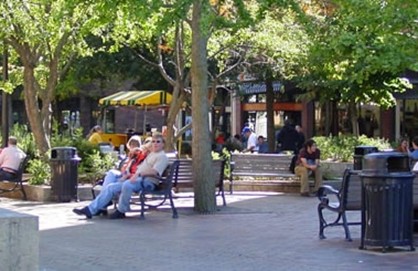 The Iowa City City Council last night approved the third and final reading for a downtown tax.
The SSMID (Self Supported Municipal Improvement District) tax will add $2 per $1,000 to property tax bills and will expire in four years. The tax will generate about $200,000 annually. The University of Iowa has committed to contributing $100,000 to the fund and Downtown Association of Iowa City (DTA) activities would generate another $50,000 for the fund.
Councilors approved the SSMID 4-0, with Mayor Matt Hayek and councilors Terry Dickens and Connie Champion abstaining due to a conflict of interest resulting from owning downtown businesses.
SSMID proceeds will be used to fund DTA activities, as well as to hire a DTA director. It will also be used to market downtown businesses more effectively. The tax will also pay for a downtown manager who will coordinate commercial vacancies and marketing opportunities.
Downtown Iowa Cityhas faced a number of challenges during the past decade. Among them are continued competition from the Coral Ridge Mall, the economic recession and changes to the bar-entry age, which has led, in part, to the closing of a handful of downtown bars. Downtown business owners hope the SSMID effort will not only increase the visibility of their storefronts, but help fill vacancies left by the bar closures.
The DTA spearheaded a SSMID campaign and collected signatures from 25 percent of the property owners in the district, as well as signatures of the property owners representing 25 percent of the assessed value of the district on a petition. That petition was necessary to put the SSMID issue on the city council's agenda.
A group of area economic development and UI officials has been formed to select members of the SSMID board, which will determine how the SSMID money is spent. A nomination form for board membership can be downloaded here. Nominations are due on Dec. 23.
The first SSMID board meeting is scheduled for Jan. 12.