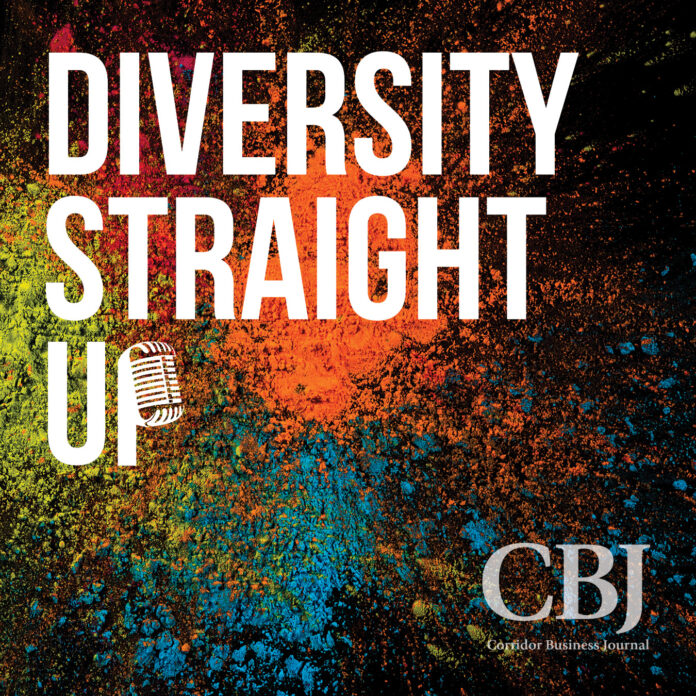 In the latest episode of the CBJ podcast, "Diversity Straight Up," hosts Sarika Bhakta and Anthony Arrington talk with Joel Schmidt, vice president of business development with Alliant Energy, about the importance of authentic conversations, lessons learned from his days of international travel and how diversity can lead to positive change.
"They have to be their authentic self, and come through in their style, not my style," Mr. Schmidt says. "It's from my heart, and I think it's an important part of being a good member of society."
Listen below or subscribe to the show at SoundCloud, iTunes, Spotify, Google Podcasts and Stitcher. Diversity Straight Up is presented by Collins Aerospace, the city of Cedar Rapids and Alliant Energy.
About Joel Schmidt:
Prior to his current role as Vice President of Business Development, Joel served as Vice President – Regulatory Affairs. Prior roles also include Vice President – Regulatory and Financial Planning, Director – Financial Planning and Analysis, Regional Director – Customer Service Operations, Chief Audit, Ethics and Compliance Officer, Managing Director – Business and Financial Performance and Managing Director – China Alliant Energy International. Before joining Alliant Energy, Joel worked at IES Industries as Manager – Finance, and at Arthur Andersen in a number of audit and accounting related roles.
Joel received a bachelor's degree in Accounting and CPA Certification in 1985 and a MBA in 1998 from the University of Iowa. He is also a certified Lean Six Sigma Green belt.
He serves on a number of Boards, including the Alzheimer's Association of East Central Iowa, Horizons, Hawkeye Council Boy Scouts of America, Junior Achievement, Iowa Jobs for America's Graduates. He is also a member of the American Institute of Certified Public Accountants.
About the hosts:
Sarika Bhakta is president of Nikeya Diversity Consulting and a Certified Diversity Executive with more than 20 years of experience in leadership, management, talent attraction/retention and resource acquisition/development. Born in Gujarat, India and raised in the Midwest, Sarika empowers leaders to identify their authentic self to be successful change agents in today's global economy.
Anthony Arrington is co-founder and managing partner with Top RANK Professional & Executive Search and Consulting, a search firm focused on helping companies acquire professional and executive-level talent, with a special emphasis on diverse and inclusive leadership. He has more than 20 years of experience in management, strategic planning, leadership and staff development in both the for-profit and nonprofit sectors.