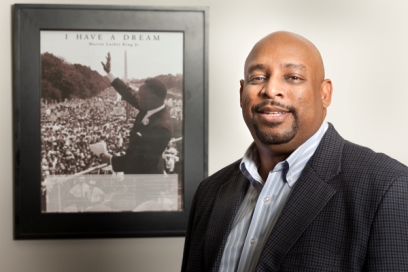 By Pat Shaver
From awareness to action.
That's the new mission for Diversity Focus, a Corridor nonprofit aimed at encouraging community inclusiveness, said Interim Executive Director Chad Simmons.
Mr. Simmons is also a managing partner of The PenDennis Group in Coralville, a human resources development consulting organization that conducts and converts human resources research into practical applications.
He took on the role of the interim director after then director Hazel Pegues resigned in July. He has been in the position for about six months.
"Believe it or not, it has been the thrill of a lifetime," he said. "It is truly a full-time assignment, I just don't sleep."
Mr. Simmons said over the past six years the board has been focused on raising awareness of diversity and inclusiveness in the community. It is now planning to move toward a focus of action.
"We've helped the community realize that diversity can be an advantage for us to grow," Mr. Simmons said. "Awareness is the first part to any change process."
In the next few months, the Diversity Focus board and staff will plan programming that will lead to action instead of awareness, Mr. Simmons said.
The organization is looking to expand the student leadership conference by partnering with additional organizations for high school programs. Another focus will be on training and development to "allow people to have the skills to collaborate and work together," he said.
"(We're) using the awareness campaign as a foundation that we built in order to build the rest of this house," he said.
Other plans include holding town hall meetings that focus on solutions, providing programming through print, television and social media.
"I believe we have a great opportunity here to help people who are looking for a home and to have them choose the Corridor," Mr. Simmons said.
Mr. Simmons graduated from Morehouse College with a Bachelor of Art degree in Business and holds a Master of Business Administration degree from the University of Iowa. Before taking the interim director position, he was a member of the Diversity Focus board.
Kevin Burke, member of the Diversity Focus board and vice president at Alliant Energy, said the organization hopes to have a new director on board in February. The board plans to conduct interviews with fewer than 10 candidates in mid-January.
Mr. Burke, chair of the director search committee, said the start date for the person hired will depend on whether they're local or need a grace period to transition into the job.
"There has been a lot of interest in the position," Mr. Burke said. "We're trying to build an inclusive community, that is what we're all about and certainly what we're striving for."
Hazel Pegues announced her resignation from the director position this summer, which was effective July 31. She started in the position in 2008 shortly after the Cedar Rapids floods.
"In our next executive director we are looking for someone who has a vision of what a truly inclusive community looks like, and strategies on how to build an inclusive community in the Corridor. The person must have strong leadership skills to help generate excitement in the Corridor toward the effort of building an inclusive community, so that everyone is contributing positively toward attaining that vision," said Marcella David, board chair and University of Iowa professor of law and international studies, in an e-mail.
"I believe that in the Corridor there is a general level of awareness of the importance diversity plays in strengthening our community," she said, adding, though, that there is still work to be done in raising awareness.
The goal, she said, is that "everyone who comes to the Corridor feels welcome and has the support necessary to be successful and happy."
Diversity Focus was established in 2005 as a nonprofit organization devoted to enhancing the diversity of the Cedar Rapids-Iowa City area.
The organization's mission states: "Diversity is the crucial link to economic, cultural, academic, and technological success. Diversity Focus' vision is that the Corridor community be the model of inclusion that values, nurtures, attracts, and retains people of diverse backgrounds, cultures, and beliefs."